Detail
Yamaha press releases on our motor sports racing activities
Latest Electric Trials Bike TY-E 2.2 to Debut at Round 5 of All Japan Trial in Hokkaido
July 13, 2023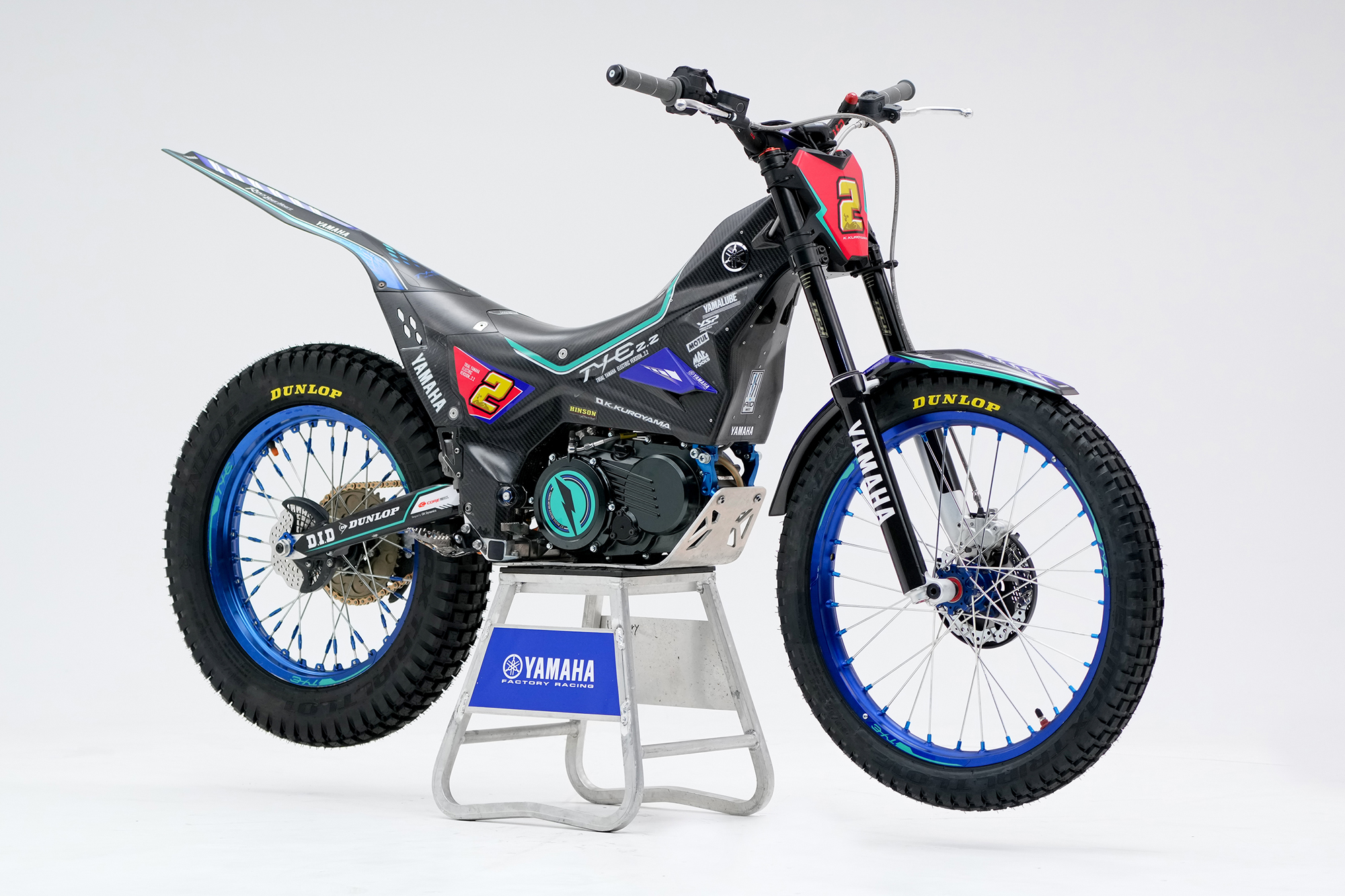 July 13, 2023—Yamaha Motor Co., Ltd. will compete in Round 5 of the All Japan Trial Championship on July 16 at Hokkaido's Wassamu Circuit in the IA Super class with Yamaha Factory Racing Team rider Kenichi Kuroyama aboard the latest model TY-E 2.2 electric trials bike. The TY-E 2.2 is an updated version of the TY-E 2.1 electric trials bike that Yamaha has developed through participation in the All Japan Trial Championship.

The TY-E's development concept remains "FUN x EV," and the new TY-E 2.2 features updated parts including a laminated monocoque frame that is now even lighter and stronger with optimized rigidity and heat management characteristics. This in addition to a newly designed motor with higher power density and a motor controller unit (MCU) that is smaller, more efficient and better-performing. Through Yamaha's efforts in All Japan competition, we will continue to collect data, verify new ideas and explore new technology as we continue to update the TYE 2.2 moving into the second half of the season.

The TY-E electric trials bike first entered competition with the Trial-E Cup in 2018 and 2019. Then in 2022 it returned as the TY-E 2.0 with a wildcard entry in the Trial2 World Championship. In 2023, the updated TY-E 2.1 has become the first-ever electric trials bike to contest a full season of the All Japan Trial Championship, and is currently midway through the season with rider Kenichi Kuroyama.

In the first half of Kuroyama's 2023 campaign, he has so far finished 5th in the opening round, then taken a 4th and a 5th before placing 2nd at Round 4 in Yuasa, Wakayama Prefecture on June 25. It was the first time in All Japan history that an electric trials bike was part of a podium finish. Kuroyama also made waves in the Trial2 World Championship's Japanese Grand Prix held in May, where he was 4th overall on Day 2 and highest-placing Japanese rider on the day. In the remaining four rounds of the season—including the upcoming Hokkaido round—Kuroyama and the TY-E 2.2 will continue their challenge, aiming to go beyond a podium finish to take a first win on the TY-E.


■ Advanced laminated monocoque frame
Based on feedback from past race data, the TY-E's composite (laminated material) monocoque frame has been further developed to reduce weight and optimize rigidity. Both the materials used and the configuration of the laminate were redesigned to better handle the kinds of forces applied during competition. The re-design focused on achieving high strength while reducing weight, while longitudinal, flex and torsional rigidity have all been revised to bring out better dynamic characteristics that match the EV's drive performance. In addition, a blower for battery cooling is mounted inside the frame to ensure stable output in any environment.
■ Newly designed motor
The motor's coil diameter, number of turns, material, and other factors were revised to increase output density. Also, to add to the existing abundance of low-end torque, torque in the mid-to-high RPM range is further extracted to improve overall efficiency.
■ Newly developed motor controller unit (MCU)
A newly developed motor controller unit (MCU) is more efficient, smaller, and has improved performance. Higher efficiency reduces heat generation, maximizes the performance of the motor and battery and contributes to improved power output. In addition, newly developed electronics software—based on the electronics software developed to date—has been implemented to meet riders' highly precise requirements.
TY-E 2.2 Specifications
| | |
| --- | --- |
| Overall Length × Width × Height | 2,003 mm x 830 mm x 1,130 mm |
| Wheelbase | 1,310mm |
| Minimum Ground Clearance | 340mm |
| Curb Weight | Over 70 ㎏ |
| Motor Type | AC synchronous electric motor |
| Battery Type | Lithium-ion |
| Clutch | Hydraulic, Wet, Multi-plate |
| Frame Type | CFRP Monocoque |
TY-E 2.2 Feature Map