PWC Rentals
This page introduces the PWC rental facilities.
Points to Keep in Mind When Using a Rental WaveRunner
In addition to purchasing your own WaveRunner, you can also enjoy this exciting sport by taking advantage of one of the many rental facilities operated in resort areas around the world. When operating your rental WaveRunner, please keep in mind the rules and rider etiquette information listed below.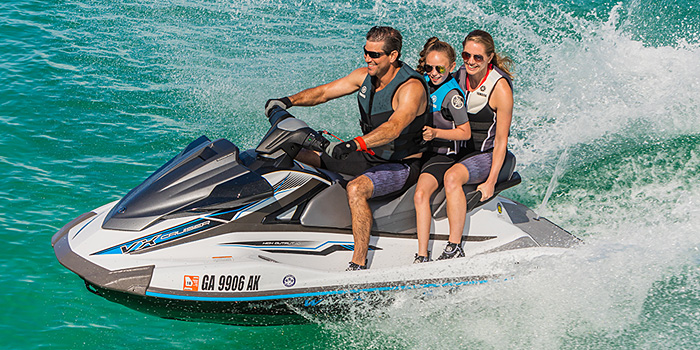 Operate Defensively
Operate at safe speeds.
Keep a safe distance away from people, objects and other boats (including PWCs).
Do not follow directly behind PWCs or other boats.
Do not go near others to spray or splash them with water.
Avoid sharp turns and other maneuvers that make it difficult for others to avoid colliding with you or that make it difficult for others to understand where you are going.
Please carefully observe the PWC operating regulations of the country you are in.
License requirements, minimum age for operation, etc., vary from country to country.
Please also carefully observe the local rules of the area around the rental facility.
Various local rules may also apply, such as restrictions on areas in which PWC operation is permitted.
Please also observe any instructions, etc., from the operators of the rental facility.
*

PWC rental facilities are not operated by Yamaha Motor Co. Ltd., or its affiliates. Rentals are for individual use and legal liability lies with the user.