Offering WaveRunner Tours in Patagonia
Report on United States National Racing Titles.

Patagonia is the name of the region of Argentina and Chile at the southern end of the South American continent that lies south of the Colorado River, which runs east-west at about the 40th parallel South. The temperature in Patagonia remains rather low year-round and the region is also known for its strong winds. It is a region with varied topography including fiords along the Chilean coast and mainly desert and grasslands on the Argentine side.
Tutravesia is a Chile-based company involved in PWC tourism as well as sea kayaking. The company, which originally started business with sea kayaking, has offered PWC touring since November 2007. Tutravesia hopes to offer visitors an experience that they won't find anywhere else but in the great natural environment of Patagonia, with its numerous national parks and natural World Heritage site.
German Doggenweiler, the representative of Tutravesia says, "A PWC is the best way to enjoy the great natural environment of Patagonia. There are many beautiful untouched areas that can be reached more quickly and easily by PWC than by any other means. I hope people will come to see the spectacular scenery of Patagonia with its intricately carved glaciers and waterfalls. For the tours we use the Yamaha WaveRunner FX and VX, which are easy to operate even for beginners and are gentle on the environment and relatively quiet-running."
The good fuel economy of these models makes long touring runs in this region possible.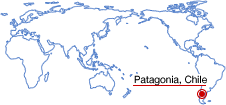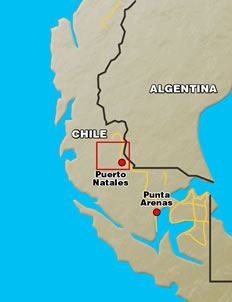 Among the tour guides is an adventurer German Doggenweiler, who recently made a winter kayak expedition covering the 700 km from Puerto Natales to Cape Horn at the southern tip of the continent in 78 days. Tutravesia promises tours on the seas of Patagonia that are sure to surprise and impress visitors with the beauty of the natural environment.