Royal WaveRunner at Paris Boat Show
Report on Royal WaveRunner at Paris Boat Show.
At the Paris Boat Show held from 2nd to 11th of December 2011, Yamaha showcased the Royal WaveRunner, which was designed in collaboration with Kyoto's traditional craft work.
In this Royal WaveRunner, traditional Japanese craftsmanship is employed throughout - the deck has been coated with urushi, the hatch and the meter cover is embellished with gold lacquer, while the seat has been perfected with yuzen printing.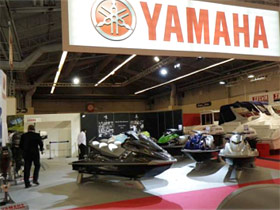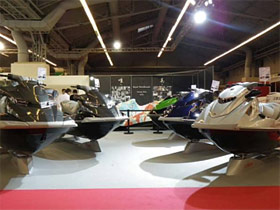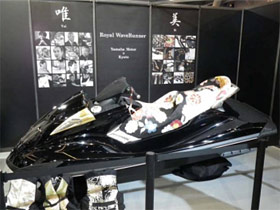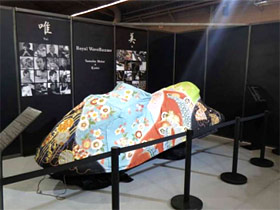 The model was displayed in one corner of the Yamaha booth behind the current PWC lineup, making its section of the booth somewhat like an art gallery.
The presentation accentuated the quality of urushi, makie (gold lacquer), and raden (lacquer decoration), finishing off this model beautifully.
At the press release, the Royal WaveRunner was covered using a yuzen printed fabric. It was then unveiled slowly during the speech given by Eric De Seynes, the General Director of Yamaha Motor France.
Once the yuzen cover was removed, everyone was awestruck by the beauty of the new model.
They felt a sense of freshness with a unique collaboration between leading technologies, such as the PWC, and traditional craft. Many onlookers were eager to take a seat to experience the feeling of riding the machine.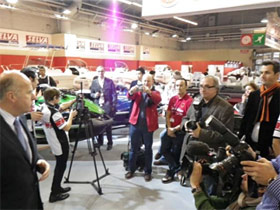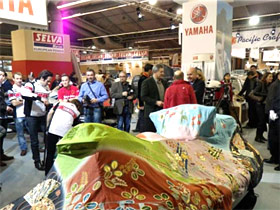 Yamaha did not aim to create a Japanese style WaveRunner with this release. We wished to communicate our stance in craftsmanship to all our customers by providing an experience of additional values that are not definable nor limited within the aspect of pure performance.
The Exhibition of the Royal WaveRunner at the Paris Boat Show became an opportunity to exemplify the spirit of Yamaha's attitude towards craftsmanship.