Fully restored original "WaveRunner 500"
Report on Fully restored original WaveRunner 500.
In 1986 Yamaha released the WaveRunner 500 (Marine Jet 500T), the world's first sit-down type open stern production PWC. This is the model that created today's PWC market. As an agile craft that many people could enjoy with a sense of assurance, it sent shockwaves through the small watercraft industry.
In addition to this, the single-seater WaveJammer500 released in 1987 was enjoyed by many people in North America, and established the PWC culture that we see across the world today.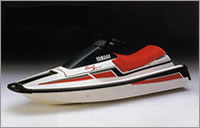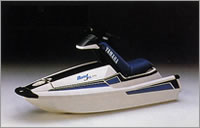 25 years since their debut, a fully-restored WaveRunner500 (released 1986) and a WaveJammer500 (released 1987) have been preserved in Australia.
The original WaveRunner500 and the WaveJammer500 were donated to Yamaha Motor Australia by owners in Queensland and Tasmania respectively. Both machines still have the shine seen in new boats.
These machines were put on display at the National Dealer Conference in 2005, hosted by Yamaha Motor Australia. They are valuable models that exemplify how the history of Yamaha's WaveRunner began and has evolved over the years. The shine on the body after 25 years proves that the Yamaha WaveRunner is durable and reliable.
Yamaha is sincerely thankful to all who enjoys WaveRunner.
We hope that you continue enjoying WaveRunner as your partner in your marine life.