A THIRD WORLD TITLE FOR TEDDY PONS
Report on A THIRD WORLD TITLE FOR TEDDY PONS.
Teddy PONS was crowned winner of the 'Karujet' Rally Jet UMI World Championship, held between April 14 and 17 in Guadeloupe. This was a victory concluding four days of fierce offshore battling alongside the world's top riders, and close to 500km of endurance in the capricious waters of the Caribbean Sea.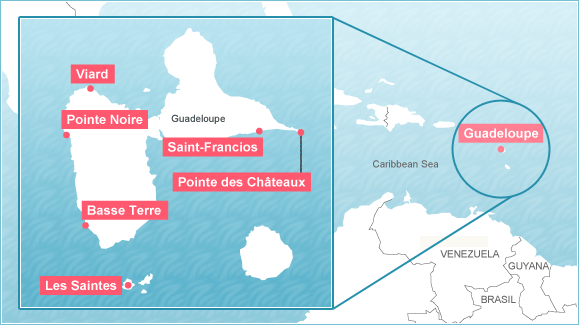 Although the Karujet already has the reputation of being the personal watercraft version of the Dakar rally (i.e. the toughest motor sport endurance competition in the world), its organizers had raised the bar an extra notch on the occasion of the 14th Rally Jet World Championship.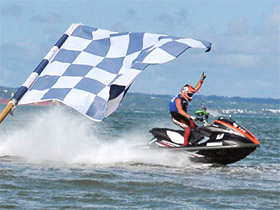 To play it safe and avoid jeopardizing his chances to make it to the finish line, Teddy PONS -together with the AUDEMAR team in Hyéres- had opted for a YAMAHA FX SHO armed and ready for the act, but equipped it with a 100% standard engine. And this proved an excellent choice, for the French pilot did not experience the slightest mechanical glitch. It allowed him to fully concentrate on his riding and mastering of the race - and to finish first in the 2011 Karujet:
"I had already come four times to Guadeloupe to compete in the Karujet, but without much success. It must be said that until this year, we would take with us just a bunch of racing parts that we would install on site on machines put at our disposal by SOGUAMAR, the local YAMAHA dealer. But for this edition, we had decided to bring along a Jet prepped in our Hyéres workshop. We had thus replicated the preparation done on the machine with which I had won the Sunday event of the Cavalaire Jet Offshore World Championship in 2010. This was an ideal compromise between performance and reliability that allowed me not to be too calculating in the first two days of the race, including 2 major legs. Actually, Thursday's first leg was composed of two 70km stretches between Viard and Les Saintes. Right from the start, I saw American Dustin Farthing take the lead. So I stayed tight on his trail. I really fought with all my strength and stole the lead at the Saintes buoy. Unfortunately, the excessive effort left me burned out on the way back to Viard. I came in 4th at the fuel stop. I drank a lot there and also ate to get some strength back. I gained enough stamina back to chase Farthing again during the second round, finishing in second at 56 seconds from him. The next day featured a 120km ride around Basse-Terre. On the way to Pointe-Noire, the riding conditions were fairly easy but I only came in 3rd at the fuel stop. Luckily my team was very efficient and I was the first one to get back on my watercraft. I fought again with all my strength and crossed the finish line of this second heat with a minute lead, while many of my competitors were forced to abandon or lost considerable time.
Saturday's course featured the classic event to Saint-François via the Pointe des Châteaux, a 65km stretch that we were requested to cover without stopping this year. Honestly, I think I could have won it, but I decided to start playing the safe card and followed Davy VAITILINGON's pace.
I came in second, 6 seconds behind the Guadeloupian, but gained almost a minute and a half on Cédric RAMASSANI, second in the overalls. On the last day I was 100% in control. For the Sunday morning leg, comprising six lapses of a 15km loop off Viard, I rode without hurrying or straining the machine. I finished 6th, 2 minutes behind the winner. I would have loved to fight for victory in the afternoon speed round, final event of the Karujet. But given the exceptional line-up of riders such as Dustin Farthing, François Medori, Chris Mac Clugage and Brice Lopez, real masters of the art, that would have meant risking losing everything on the last day. So I opted for cautiousness and finished 8th, at 1'24''. And this offered me my revenge for losing the 2010 Cavalaire Jet Offshore World Championship due to an engine failure.
All my thanks go to David Igual, who's been my mechanic for two years, to Marcel "Iron" Le Bitoux, who's been following and supporting me in all my ventures and adventures, to my friend Alex Miano, to my teammate Jean-Marc Doukhi, as well as to Dany AUDEMAR for his unfailing support. I also wish to express my gratitude to the YAMAHA SOGUAMAR team for their precious help in Guadeloupe - for winning the Karujet is all about teamwork. And I want to dedicate this victory to Mauro Ravenna, the promoter of this world championship, who sadly left us in June 2010."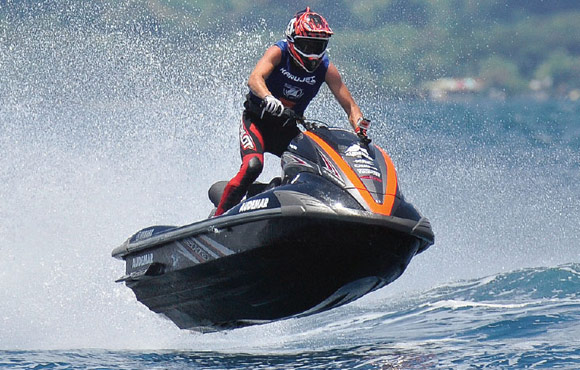 After two world titles earned in 2009 in Speed and Slalom, multiple European victories and several French Speed Champion titles, his triumph at the Bercy Jet Indoor competition in 2002, Teddy PONS, 28, boasts his Karujet victory as his first success in a major Offshore competition. He thus joins the very private club of riders grabbing victories in all disciplines, and offers a new world title to the YAMAHA AUDEMAR team, eleven years after Joël BONTOUX's victory in Oléron. Teddy PONS and the AUDEMAR team will be in Arbatax, Sardinia, at the end of May, for the second round of the Aquabike UMI World Championship.