PWC cruise from Singaporre to BATAM and BINTAN, Indonesia
Report on PWC cruise from Singaporre to BATAM and BINTAN, Indonesia.
Singapore Power Boat Association organized with all Marinas in Singapore cruise to Batam & Bintan, Indonesia. This is also to commemorate the soft opening of Nongsa Point Marina in Batam after their millions dollars renovation.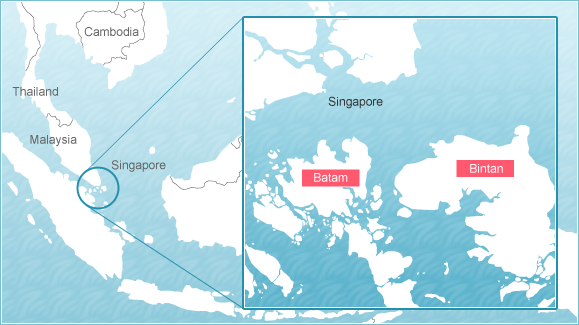 Day One
Riders and boaters assembled at Larzalus Island, Singapore before heading to Batam.
The cruise commenced after head counts and safety brief and soon we approached the Singapore Straits which is one of the world busiest maritime international traffic lanes. The convoy crossed the Straits and reached Indonesia water in a well and organized manner.
Not too long later, we arrived at Nongsa Point Marina and were greeted with warmth welcome by staff of Nongsa Point Marina, whom is expecting our arrival.

We started our exploration ride about 3pm, together with RSYC riders, we cruised around the edge of eastern Batam. The water surfaces were vast and flat. It was effortless in riding full speed and enjoyed the surrounding sceneries. The rides were refreshing, especially riding away from our usual venue.
After riding for 3 hours, we settled back to the marina for a cocktail party, sponsored by Singapore Power Boat Association. Mr Arthur Tay, the resident gave good speech on the future of Singapore boating scene, including PWC.
Day one ended happily with a great BBQ dinner with stage performance, organized especially for us by Nongsa Point Marina.
The riders were excited to explore further the next day and had decided to explore to Bintan island.
Day Two
Setting off around 9.30am towards Bintan after refueling all our PWCs, the journey was 25km one way. The water is choppier when we crossed the channel, but we were still tracking straight on Yamaha Waverunners. We touched down in Nirwana Beach Resort in less than 30minutes where we started from Nongsa and were welcomed by Mr Rahim, the resort sea sport manager, whom a fellow Singaporean that most of us know. He showed us around the resorts.
Bintan water and scenery are beautiful. White sandy beach, crystal clear water and rustic resorts building. We cruised around another seafront of the famous Banyan Tree resort, the place is absolutely paradise.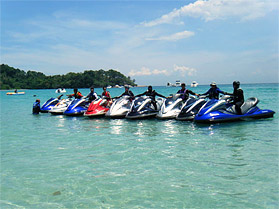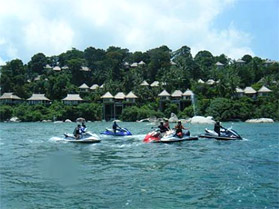 It was great ride for most of the riders as this is their first time experiencing an overseas ride. We reached back Singapore One 15 marina, with great satisfaction on the Batam exploration rides still lingering in our mind. All riders and boaters enjoyed and love the cruise and were seen discussing for another cross-country ride.