Chris MacClugage Rides Yamaha FZR to APBA National Championship
Report on Chris MacClugage Rides Yamaha FZR to APBA National Championship.
Yamaha FZR WaveRunner Overwhelms Competition on APBA Watercross Tour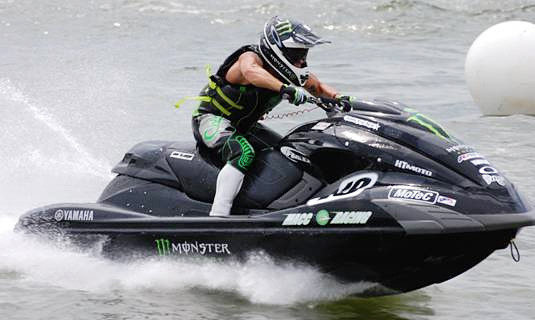 PWC racer Chris MacClugage and his Macc Racing Yamaha FZR WaveRunner won the APBA Pro-Am Stock National Championship yesterday (Sept. 7) at Percy Priest Lake, Tenn., completing one of the most dominant performances in professional watercraft racing history.
  MacClugage, a multi-time World and National PWC Racing champion, won nearly every round of the Pro-Am Stock class on the APBA Watercross Tour this season, racking up an overwhelming points lead going into the final weekend of the 2009 National Tour. However, MacClugage, not one to coast his Yamaha FZR to a national title, took the fight to his competitors yesterday just as he had all season long.
In true MacClugage fashion, he not only won Moto 1 in the Pro-Am Stock class yesterday to put him over the top for the national title, MacClugage also won Moto 1 of the Pro-Am Open Class aboard a new Bill-Chapin prepared Yamaha FZR.
  "This season we set out to prove that the Yamaha FZR can completely dominate the APBA Prostock class and we did," said MacClugage. "With the FZR being in its first year of production, it is truly amazing to see it outperform all of the competitive boats that have so many more races under their belt."
  "From conception, the FZR was designed to be the ultimate high-performance race watercraft out of the box," said Bryan Seti, Yamaha's national marketing manager. "The results of the FZR on the National Tour demonstrate the game-changing nature of this hull and engine platform for the closed course. Chris MacClugage's dominance of every race this year and his national championship win reinforce the FZR's leadership position on the racing scene."