Police Cup Bhayangkata Jetsport Race in Indonesia
Report on Police Cup Bhayangkata Jetsport Race in Indonesia.
The Bhayangkara Day, is the Police Anniversary Day and this year 2009 the event was successfully done and were attended by high official ranking Police Officers as well as Police Officers from other provincial in Indonesia.
Bhayangkara Jetsport Race is a watercraft race event in Indonesia and has been held as a yearly calendar during the first week of July, it was first held in 2005 and the idea was introduced to the Police by Two Star General Mr. Firman Gani, He was the Chief Police of Jakarta Metropolitan District at that time. The Bhayangkara Jetsport Race began as a the tradition Race every year since then, which has always been jointly work with the Indonesia Jet sport and Boating Association (IJBA) and Mr. Syaiful Ihsan as the chairman of IJBA, Indonesia.
During this year event , the guest of honor was the Indonesian Ministry of Youth and Sports, and The Minister himself was very interested in the water cross race event and since Watercraft Race is one of the favorite events that is still ongoing every year, this event is also category as one of the major events that was covered in the media such as TV, radio and newspapers.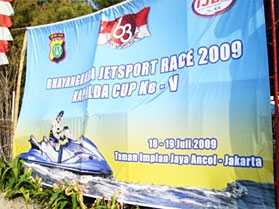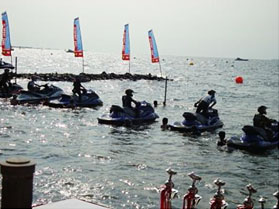 Many riders with variety of PWC such as Yamaha and other brands participated in Bhayangkara Jetsport Race from all over Indonesia.
Yamaha WaveRunners were the dominating watercrafts that were used by about 95 % participants.
Yamaha also dominated the number one watercraft that won four (4) category classes in 2009.
The riders mostly were from the Police Departments and our FX SHO which was driven by Aero Sutan Aswar has proven well to all participants and the public all over Indonesia who watched the event that "Yamaha WaveRunner" is the Best and a Championship watercraft by winning the prestigious top class championship in Pro Runabout Open.
I am very confident that Yamaha Watercraft is the watercraft that will dominate the Indonesian market and it is now widely known as the best watercraft for racing.