WaveRunner Motivation Workshop at the Engine Factory
Report on WaveRunner Motivation Workshop at the Engine Factory.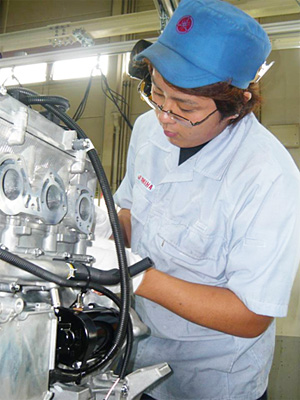 The world sadly remains in the doldrums brought on by this economic crisis. We manufacturers have to keep our spirits up in this time of trouble so we held a Motivation Workshop at the Kuramatsu Factory in Hamamatsu, Japan where the engines for WaveRunners are made. We saw wonderful images at the gathering of customers enjoying WaveRunners worldwide, a sight we factory workers don't often get to see. This made us pause to realize that the daily work we do making high quality products is very important for customers to enjoy their WaveRunners in complete safety.
Here is a message to customers worldwide from your friends working in the factory.
"We promise you that we will take the responsibility to manufacture and deliver high quality products to satisfy every customer. We hope that you continue to support Yamaha WaveRunner with its reliable 'Made in Japan' engine.