YAMAHA FZR TIGHTENS GRIP ON APBA NATIONAL RACING CIRCUIT
Report on YAMAHA FZR TIGHTENS GRIP ON APBA NATIONAL RACING CIRCUIT
Chris MacClugage on his Yamaha FZR Wins Round 8;
Slew of Sea-doo Racers Switch to FZR
July 12, 2009 -- Yamaha continues to tighten its grip on the APBA Pro-Am Runabout Stock championship with rider Chris MacClugage, aboard his Yamaha FZR, winning Round 8 of the Watercross National Tour in Harbor City, MI.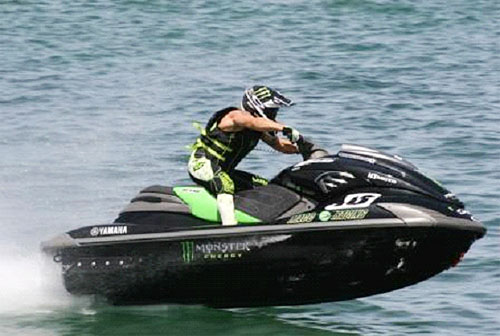 Joining Mac on the winners podium in Michigan were veteran racers that recently mothballed their Sea-doo watercraft for the more competitive FZR.
Longtime Sea-doo racers Amy Green and Dustin Charrier switched to Yamaha FZRs last week and both finished on the podium with Green dominating the Women's Pro-Am Runabout Limited class for first place and Charrier finishing second in the Pro-Am Runabout Stock class just behind MacClugage. Charrier is the reigning 2008 Pro-Am Runabout Limited World Champion.
"I am excited about the successful debut of our Dean's Team FZRs at the Harbor Beach stop last weekend, " said Green. "The FZR has such great acceleration and handling that with only minimal modifications and a short time to prepare, we were able to win the Women's Limited class."