YAMAHA FZR Racer Chris Macclugage named APBA rider of the week
Report on YAMAHA FZR Racer Chris Macclugage named APBA rider of the week
June 17, 2009 -- Chris MacClugage and his Yamaha FZR have been unstoppable this spring on the APBA racing circuit, dominating the first six rounds of 2009 Hydo-Turf Watercross National Tour in the Pro/AM Stock Class. In honor of his success, the APBA named MacClugage their coveted "Rider of Week."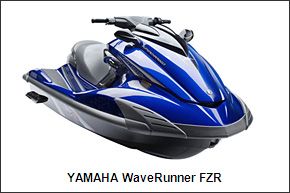 According to the APBA, "Nobody rides the waves with as much finesse and speed as this seasoned racer. This 10-time World and National Champion has swept the Pro-Am R/A Stock Class and also won the Pro-Am R/A Open Class on his Yamaha-powered FZR."
MacClugage has approached the season with the single-minded goal of establishing the Yamaha FZR as the premier watercraft on the PWC racing scene.
"We've already proven that the Yamaha FZR can completely dominate the APBA Pro-stock class, but we're taking it a step further and shown that it can dominate the Open Class too, even against heavily modified skis," MacClugage said.
"We congratulate Chris for his success so far this season on the Yamaha FZR and for the APBA Rider of the Week honor," said Scott Watkins, Product Manager at Yamaha and former PWC world champion. "Chris and the FZR are a great team that have taken the sport of PWC racing to the next level."