YAMAHA FZR remains untouchable in APBA national racing circuit
Report on YAMAHA FZR remains untouchable in APBA national racing circuit
Chris MacClugage on his Yamaha FZR Sweeps the Pro Stock Class and Even Wins the Open Class on his Stock FZR
June 9, 2009 -- Yamaha continues its reign at the top of the PWC racing world, with rider Chris MacClugage, aboard his Yamaha FZR, winning Rounds 5 & 6 of the APBA Watercross National Tour this weekend in Myrtle Beach, SC. MacClugage has won every Pro-Am Runabout Stock Class moto this season.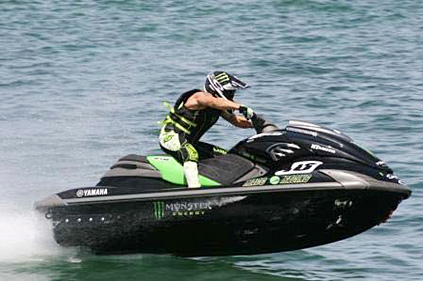 MacClugage's domination of the races was evident this weekend as he lapped the field in the second moto of the Pro Stock class, and went on to enter his stock FZR in the Open Class to compete against highly modified watercraft - only to emerge the winner in that race as well.
"We've already proven that the Yamaha FZR can completely dominate the APBA Prostock class, but today we've taken it a step further and shown that it can also win the Open Class, even against heavily modified skis," MacClugage said following the wins.
"I already told Yamaha," said Bill Chapin of R&D Performance Products. "The FZR is one great platform, and we've only just begun."