French racer Medhy Menad brought a victory to YAMAHA FZS at endurance race in Dubai
Report on French racer Medhy Menad brought a victory to YAMAHA FZS at endurance race in Dubai.
Medhy Menad, a racer from France, captured championship in the Runabout Class. This exhilarating competition was a part of the Sheikh Majid Watersports Championship organized by Dubai International Marine Club under the UAE Marine Sports Federation.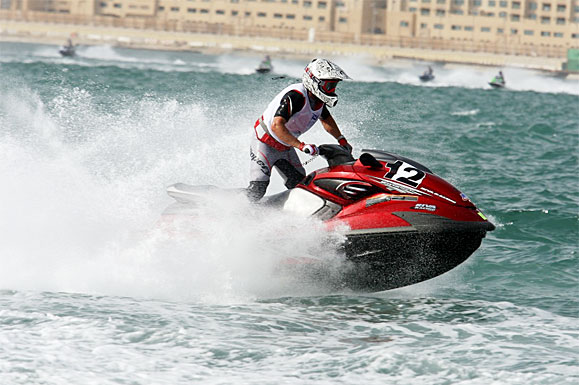 This was the final match of the Championships which involved six successful events that mixed traditional and modern watersports together.
Second place in the Runabout Class went to Nadir Bin Hendi, who is also famous for his Class 1 victories and third was a newcomer to this class, Khalifa Bel Selah.
The race was a grand spectacle for tourists, because they could see the riders racing on the Mina Seyahi course in the bay in front of Le Meridien & Westin hotels. Supporters filled tents near the breakwater and cheered on their team. Cameramen also stood at the breakwater and skillfully followed the racing craft. The race pilots met their expectations and did performances with the machines. Balance, skill, agility and strong nerves are definitely key requirements for handling these powerful machines.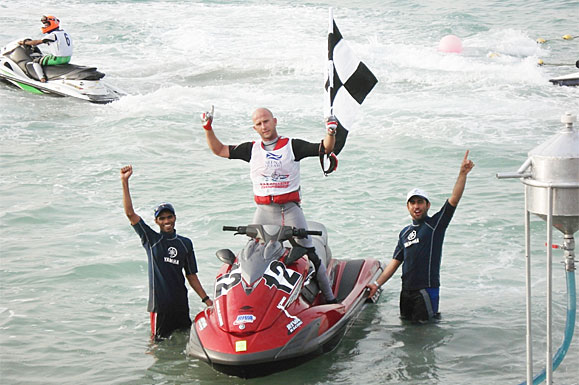 Medhy Menad, was in 4 place at the start and slowly started to catch up the riders in front of him.
"I choose to race using the FZS because the track was like a big closed course track. We are working with Riva Racing and we use a stage 1 kit. The package was perfect and to beat all the competitors is a great achievement for our first race. A lot of new customers purchase the FZR/FZS especially for racing. We had around 70 riders on the track and we raced in one hour and 40 min. We refueled once and we didn't have any problem at all. We finished at the top and it showed the potential of the FZ."
The presentation ceremony was held on the Dhow Al Fattah.