All new YAMAHA FZR Dominates First APBA national tour race
Report on All new YAMAHA FZR Dominates First APBA national tour race.
Aboard his Yamaha FZR, Chris MacClugage dominated the Pro-Am Runabout Stock class at the APBA (American Power Boat Association) National Tour races held in Parker AZ May 2-3, 2009.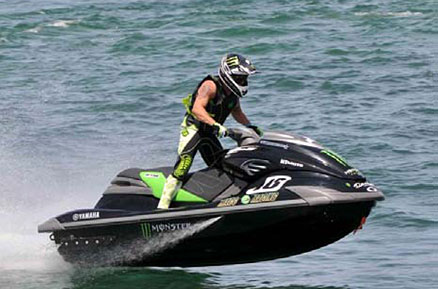 MacClugage took all 4 Pro-Am Runabout Stock Class Motos over the two days of racing, leading the races from the starting gun to the finish line.
These victories, at the first races of the year, are particularly important as they point to the future potential for the all new Yamaha FZR on the closed course, especially as it outperformed competitive boats that have been wrenched on and raced for years.
"We've dreamed about the potential for this boat since we first heard rumblings about itscreation," MacClugage said after the wins. "To come out here this weekend, and hold thelead for 4 races against these legacy PWC shows we're on to something. Macc Racinghas just started to crack the potential for this engine and hull."
"Stock class boats are the closest to production specs that are raced and the inherentplatform capabilities of the FZR made it our clear choice for the stock class," said BillChapin of R&D Performance Products. "The results of this race confirm what we knewall along - that the FZR is the most competitive stock class model to date."