YAMAHA PRODUCES 100,000 FX WAVERUNNER
Report on United States National Racing Titles.
April 21, 2009 - Water Vehicle Business Unit, a division of Yamaha Motor Corporation, announced the production of the 100,000th Yamaha FX WaveRunner personal watercraft, making the Yamaha FX one of the most popular watercraft in the history of the PWC industry.
The Yamaha FX WaveRunner is renowned worldwide as the first personal watercraft to feature a four-stroke engine. It has won more design and innovation awards than any other model in the industry including multiple "Watercraft of the Year "honors.
The Yamaha FX Cruiser SHO is currently the best-selling luxury model in 2009 and was the best-selling luxury performance model in 2008, according to state registration data. The FX Cruiser SHO features the largest displacement engine in a PWC today and is the only luxury model whose performance is compared to other brand's "musclecraft" models.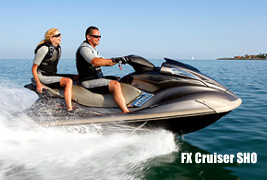 It was also a craft that could only have been built by Yamaha, a company with a unique combination of long years of small engine expertise in the motorcycle and outboard motor fields and equally deep experience and know-how in boat design and construction. And ever since, Yamaha has continued to develop and refine its technologies to achieve a beautiful harmony between what the customers want in a WaveRunner and what is good for the local societies and the environment.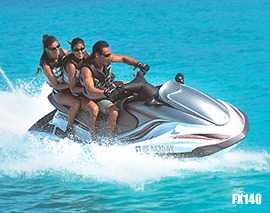 "Since its inception in 2003, the FX line has focused on exceeding customers' expectations," said Bryan Seti, national marketing manager for Yamaha's Watercraft Group. "We do this by identifying the key attributes that customers tell us they want in their personal watercraft, and then we innovate relentlessly to give them even more. This has always been the spirit behind all of our watercraft, including the FX series, and it continues to be reflected in the popularity of the line year after year."
Pioneering innovations for Yamaha's FX Series:
First PWC to feature a four-stroke engine.
First PWC to feature Cruiser seating
First PWC to feature Cruiser seating
First PWC to feature hulls and decks engineered using Nanotechnology
First PWC to feature Cruise Assist
First PWC to feature No Wake Mode
Two years ago, Yamaha celebrated the production of its one millionth WaveRunner.