Maldives World Diving Record with XL 700
Report on Maldives World Diving Record with XL 700.
On 25 February 2006 the Maldives succeeded in breaking the world record for "Most people scuba diving simultaneously" on a single site. The previous record of 722 people was beaten by 257 making the new record 979 divers. Divers aged between 10 and 73 participated, and of them about 50% were locals while the rest were tourists from around the world.
This event was organized by the Maldives Tourism Promotion Board and sponsored by Dhiraagu, the national telecommunications carrier. The dive was held between 11am and 11:30am at Sunlight Thila, in North Male Atoll- about 10km from Male International Airport- known for its relatively large shallow lagoon and calm beauty.
The event was supported by Bandos Island Resort, IGM Hospital, local Coast Guard, Villa Hotels, the German Red Cross, and Alia Investments Pvt. Ltd.
Effective protection and safety of the dive site and divers was successfully provided using Yamaha WaveRunner XL700. Being retrofitted with communication devices and rescue sleds enabled the team to provide a rapid response. From keeping other boats off the zone to quick and easy transport of officials and supplies, the WaveRunner proved to be a very useful tool. The team also swiftly rescued and returned 4 divers who had drifted outside the zone upon resurfacing from the dive.
Once again, due to its stability, versatility, and agility, the choice of PWC was the yellow colored highly visible Yamaha WaveRunner XL700.
The rescue team and most of the WaveRunners were provided for the event by Paradise Island Resort, the only resort in Maldives to have thus far successfully implemented the sled and WaveRunner combination.  As the distributor for WaveRunners, Alia Investments also provided one WaveRunner and two staff from the Yamaha Division also successfully participated in the dive.
A Maldivian style post-event celebration was held at Kuda Bandos Island. With live Bodu Beru music, local cultural dances, and local cuisine, it was a true festive atmosphere. The National Geographic Channel was also there to document the event which would later be aired on their satellite broadcasts. The event ended with participants being awarded certificates and a commemorative photo shoot.
We take this opportunity to thank and congratulate all the participants, the relevant Ministries for helping with organization and support, Dhiraagu for sponsoring such an event, and other fellow avid supporters who helped make this a successful attempt at breaking a world record.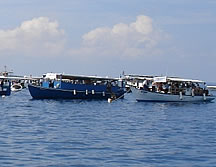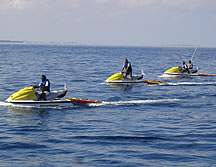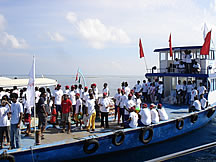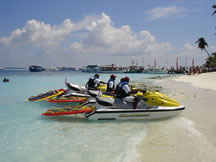 Alau Ali
Managing Director
Yamaha Division
Alia Investments Pvt. Ltd.