Turkish WaveRunner competition
Report on Turkish WaveRunner competition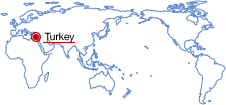 Turkish Jet-Ski Federation has organized the First S1 Championship in Bodrum region with the sponsorship of BURLA Machinery Trade & Investment Company, the YAMAHA Marine Distributor of Turkey, on 19th of May, 2005.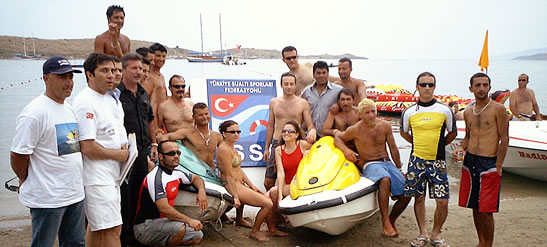 This day was especially chosen as it was the Youth and Sports Day on May 19 in Turkey, which is dedicated to the youth. This day is also Ataturk Day, a day of commemoration of Kemal Ataturk, the "Father of Turkey", and the commemoration of the beginning of national liberation movement initiated by Ataturk in 1919.
"Turkish Water Sports & The Jet Ski Federation", which was established as of end of 2004, is organizing Jet Ski Races this year in different regions of Turkey. Using our close personal relations with this Federation, 4 units of YAMAHA XL700 WVs were used in the 1st leg that was organized on 19th of May, 2005 in Bodrum. We, as BURLA, have contributed to this organization by providing free give aways such as; fuel, Yamalube oil, Yamaha life-jackets, t-shirts and hats for the competitors, the organizers and the press staff. BURLA also gave away surprise presents for the first three winners in both men's and ladies categories.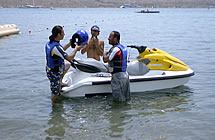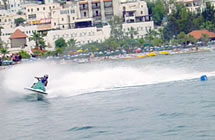 The event was well received, with 24 enthusiasts impressing Turkish S - 1 organizers as well as the Yamaha Marine Sales and Marketing Representatives for Water Vehicle.
2nd leg of the races is planned to be held on 18th and 19th of June, 2005 again in Bodrum, and once again not only Yamaha XL700 model but also VX1100 Sport WVs will be used as well. This 2nd leg will be followed by other five or six races in different regions of Turkey. As announced by the Federation, in the end, Turkish Jet Ski National Team will be decided, which will be composed of 4 competitor, who will be trained to be able to attend to the World Jet Ski Championship that will be held in USA towards end of 2005.
BURLA-YAMAHA also wishes to thank local dealers Bodrum Su Sporlari and Gumuskesen Deniz Motorlari for their support with the Turkish S - 1 organization, and also to Bodrum Water Sports Association who took the decision to use Yamaha brand WVs in this event.
Orhun Senturk
Burla Machinery Trade & Investment Company
Yamaha Marine Department Sales Manager