Less Tire Wear
Helping to lessen tire wear by reducing unnecessary steering.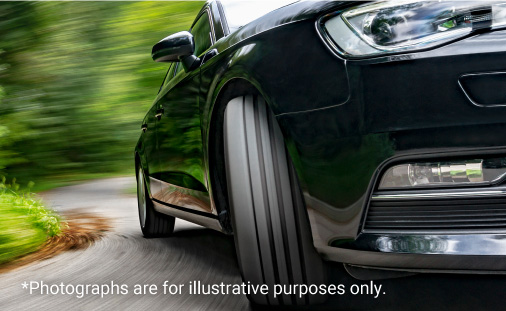 Performance Dampers absorb excess vibration from the vehicle body
Cornering become smoother
Reduce unnecessary steering
Less Tire Wear
Test Method
We had actual taxis drive under the following conditions and measured the amount of tire wear on taxis equipped with Performance Dampers and taxis not equipped with Performance Dampers.
*Cooperation: Kanagawa Toyota Motor Sales Co., Ltd. / Asahi Taxi Co., Ltd.
2 taxis with Performance Dampers / 2 taxis without Performance Dampers
Normal business driving
Started test with new tires
Driving Distance: 28,000 – 43,000 km
Test Results
Front Tire Wear: Approximately 14% reduction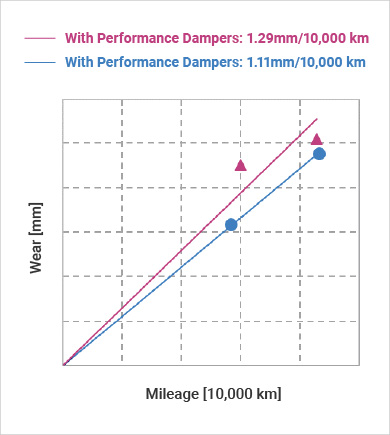 Rear Tire Wear: Approximately 10% reduction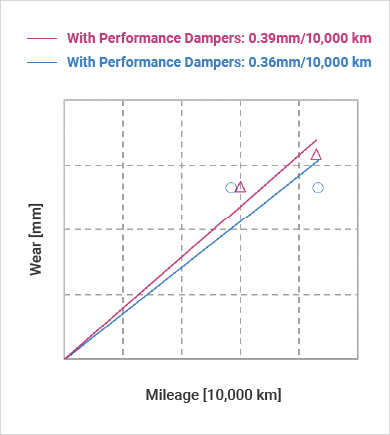 Test resulted that taxis with Performance Dampers had tire wear reduced by 14% on the front tires and 10% on the rear tires compared to taxis without Performance Dampers. Possibly smooth cornering reduced excess steering wheel operation and reduced tire wear.
*Data based on Yamaha Motor's evaluations
*It may not be possible to obtain sufficient benefits, depending on the driving environment, including road surface conditions and vehicle speed.
*Individual differences exist in how benefits are felt.