History
Development of Performance Dampers started by focusing on "chassis viscosity" during the development of a high-performance chassis.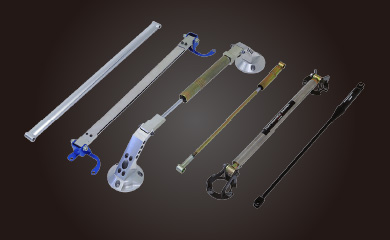 The roots of Performance Dampers lie in the history of engine development by Yamaha.
Yamaha has been contributing to OEM development and production of high-performance engines for many years. In the process of engine development, our engineers focused on the importance of "chassis technology that can handle high-performance engines".
The first product created through this process was REAS (Relative Absorber System), which connects the left and right shock absorbers in order to improve handling stability and ride comfort. We further developed REAS into X-REAS, which connects shock absorbers on the diagonal. As engine performance improved, we developed chassis product in the direction of increasing body stiffness in order to suppress vibration (shaking) of the car body when driving at high speed. However, a test driver conducting high-speed driving tests came to an inspiring realization that would change the direction of development significantly. That realization was the basic principle of Performance Dampers, "In order to eliminate vibration of the body and enables comfortable driving, we should focus on 'chassis viscosity' rather than chassis stiffness."
This was the beginning of development of Performance Dampers. What started as a simple bar, as shown in the photo, was developed into its modern form by combining the bar with a dedicated hydraulic damper through a rubber sandwich structure.
History
Before development of Performance Dampers
| | |
| --- | --- |
| 1989 | Started development of chassis technology that can handle Yamaha's high-performance engines |
| 1991 | Started development of REAS (Relative Absorber System) |
| 1997 | REAS adopted in the Toyota Supra |
| 2000 | REAS adopted in the Toyota Hilux Surf |
| 2001 | X-REAS adopted in the Toyota Crown Athlete VX, and later expanded to the Audi RS6 and the Toyota 4Runner |
Idea for Performance Dampers
| | |
| --- | --- |
| 1999 | As REAS and X-REAS evolved and matured, there appeared to be a limit on high performance using only Suspension Dampers |
| Early 2000 | Yamaha started research and development on chassis stiffness, but could not make progress as expected. From driving images, we hypothesized that not chassis stiffness but "adding a damping" is the key. |
| Late 2000 | The results of experiments not only proved the hypothesis, but also realized the unexpectedly high quality. |
Development and production of Performance Dampers
| | |
| --- | --- |
| 2001 | Equipped and launched in the Toyota Crown Athlete VX |
| 2011 | Used in the Lexus CT200h |
| 2016 | Cumulative production reaches 1 million |
| 2020 | Cumulative production reaches 2 million |