HELM MASTER™ EX
Introducing the HELM MASTER™ EX technology

The Next Generation Boat Control System
Helm Master™ EX is a fully integrated boat control system that makes navigating and getting to your destination easier, and once you arrive, gives a whole new level of control to precisely maneuver your craft to exactly where and how you want it. Never before has a single outboard engine been paired with a joystick control, delivering exceptional versatility and innovation. When it comes twin to quint engine applications, the Helm Master™ EX excels even further, with seamlessly integrated multi engine control.

No longer do you have to install multiple third-party devices such as steering and control systems, autopilot navigation and additional heavy batteries -nor the hassles that come with complex integration systems. With Yamaha's Helm Master™ EX, you get all of the benefits of these systems and more, in a simple, clean and fully integrated, plug-and-play system. And because every component has been designed, engineered and manufactured by Yamaha, it works seamlessly together to deliver the ultimate in reliability, durability and performance.
KEY FEATURES
AUTOPILOT
Yamaha's new autopilot provides many convenient features for boat control and operation.
With the simple push of a button or taps on your compatible Multifunction Display, you can quickly plot out your journey, sit back and let the Helm Master™ EX Autopilot and Digital Electric Steering do their thing.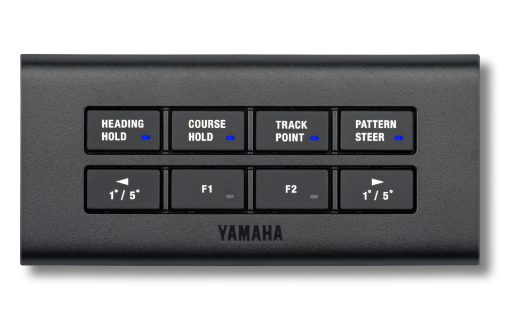 COURSE HOLD
Holds the boat course automatically adjusting for wind or current drift.
TRACK POINT
Navigates through operator selected multi function display waypoints.
HEADING HOLD
Holds the boat compass setting. Applicable also to reverse shift for enhanced back trolling.
PATTERN STEER
Pre-selected patterns that are adjustable – Spiral, Zigzag, Pattern Search and Williamson Turn - useful to find signs of fish at a target spot.
SetPoint™
SetPoint™ has three primary modes - StayPoint™ FishPoint™
and DriftPoint™- offers captains even greater control for situations such as fishing, controlled drifting and maintaining position.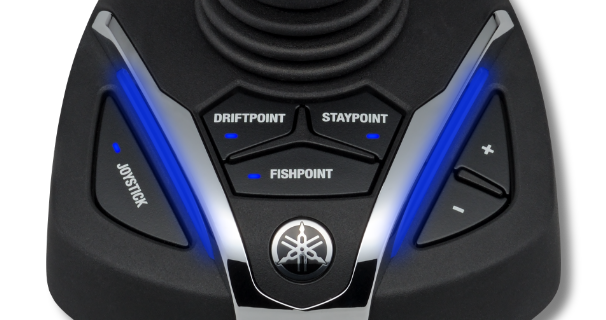 StayPoint™
Seeks to automatically maintain both boat heading and position (not applicable to Helm Master™ EX Single Engine Maneuverability system).
Automatically uses up to Thrust Level 5 as needed to maintain position.
Handy when waiting for a bridge or for your turn to approach a fuel dock.
FishPoint™
Seeks to automatically maintain boat position only (not heading) using minimal rpm for fishing. Can set boat ahead (FishPoint™ Bow) or astern (FishPoint™ Stern) to prevailing wind/current. Perfect for stationary fishing.
DriftPoint™
Seeks to maintain heading (only) while allowing natural drift via prevailing wind/current. Great for drift-fishing a wreck or kite fishing.
DriftPoint™ TRACK
Seeks to maintain heading while drifting along a track (route) of operator-selected waypoints. Handy when trying to follow a same depth contour or keeping a distance from shore. You can enter this mode to push DriftPoint™ button when MFD navigation route is set.
JOYSTICK Maneuverability
Completely new with modern styling, premium feel and ergonomics, the Yamaha Helm Master™ EX features an all-new joystick with new software. It offers smoother shifting and single-function buttons for easy operator understanding.
The new Helm Master™ EX joystick also allows fine tuning of autopilot (both speed and direction) and positioning adjustments within SetPoint™, without leaving the individual mode.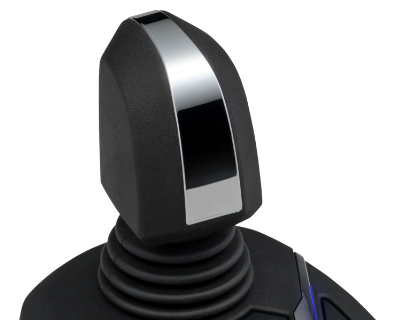 Low speed Joystick maneuvering is extremely intuitive and useful for various occasions like docking, turning in the confined space or navigating through no-wake zone. Single-hand, fingertip joystick operation integrates control of the throttle, shift and steering – instead of multiple boat operating devices like conventional steering wheel and control levers.
Standard maneuver
Moving forward, backward, and turn right or left
Lateral maneuver
Moving left, right or diagonal
*Not available for single engine
Pivot-turn maneuver
Rotating left or right on the spot
*Not available for single engine
FULLY EXPANDABLE SYSTEM
The system consists of four primary application levels and has been designed to be fully expandable and customizable to suit your needs. This means you can install the complete Helm Master™ EX system, or start with the Digital Electronic Controls and Digital Electric Steering, and add additional components over time, allowing you to reap the benefits that come with each component upgrade.

As the whole system has been designed and manufactured by Yamaha, using a plug-and-play approach, each component is easy and quick to install and comes with none of the inherit problems that occur when trying to integrate complex third-party electronic devices from different manufacturers.
Helm Master™ EX is available across all current Yamaha Digital Electronic Control outboards from F150 to F450 and can be installed in single, double, triple and quad outboard applications.

Note: The "Applicable Levels" offered differ by country or area.
Applicable Levels
Level 1
Digital Electronic Control(DEC)
Level 1 incorporates the completely new, upgraded DEC and compatible displays.
There is also the option of the Electronic Key Switch (EKS) with keyless remote.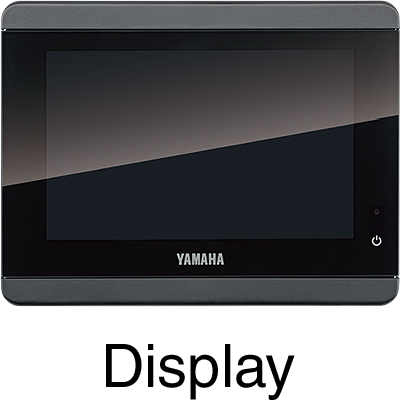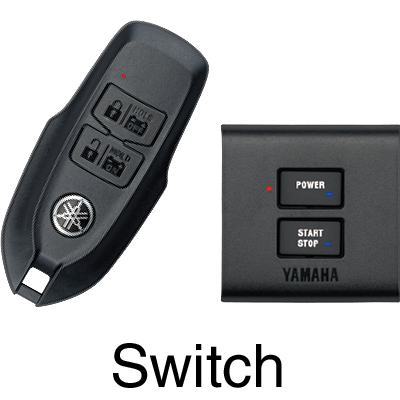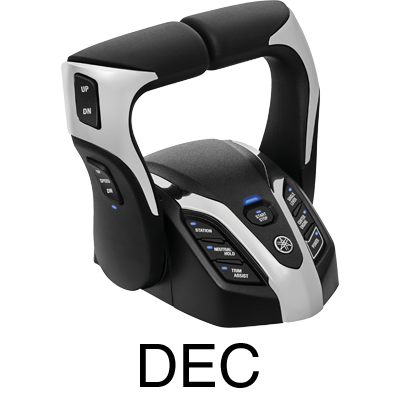 Level 2
Digital Electric Steering(DES)
Level 2 sees the addition of Yamaha's all-new steering control system with Built-in or Bolt-on. This system takes marine steering to the next level, with extreme smoothness, technical smarts and precision.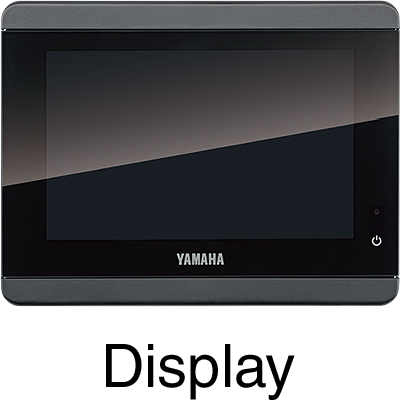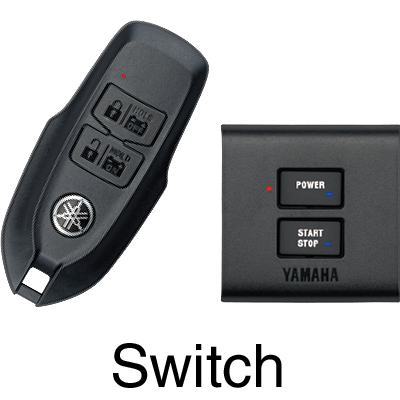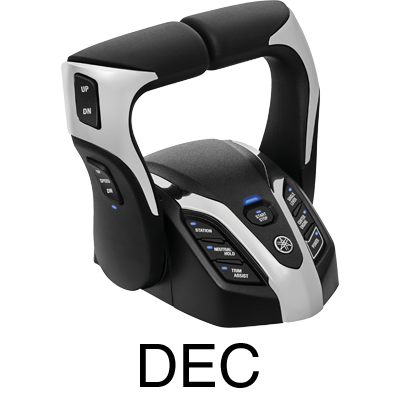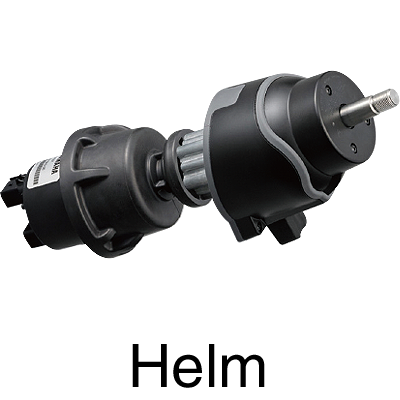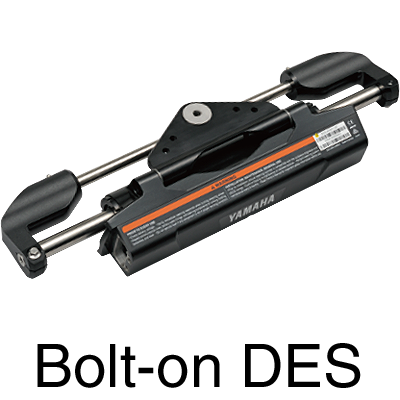 Level 3
Autopilot
Level 3 introduces Yamaha's all-new Autopilot. This system provides a number of built-in single touch functions that makes navigating and getting to your destination easier and quicker.
The system includes a slimline eight-button panel which goes on the console, a heading sensor which sits under the console and an antenna above the boat.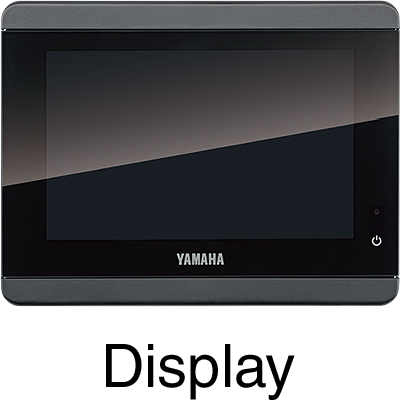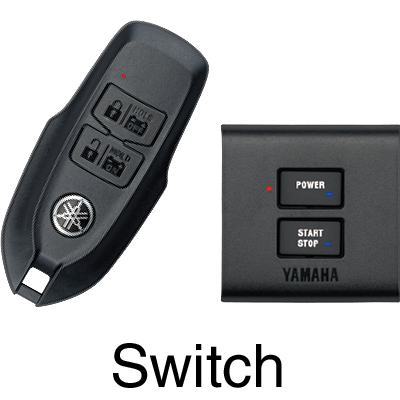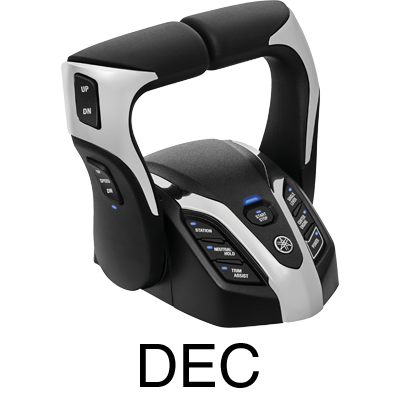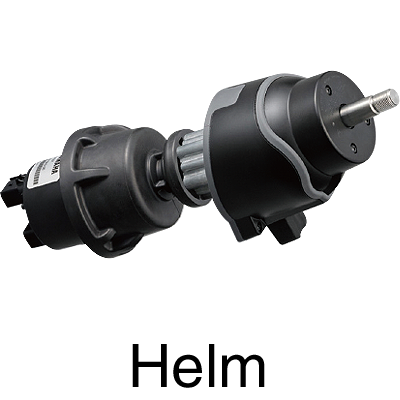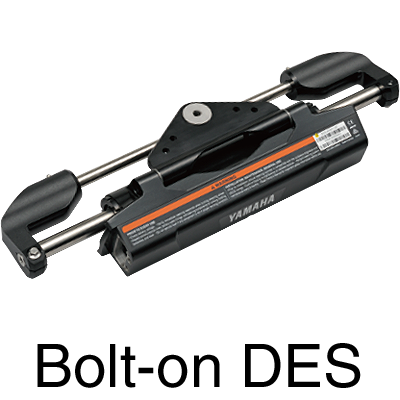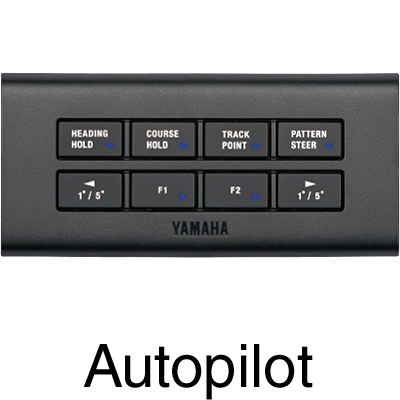 Level 4
Full Maneuverability Joystick
Level 4 is the premium level of the Helm Master™ EX system, with the addition of Yamaha's full maneuverability joystick control system.
This stylish and ergonomic controller provides simultaneous control over shift, throttle and steering, in one easy-to-use joystick application. It can also be used in conjunction with many of the built-in Helm Master™ EX SetPoint™ positioning modes (FishPoint™, DriftPoint™, DriftPoint™ Track and StayPoint™), for maximum control over your vessels positioning.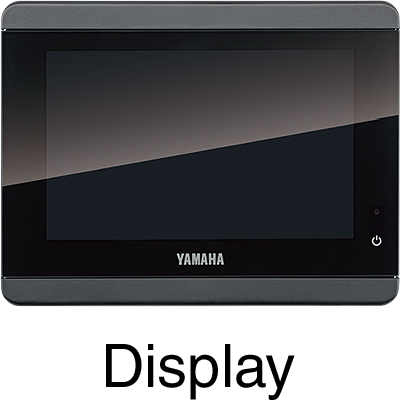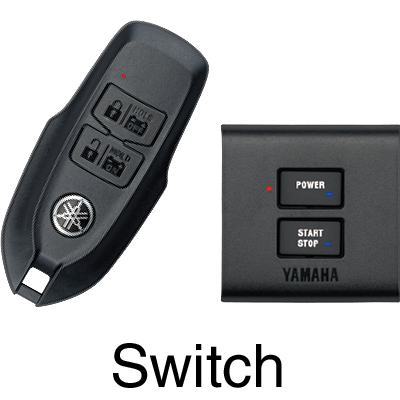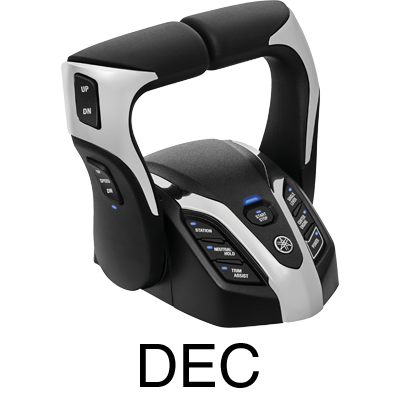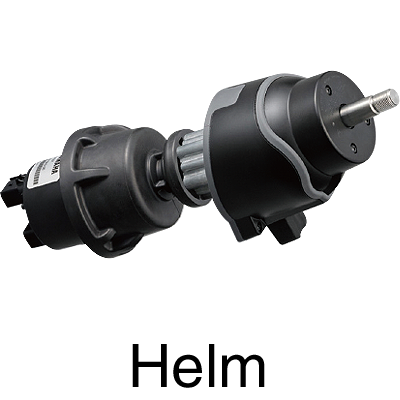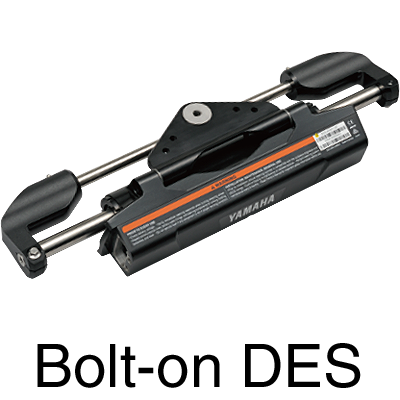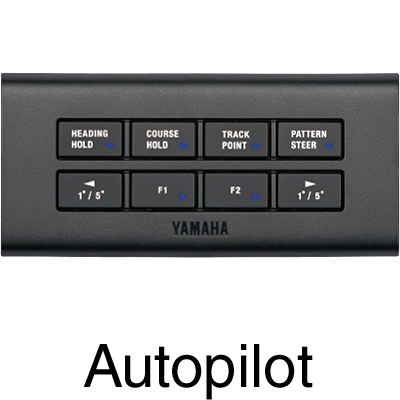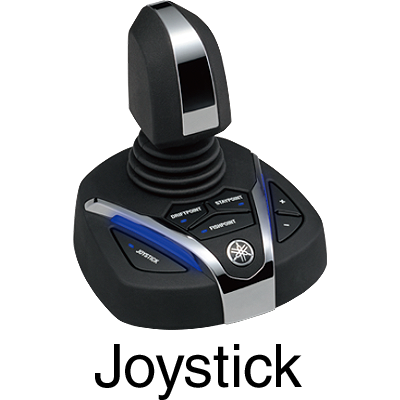 Details
Level 1
Helm Master EX DECs are available in single-handle, or twin handle for twin- through quad-engine installations. The user can access the features with individual buttons uniquely positioned in the new, sleek design.
Digital Electronic Control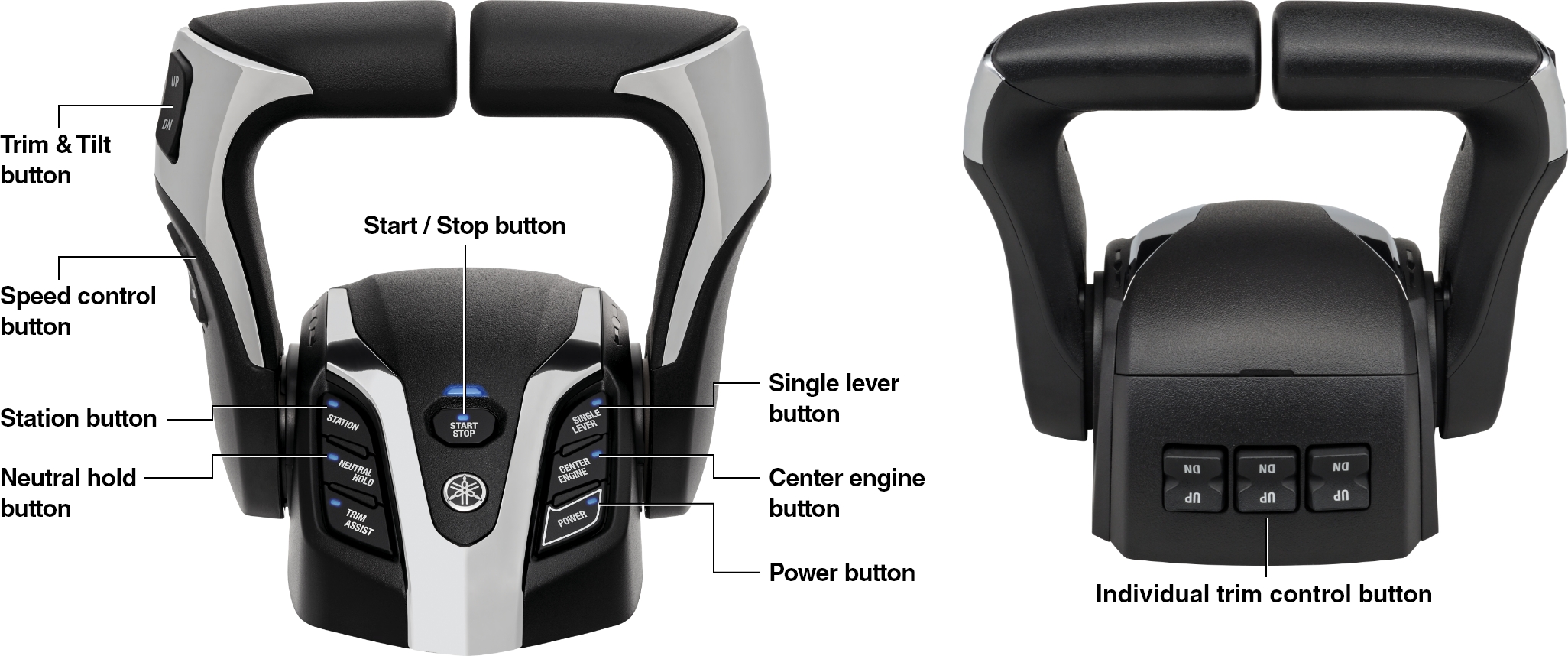 Station button

Activate station transfer (when applicable).
Neutral hold button

Throttles up the engine(s) without shift engagement.
Single lever button

Control multiple outboards with the port-side lever only.
Center engine button

Run only the center engine(s) for slower trolling.
Start/ Stop button

Press this button to start or stop all engines.
*POWER and START/STOP switches on the new DEC doesn't work with 6DR or 6X6 switches.
Power button

Press this button activates the system.
*Power button on the new DEC doesn't work for dual station.
*POWER and START/STOP switches on the new DEC doesn't work with 6DR or 6X6 switches.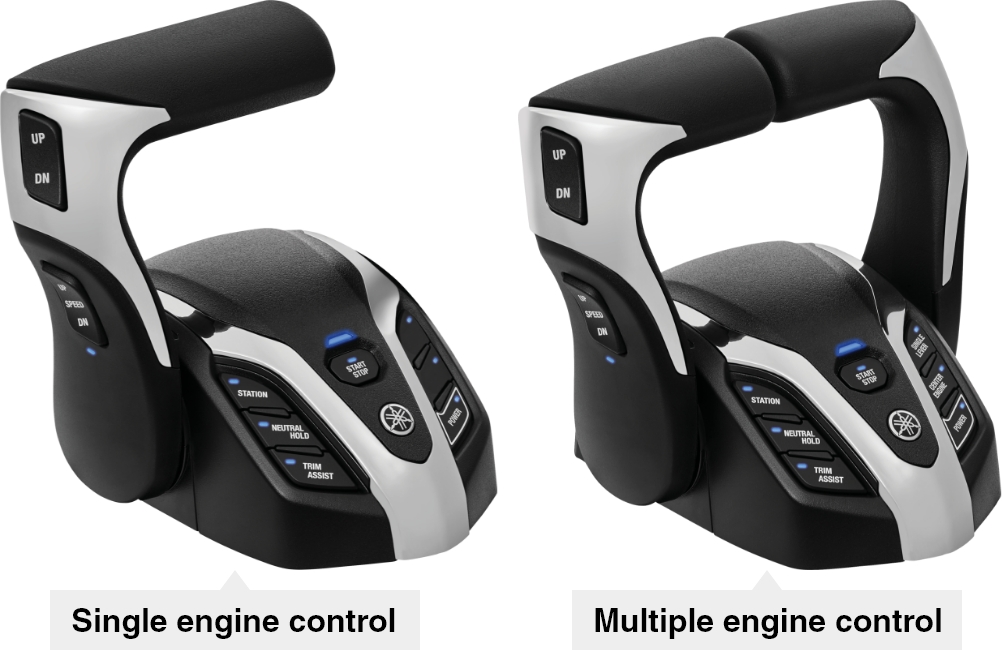 Electronic Key Switch(EKS)
Start your outboard (s) without a mechanical key.
With a smart key fob in your pocket, push POWER button to unlock Y-COP™ and power up the system at a time.

Note: Radio law is applicable for the EKS. Sale is restricted to the certified countries.

DISPLAY
Helm Master™ EX offers some different types of displays - CL7, CL5 and MFD interfaces to support a wide variety of console configurations.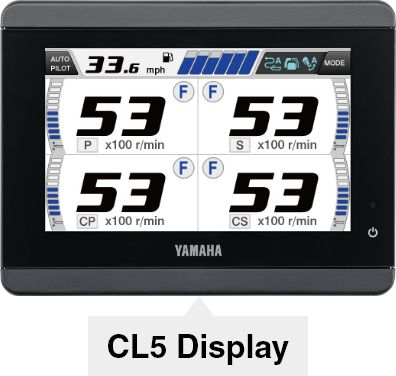 Level 2
Yamaha's DES is the electronically controlled steering system with two different forms; Bolt-on and Built-in. Unlike aftermarket steering system, it is digitally connected from the helm to the engine, requiring no external pumps or steering fluid. It offers stable and assured steering and also steering setting can be changed depending on various boating situation.
Bolt-on DES
Compatible with all current DEC outboards with conventional clamp-bracket, 2.8L to 5.3L (150-350hp).
*Except the first generation F350A (6AW/ 6AX, model year up to 2010), F300A (6BJ/ 6BK) and F250B (6BR/ 6BS).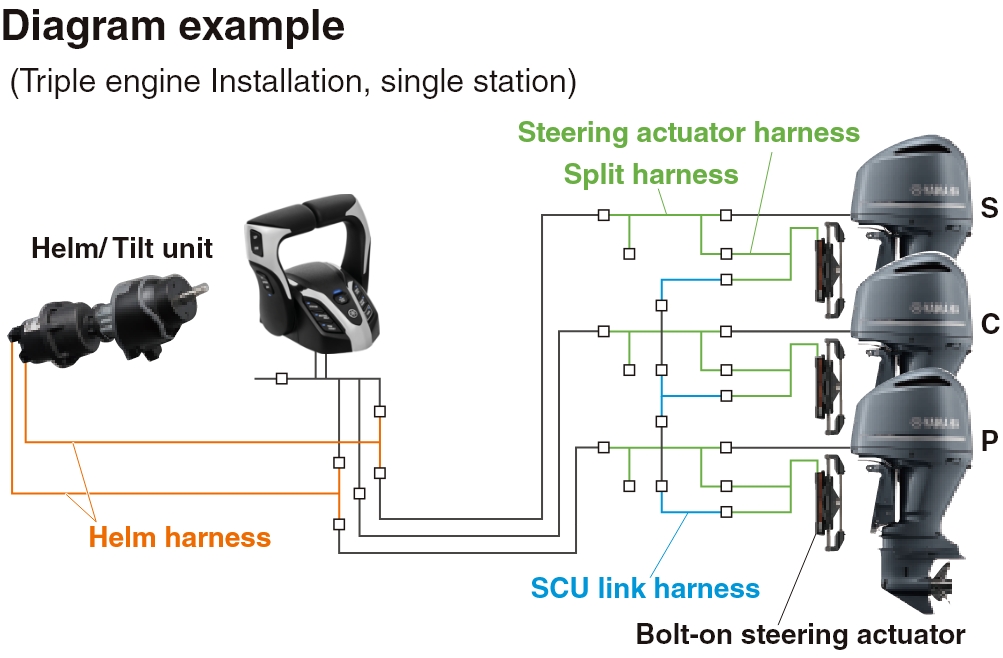 Built-in DES
Industry-first integrated electric steer-by-wire system.
Support single to quint engine installation. Less interference with motor well when tilted up - can be used in flat transom applications.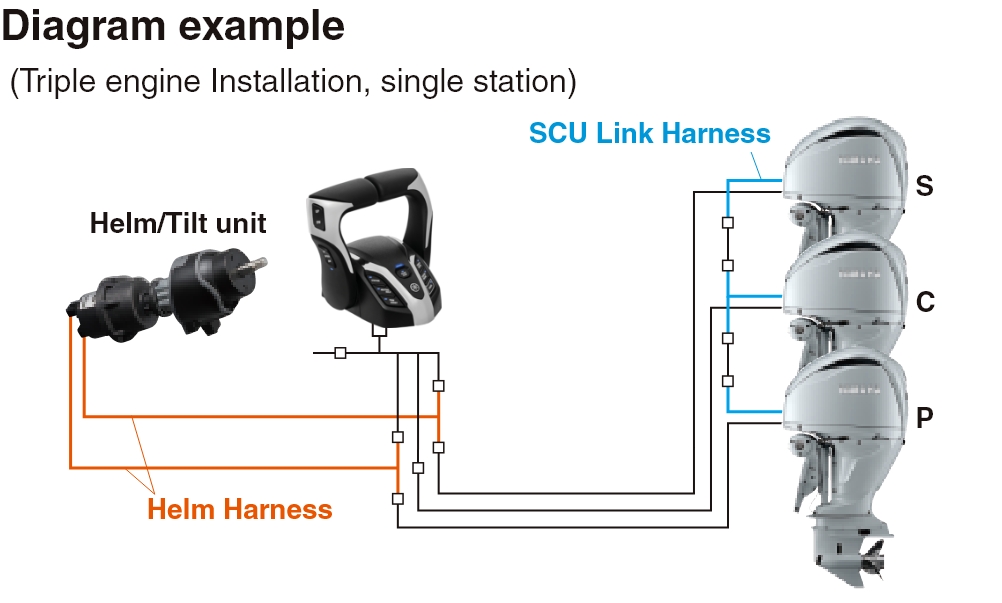 Parts image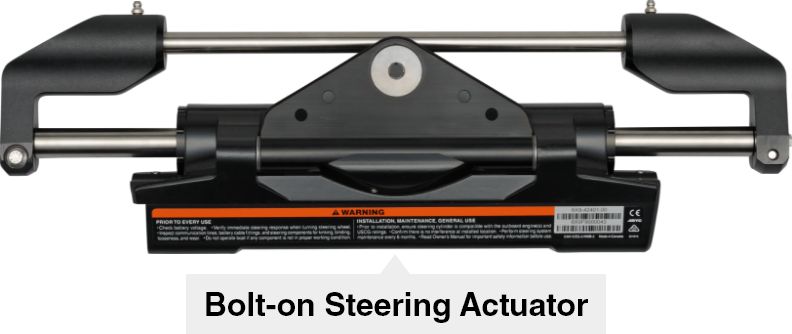 Level 3
Yamaha's first Genuine Autopilot system.
In addition to the standard Autopilot functions like Heading/Course Hold, it will offer you Yamaha's exclusive features in combination with Joystick and SetPoint™.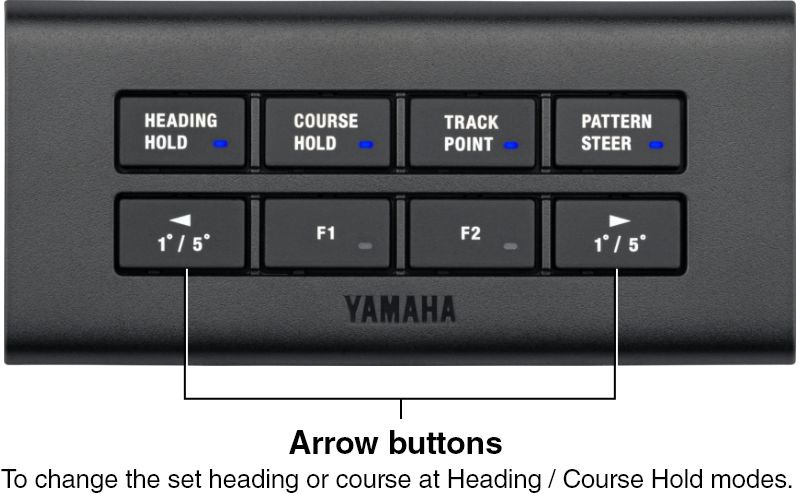 Level 4
The Joystick is ergonomic and low profile design. Smoother knob action and better feeling.
The next generation Joystick gives you much more low speed maneuverability with less shifting.*
And most of these features are available for the single engine application too.

*Joystick maneuvering performance, especially sideways move is dependent on boat/ engine application. Performance test and boat builder acknowledgement is required prior to ordering/ sales.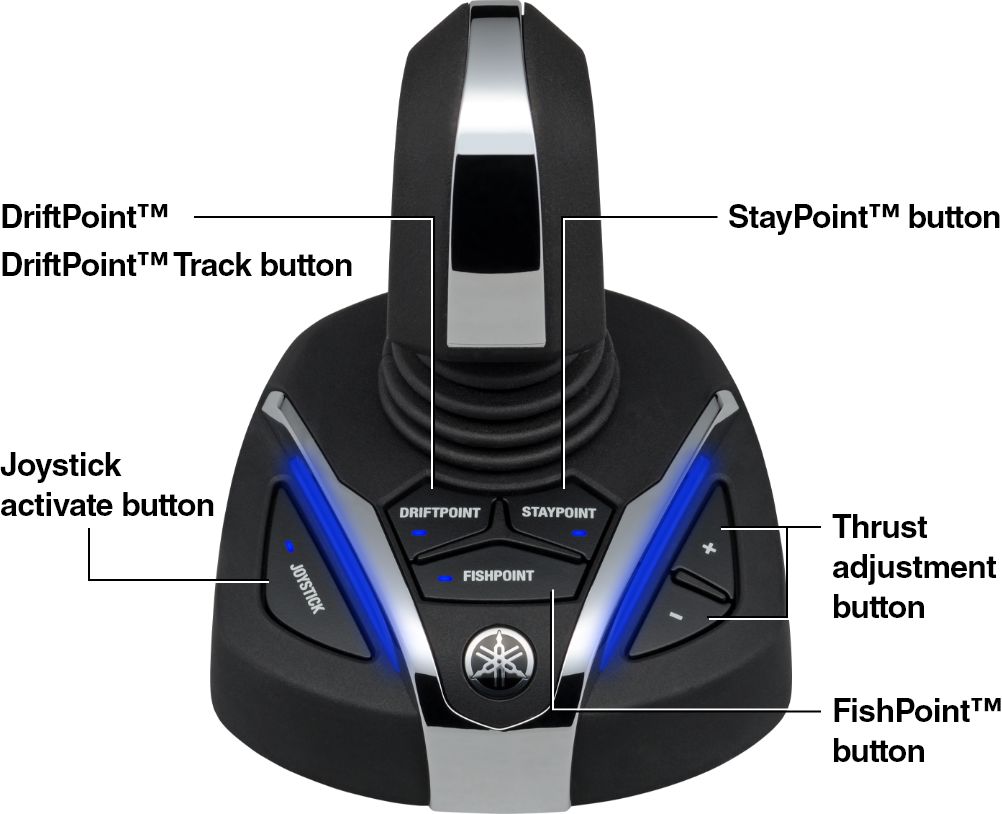 Feature Table
| Function | LEVEL 1 (DEC) | LEVEL 2 (DES) | LEVEL 3 (Autopilot) | LEVEL 4 (Joystick) |
| --- | --- | --- | --- | --- |
| Variable Troll RPM Switch(VTS) | ● | ● | ● | ● |
| Single Lever | ● | ● | ● | ● |
| Speed Control | ● | ● | ● | ● |
| Pattern Shift | ● | ● | ● | ● |
| Trim Assist | ● | ● | ● | ● |
| Center Engine | ● | ● | ● | ● |
| Neutral Hold | ● | ● | ● | ● |
| Electronic Key Switch (EKS) with Y-COP® | ● | ● | ● | ● |
| CL5 Display | ● | ● | ● | ● |
| MFD Interfaces | ● | ● | ● | ● |
| Adjustable/Variable Lock to Lock | | ● | ● | ● |
| Adjustable/Variable Steering Friction | | ● | ● | ● |
| Heading Hold | | | ● | ● |
| Course Hold | | | ● | ● |
| Pattern Steer | | | ● | ● |
| Track Point | | | ● | ● |
| Bow Thruster Integration | | | ● | ● |
| Autopilot with Joystick Adjustability | | | | ● |
| Joystick Maneuverability (incl. Single Engine) | | | | ● |
| SetPoint® Suite Features (incl. Single Engine) | | | | ● |
| Track Point with SetPoint® Final Stop | | | | ● |