Connext
This page introduces Connext.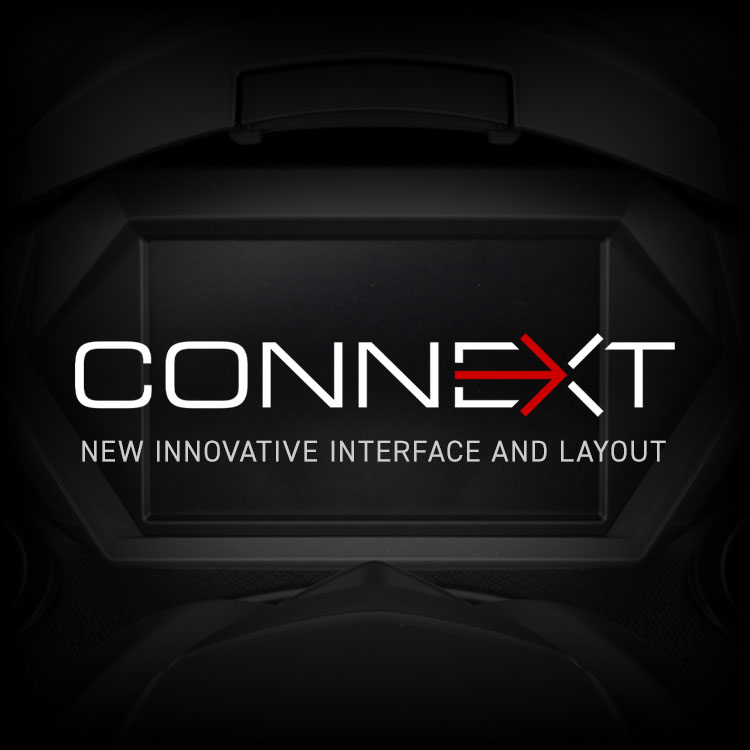 CONNEXT Infotainment System
The Connext features Drive Control for customizing your ride, and provides all vital display functions, and security mode to prevent unauthorized use.
Features
01Drive Control
The Dive Control mode is a function for setting the maximum watercraft speed and acceleration for each rider.
Useful for…
Stable towing tube or wakeboards
Optimum fuel economy on longer trips
Lock in lower RPM settings for inexperienced riders
02REVERSE ASSIST (Adjustable speed)
The Reverse Assist is a function for temporarily increasing the engine speed when moving in reverse, such as to enter the water smoothly when launching the watercraft from a trailer.
*RPM is approximate and varies by models and conditions.
*The 2019 FX Cruiser SVHO is used in this video.
03THRUST DIRECTIONAL ENHANCER (T.D.E., Ultra slow speed maneuvering mode)
The T.D.E. is a function for slightly lifting or lowering the reverse gate from the neutral position to operate the watercraft at very slow speeds when the engine is running at idling speed.
Useful for…
When approaching or leaving docs
Tying up to other boats
Keeping position on the water ... etc.
04NO-WAKE MODE
The No-Wake mode is a function that maintains the engine speed at a fixed setting for operating the watercraft at low speeds.
No wake mode speed of SVHO/HO(approx, 1 person riding)
No Wake(standard): 8km/h
No Wake +1: standard +1km/h
No Wake -1: standard -1km/h
*Available three levels of settings by switch operation.
05CRUISE ASSIST
The Cruise Assist is a function for maintaining a desired engine speed within a fixed range while operating watercraft.
Once the cruise assist is activated, the set engine speed can be increase or decreased with the speed control switch.
*The range of the cruise assist level: -5 to +5
06Smartphone Accessibility via Bluetooth (for Luxury (FX) Series)
Audio Control
Available to pair your smartphone via Bluetooth and connect to your smartphone's Audio.
Audio control is available through the Touchscreen or Keypad.
Smartphone Connectivity
All Luxury(FX) models have incoming PHONE CALL and TEXT notifications.
Available to answer / end calls using the Touchscreen, and to make outgoing calls by holding down the Voice Command Button.
07GPS Maps Ready (for Luxury (FX) Series)
Once the map data cards are installed, you can use sub menu bar at the bottom of the screen, such as adding Waypoints, following Waypoints, creating Tracks, recording Tracks, saving Tracks.
*For Map data cards, please confirm with the Yamaha sales staffs.
Geofencing
You can set a virtual boundary for a rider by turning the Geofencing switch on, and setting a radius distance the rider can travel within.
Unit alerts the rider when they've gone beyond the virtual boundary.
08Auto Trim for Luxury (FX) Series and Performance (GP) Series
You can also select different acceleration modes and trim settings for more performance or comfort-oriented riding styles.
For Luxury (FX)Series, you can select "Performance Mode" and "Comfort Mode", and for Performance (GP) Series, you can only select "Performance Mode".
"Comfort Mode" activates "Launch Control" and "Spray Control", and "Performance Mode" activates "Cornering Control" and "Launch Control".

Cornering Control : Automatically shifts down the trim position on deceleration(throttle lever released), thereby achieving smooth cornering and racy riding.
Launch Control: Automatically shifts down the trim position at low speed, preventing bow-up on acceleration and providing comfortable acceleration feeling.
Spray Control: Automatically shifts up the trim position when senses the rough water condition, thereby reducing the impact from the waves and provide more comfortable ride.
09SECURITY SYSTEM
The Yamaha Security System functions to help prevent unauthorized use or theft of the water craft.
The engine cannot be started if the lock mode of the security system is selected.
10SETTING FUNCTION
LANGUAGE
The display language can be selected from English, French, or Spanish.
Unit
The display units can be selected.