Earthquake-Resistant FRP Pools
Yamaha FRP Pools are earthquake-resistant with reinforced structure.
Survey on Pool Damage from Earthquakes
The Great Hanshin-Awaji Earthquake of 1995, and the Great East Japan Earthquake of 2011. Yamaha conducted a damage survey of its pool facilities. In every case, pool damage was caused by factors other than the pool itself, such as ground displacement or loss, tsunami, or building collapse.
Pools in the earthquake area (6-upper seismic intensity)
Pools in the earthquake area (6-lower seismic intensity)
Great East Japan Earthquake Yamaha Pool Installation Survey
Total Pools Surveyed: 329 (Iwate, Miyagi, and Fukushima Prefectures)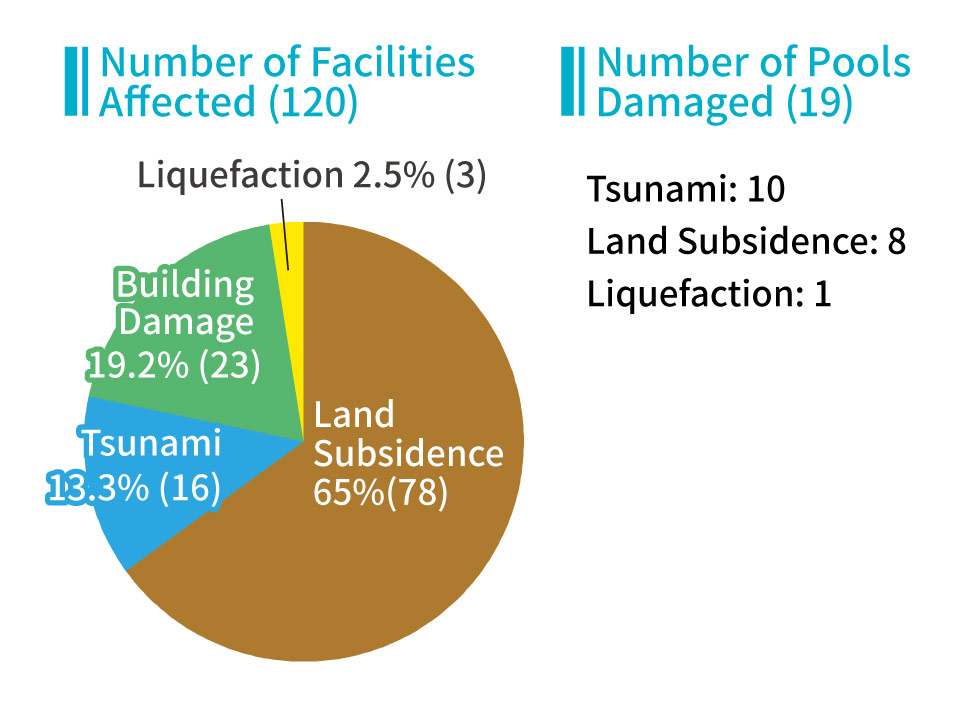 Earthquake reinforcement for pools
("Subsidy System for Earthquake Reinforcement for Existing Pools" by the Ministry of Education, Culture, Sports, Science, and Technology)
Earthquake reinforcement work on existing pools requires piping around the pool, seismic base isolation for the connectors on the pool unit, fall prevention mechanisms for equipment, and seismic reinforcement for the pool itself.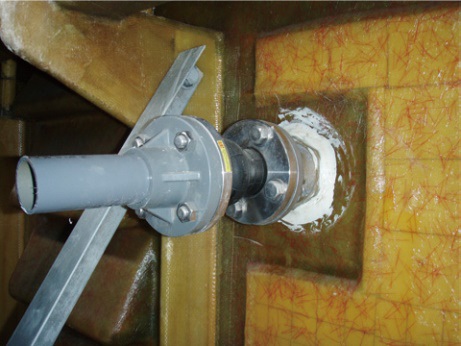 (1) Installation of Flexible Flanges
Pipe connectors are set up at different places based on how they will be shaken in an earthquake, preventing pipes from breaking or coming off.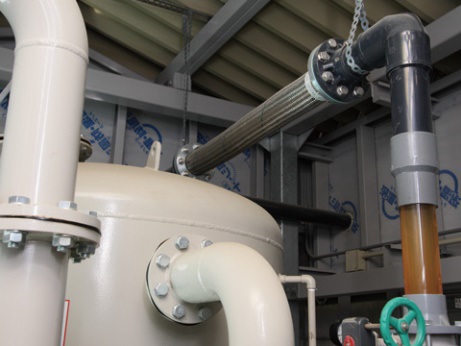 (2) Prevention of Falling Equipment
Fittings attached to the floor and ceiling slabs prevent equipment falls due to shaking.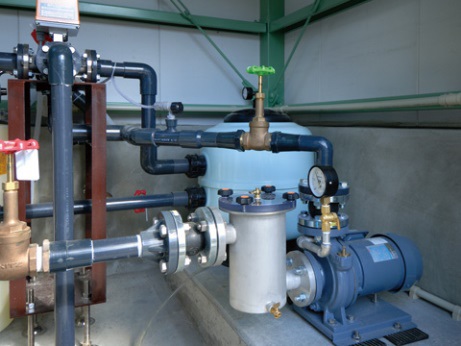 (3) Anti-Vibration Pedestals
Anti-vibration rubber and pedestals are installed to mitigate equipment shaking should an earthquake occur. These also reduce noise during operation.
Pool water that can be used in the event of a disaster
Can be used as water for daily use during the initial period of use of schools as shelters
The day following the Great East Japan Earthquake, 600 people from the district of Yuriage were evacuated to Natori Municipal Tatekoshi Elementary School in Miyazaki Prefecture, six kilometers away. The water in the pool, which did not break despite the earthquake, was used as water for daily use.
FRP Business Development Section
Marine Business Headquarters, Yamaha Motor, Co., Ltd.
3078 Arai, Arai-cho, Kosai-shi, Shizuoka 431-0302
TEL:81-53-594-6512
*Telephone Hours: 9:00 AM - 12:00 PM, 1:00 PM - 5:00 PM
(excluding national and company-designated holidays)