Air Flow Management
Revs Your Heart – Explore the world of Yamaha motorcycles
Making Bike Control Easier for All Riders
The engine layout with a forward-positioned intake and rear-positioned exhaust port was first used on the 2010 YZ450F. The aim was an arrangement yielding more freedom than the conventional single-cylinder engine layout—where the cylinder is positioned horizontally or inclined forward—in order to achieve not only more power but also easy-to-ride engine characteristics. The 2023 YZ450F retains the advantages of this design, but features a completely revised intake layout in which the intake itself is still positioned in front of the cylinder, but the routing for taking in fresh air is altered to make the machine's body lighter and more compact.

Intake air is now routed through the gaps between the side covers and the fuel tank, and also under the seat. The outgoing model brought in fresh air through the duct at the front of the bike, but the new layout takes in air that first passes along the side cover, fuel tank, and frame and alongside the fuel tank and seat. Eliminating the front intake duct and instead using the bodywork to create intake passages contributes to reducing overall chassis weight and size. The design also ensures the right volume of intake air, which contributes to linear engine response
Advantages of the New Layout

1. The area around the seat and side covers is more compact, while the lower height of the air cleaner made it possible to make the seat area flat, giving the rider more room to maneuver their body and smoothly shift weight while on the bike.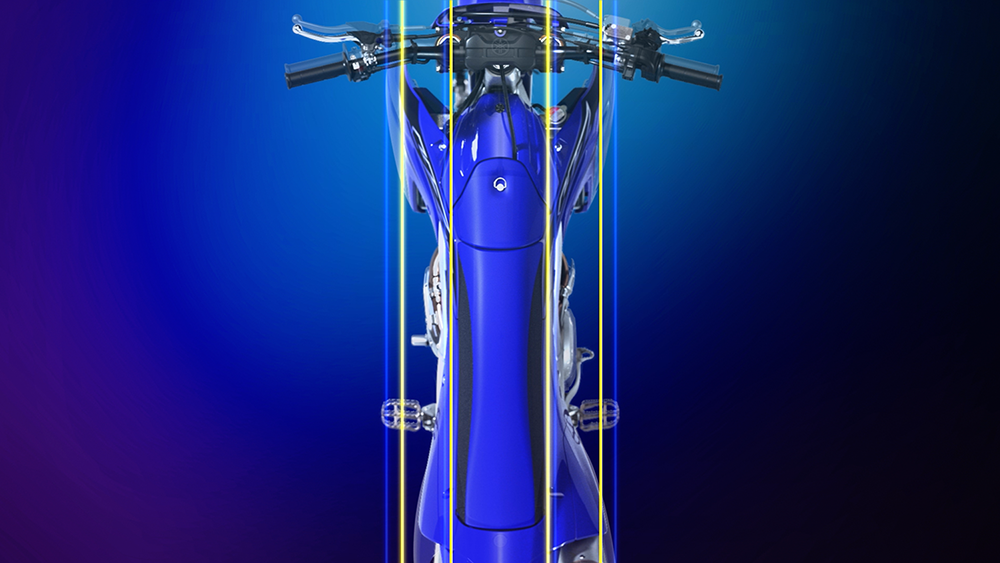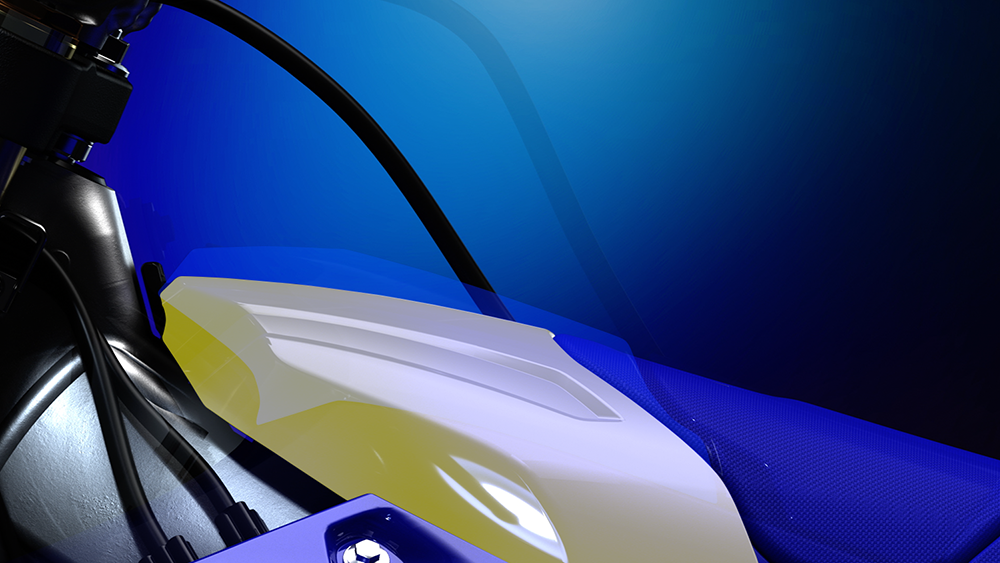 2. Creating intake air passages with the bodywork lowered the chassis' center of gravity. At the same time, the weight reductions achieved with the clutch in particular, which is situated lower down on the bike, altered the center of gravity for the engine, bringing it further upward. The result of this is the center of gravity for the chassis and engine being closer together, thereby making the bike easier for the rider to control.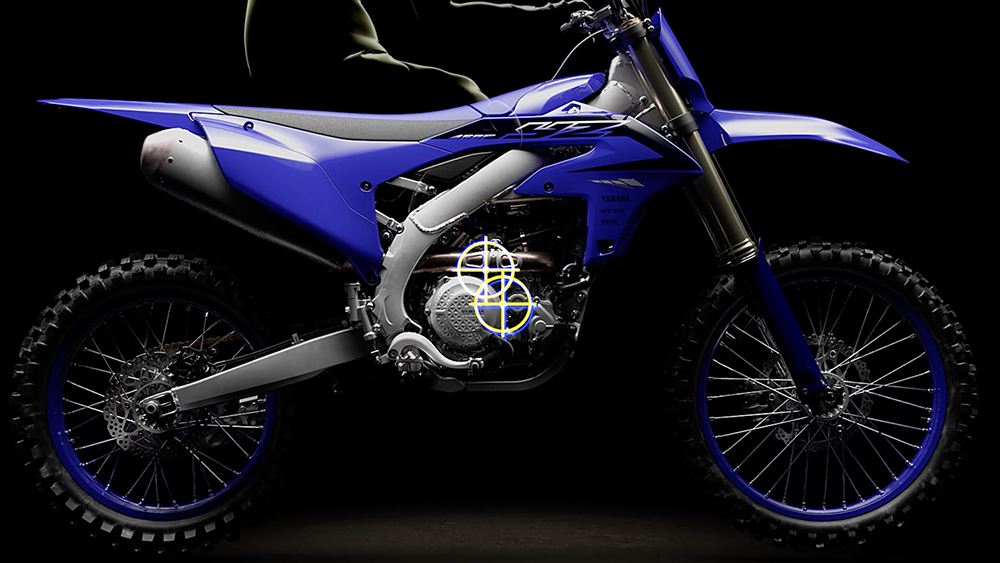 3. Water, dust, and mud are now less likely to enter air intake passages.
The new air cleaner uses a rounded filter element aimed at reducing airflow resistance. Inside the air cleaner, the fresh air taken in is worked into a swirl on the dirty side. Directing the air to flow along the wall helps the three-dimensional filter element perform more efficiently, making dust and other intrusive matter fall or otherwise adhere to the wall of the dirty side. The element itself can also be easily removed, making routine maintenance easier.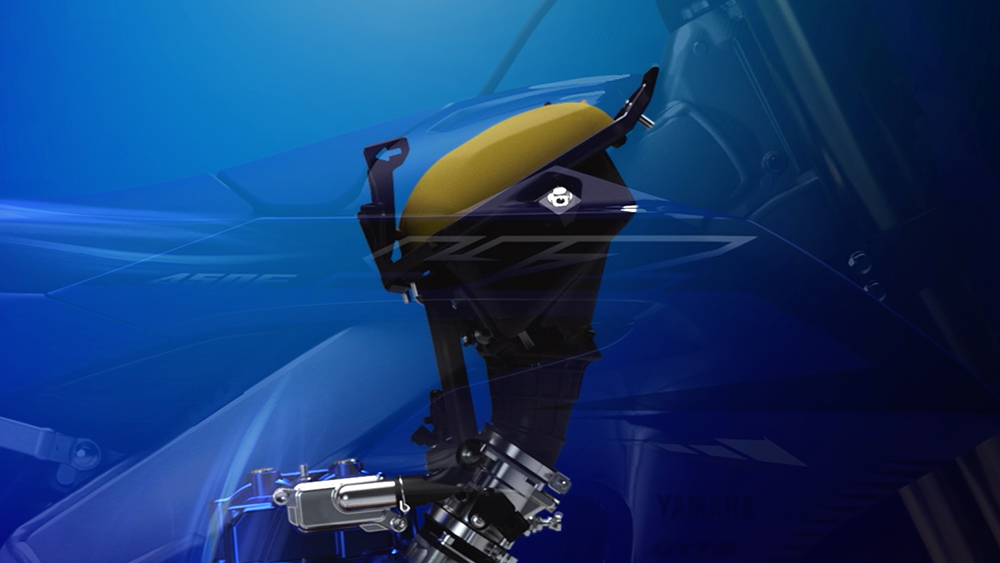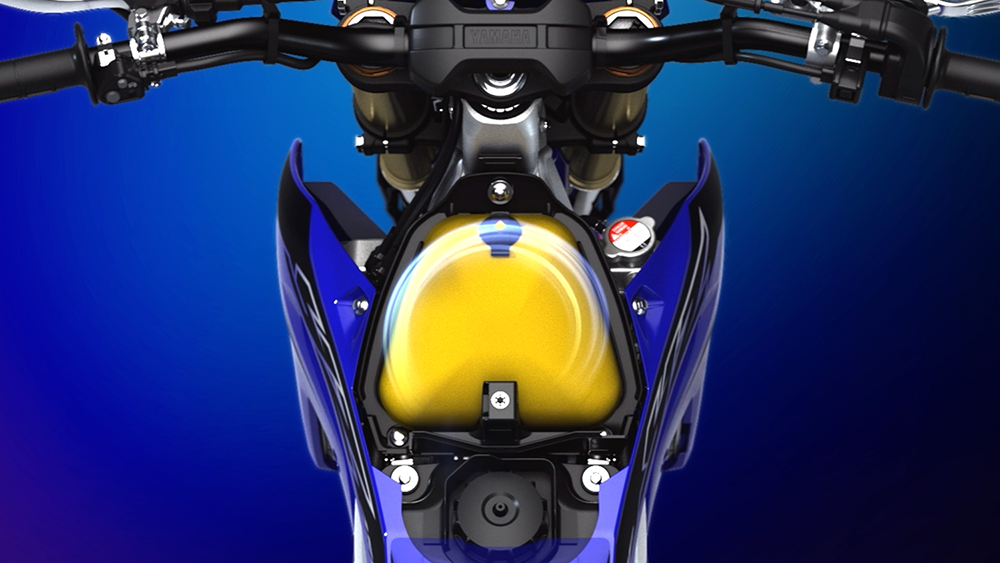 The new intake port employs a multi-angled oval design and the titanium intake valves have also been enlarged. Fresh air is directed through the both the intake routes and air cleaner with high efficiency.