Fisheries industry modernization
Sustainable coastal fishery development and industrial promotion through 'safe navigation and operation' and 'co-existence with the environment'.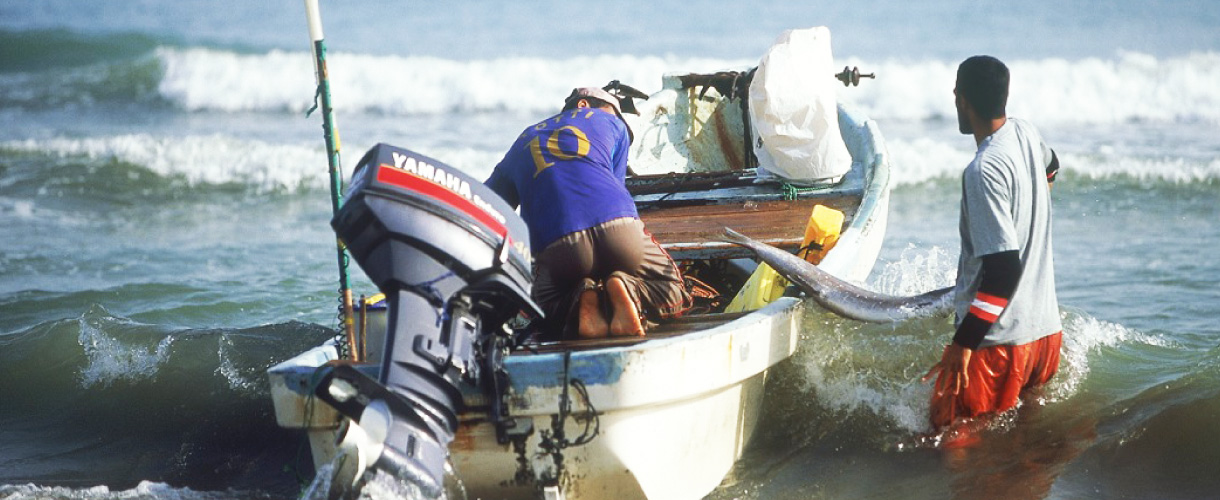 YAMAHA Motor's
"BLUE ECONOMY"
In coastal fisheries, from the viewpoint of climate change, marine pollution, resource depletion, stable food supply, and the environment, the major trends are changing from "harvest" to "grow" and "aquaculture". However, in the case of aquaculture alone, fishermen and many fisheries officials cannot be involved in the fishing industry, and lose their livelihood.
We believe that we should aim for the sustainable growth of coastal fisheries through "protection of resources" and "coexistence with the environment".
As a comprehensive marine manufacturer, Yamaha Motor is modernizing the fisheries business based on the major premise of the safety of fishermen's navigation and operations. We propose a "Blue Economy" through the development of coastal fisheries and the promotion of industry, and we continue our activities to realize this goal.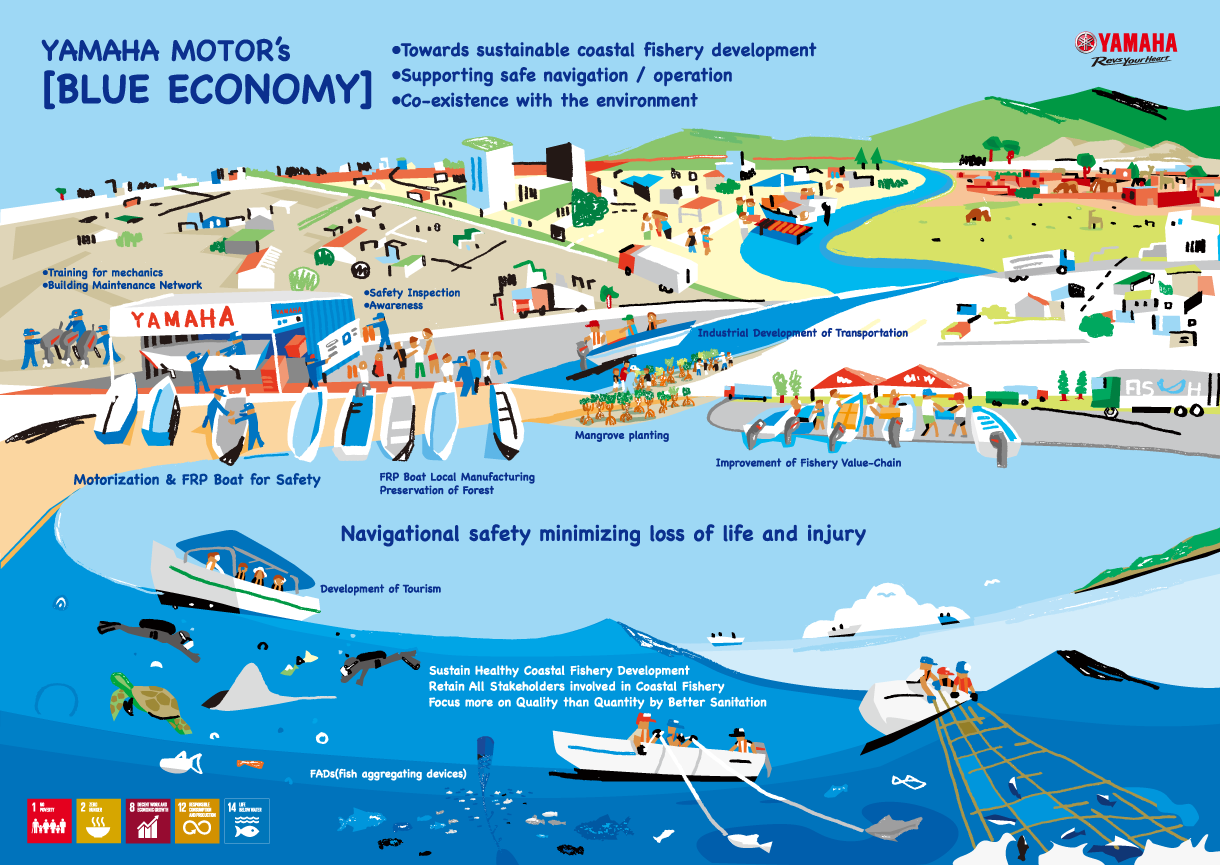 Safe navigation and operation
We'd like to prevent the loss of human life and device due to accidents caused by equipment.
We'd like to reduce losses as much as possible even if an accident occurs by disseminating safety equipment and enlightening safety ideas.
Co-existence with the environment
Reduction of deforestation by changing from wooden boats to FRP boats
Resource conservation by "catch less and sell higher"
Coastal fishing
We'd like to protect the industry where many people work by continuing healthy coastal fishing.
Industrial promotion / employment opportunities
Promote industry with local FRP shipbuilding
Promotion of transportation and tourism industry through safe navigation
Marine engines propel the fishing industry
We support the modernization of the fisheries industry and greater safety in navigation by introducing outboard motors into countries where fishing had previously been done from wooden boats using only sails and oars, and teaching the Japanese way of fishing and handling and processing fish. This expands accessibility to larger fishing grounds, increases the types of fish caught, and brings them back to market more quickly.
The Enduro series of outboard motors was created in the 1970s to withstand poor-quality fuels and harsh usage environments. Even now, it is popular among many people employed in the fisheries industry. (As at September 2021)

Related video: Modernizing Fishery in Africa
Related video: Enduro - Outboard Motors
Related info: Product development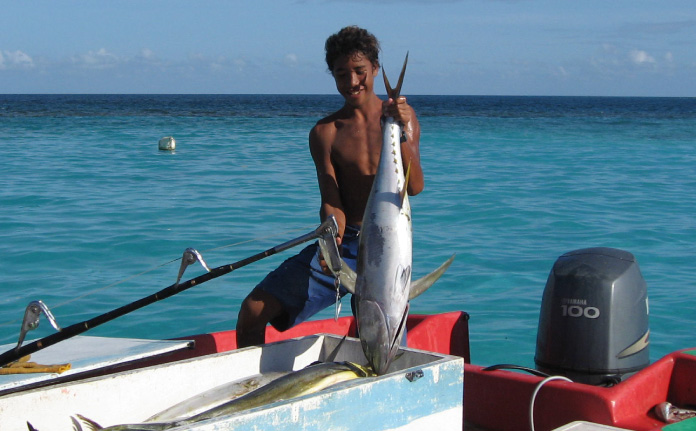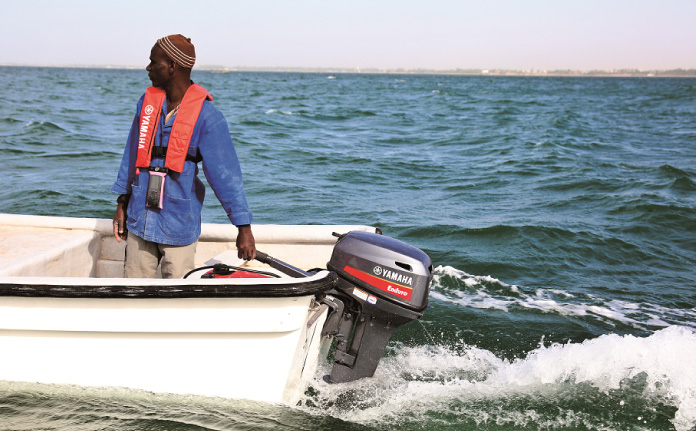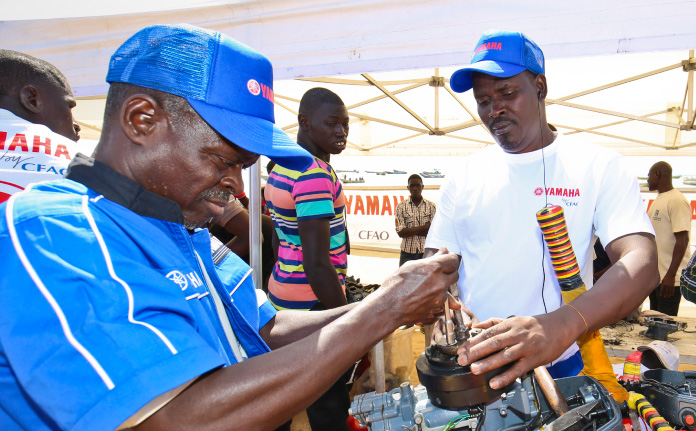 The transition from wooden to FRP boats
The transition from wooden to FRP fishing boats not only reduces deforestation, cuts CO2 emissions through improved fuel economy, and drives down fishing boat running costs, but it also improves safety in navigation and operation by alleviating accidents caused by wooden boats. We have launched FRP technical assistance factories in a number of regions and the 2,000 boats we currently produce annually are helping to train technicians, create jobs, and boost the fishing, tourism, and transport industries.

Related info: Moving You - Made in Mauritania: An Instructor-trainee Relationship without Borders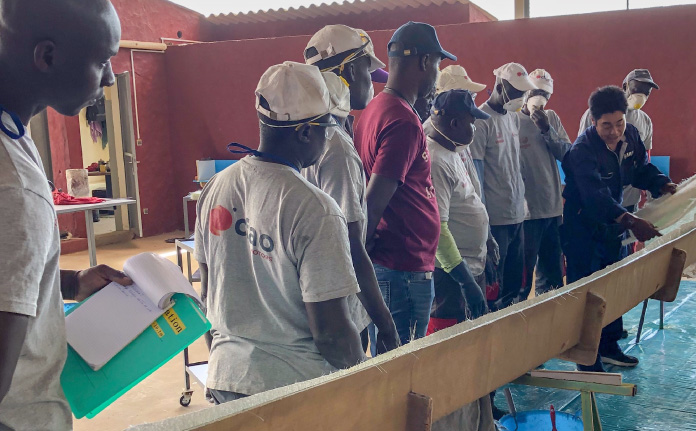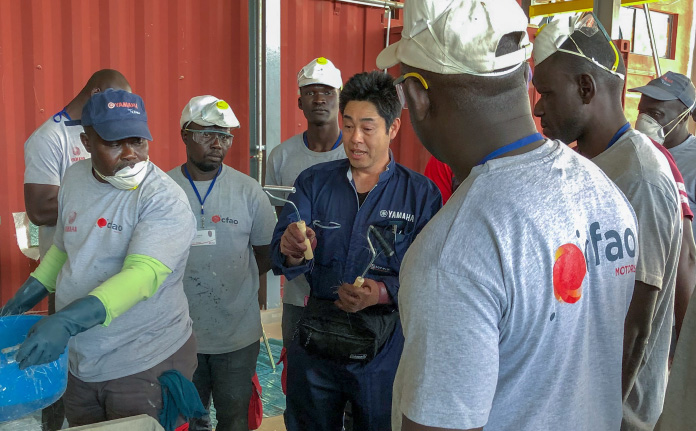 The story of fishery modernization
The development of fiber-reinforced plastic (FRP) boats based on traditional wooden canoes.
Our development principles are preserving the fishing culture and traditional fishing methods of local fishers.
In 1980, traditional canoe fishing was the norm in Senegal, Africa. More than 70% of the total catch was obtained through this method. 10% of the whole population was involved in canoe fishing. In order to develop while sustaining this tradition, the Senegalese government focused on 3 measures.
The pursuit of efficiency in canoe fishing
The modernization, motorization, and improvement of safety standards for fishing boats capable of beach landing
The conversion from wooden to FRP canoes
In order to accommodate these views held by the government, Yamaha Motor carried out continuous experiments based on FRP fishing boat technology and know-how, ultimately leading to the development of the FRP Beach Landing Craft (BLC). The original concept of wooden canoe was to preserve in the interests of protecting the local fishing culture. While considering the sentiments of the local fishers, Yamaha Motor took into account technological and socioeconomic factors such as safety at sea or the results of research for many years.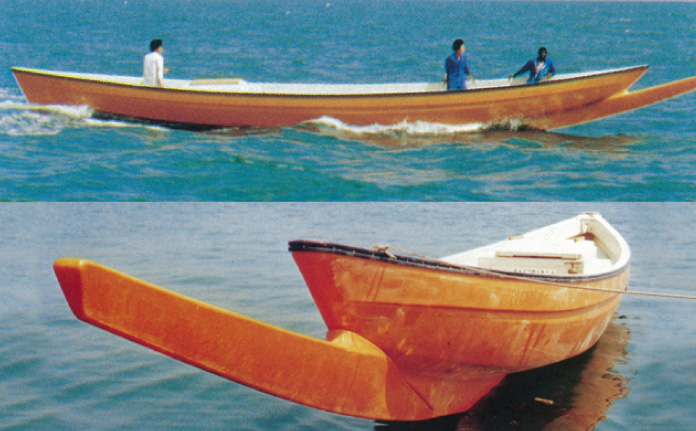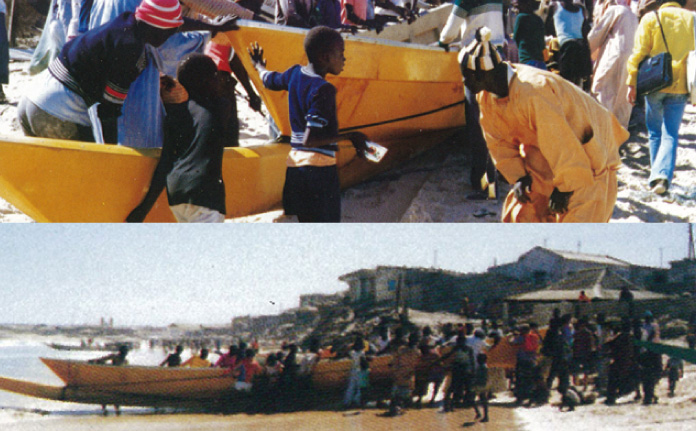 These BLCs based on traditional fishing canoe are in use not only in Africa, but also in other countries whose conditions are similar to Central America.
In 1997, Yamaha Motor and its partner in Mauritania signed a technical assistance agreement for building 40 feet BLCs, the most popular size in Western Africa, which created new business and employment opportunity, saving total production cost of canoe. Mauritania exports, the octopuses caught using BLC40s made in Mauritania, to Japan. Another benefit was seen in preventing deforestation by avoiding cutting down-trees for boat production.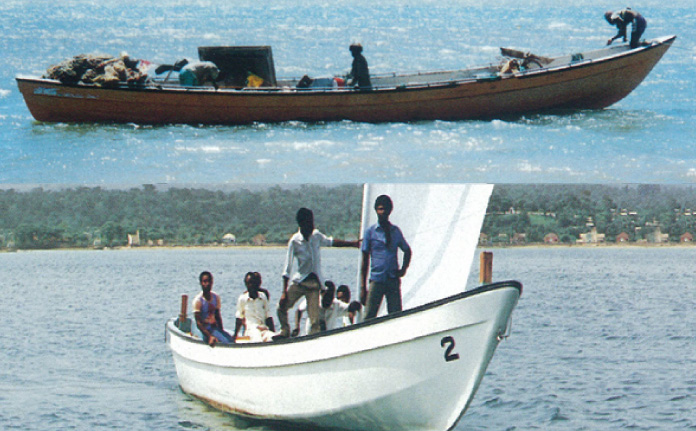 Development of outboard motors that run on non-gasoline fuels
Yamaha Motor has been engaged in the development and distribution of outboard motors compatible with local fuel conditions.
If asked the question "What do your outboard motors run on?" most people would answer "Of course, gasoline". However, due to local fuel conditions, some countries require outboard motors to run on fuels other than gasoline. With the aim of providing compatible outboard motors to such territories, Yamaha Motor has developed and distributed engines that run on alcohol or kerosene, whilst offering periodical maintenance training to its users. For example, in Brazil alcohol is used as fuel. Also, in India and Sri Lanka when the price of kerosene was 1/3 of the price of gasoline, outboard motors were run on household kerosene. In order to adhere to the requests of local customers who had problems when running outboard motors on kerosene at low speeds, Yamaha Motor developed an outboard motor that started running on gasoline and ran on kerosene for the rest of the running range.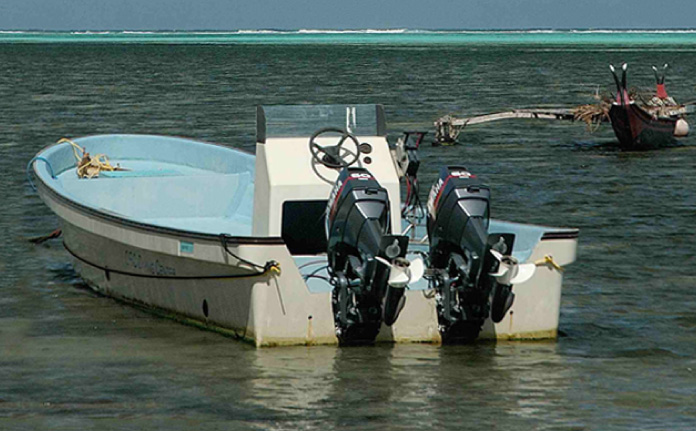 Supporting fishing industry development by introducing more efficient and modern fishing methods
Yamaha Motor has never assumed that providing equipment such as outboard motors or FRP (fiber reinforced plastic) fishing boats alone is enough to promote fishing industries in various countries and regions. We have learned from interactions with local customers that they often want to know more efficient means to catch and preserve fish so that they make use of rich resources effectively.
This made us realize the importance of conveying the methodology of the fishing industry. As a result, in 1977, we published a hidden bestseller "Fishery Journal" that clearly explained Japanese coastal fishing methods and the method of aquaculture along with advanced techniques. We introduced such things as fishing methods and the preservation and distribution of fish through the use of illustrations and pictures.
This publication was issued every three to four months in tabloid sized newspaper format from 1977 to 1995. For 18 years, this provided information on fishing methods and techniques to help the locals establish a modern fishing industry. We also published a cook book for people living in areas where it is not customary to eat fish.
We have had this journal translated into English, Spanish, and other languages so that it can be utilized in many countries as a way to indirectly support fishing industry development. These publications were delivered to more than six thousands of world major organization, research institutes and universities including FAO and archived in the British Library.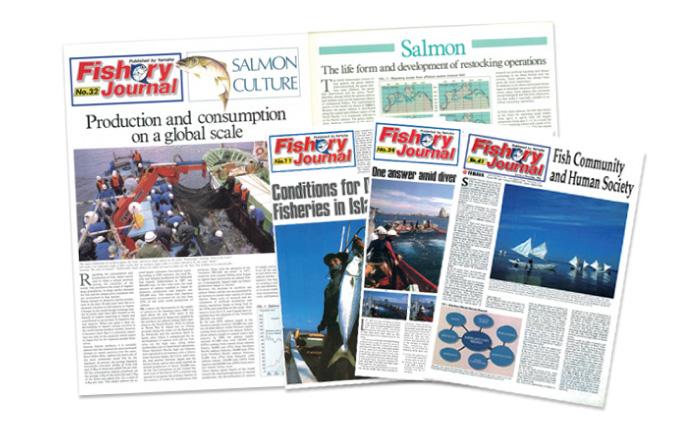 Fishery Journal Digital Archive
Notes;
This Fishery Journals use prevailing vocabulary for fishing methods, scientifically classified fish species, processed seafood and their ways of cooking. These were originally published in Japanese and then translated into English, Spanish and French and some statistics data were updated in early 1980's. All the names of organizations used in this archive such as fishery cooperative associations and local government agencies as well as names of their locations are same as those at the time of the original publication. Also all the names of the titles and positions of the people introduced in this archive are same as those at the time of the original publication. All photographs in this archive are taken directly on the field, showing the actual condition of Japanese fishing, fish preservation and distribution. The contents in it (including photos, illustrations, etc.) are all protected by copyright. Usage beyond personal non-profit use, or any unauthorized reproduction or distribution is strictly prohibited.