About WTGP
In the WTGP, technicians compete with the aim of improving customer satisfaction.
Select

Language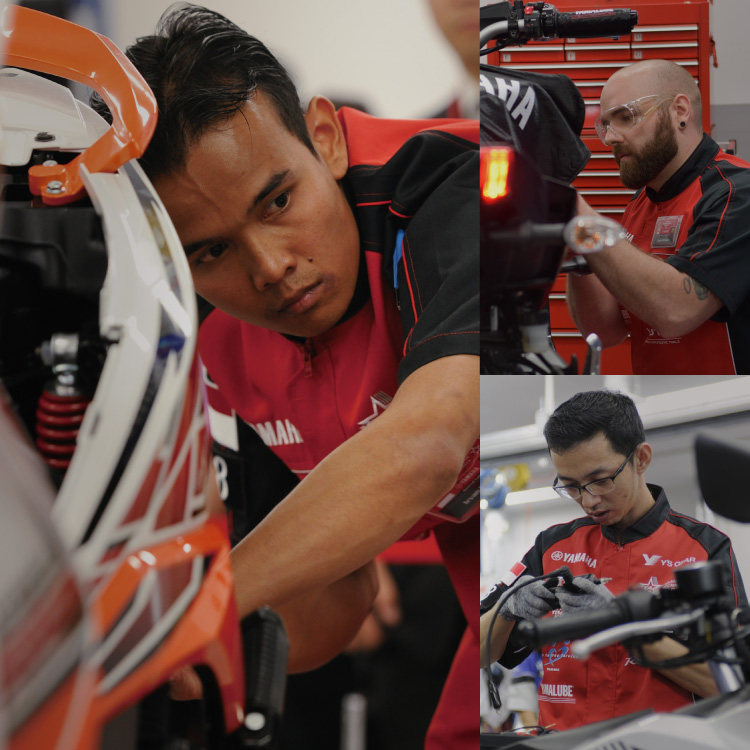 A tournament to determine who is the greatest Yamaha motorcycle technician in the world.
The World Technician Grand Prix is an international contest in which Yamaha technicians use the skills they have accumulated to compete against other technicians.
The technician training programs based on Yamaha's global standards and provided by the Yamaha Technical Academy (YTA) have been expanded throughout the world, and the qualifying rounds of the World Technician Grand Prix are held on a global scale as testimony to the success of YTA training. The elite technicians who manage to get through the qualifying rounds then compete against each other in the World Technician Grand Prix.
The intention of Yamaha is not only to use WTGP to promote high levels of motivation and improve skills in motorcycle technicians, but also to improve customer satisfaction by continuing to train proficient technician capable of maintaining Yamaha motorcycles, and to ensure that as many people as possible understand the importance of aftercare services in order to contribute to the revitalization of the entire motorcycle industry and to raise the status of motorcycle technicians.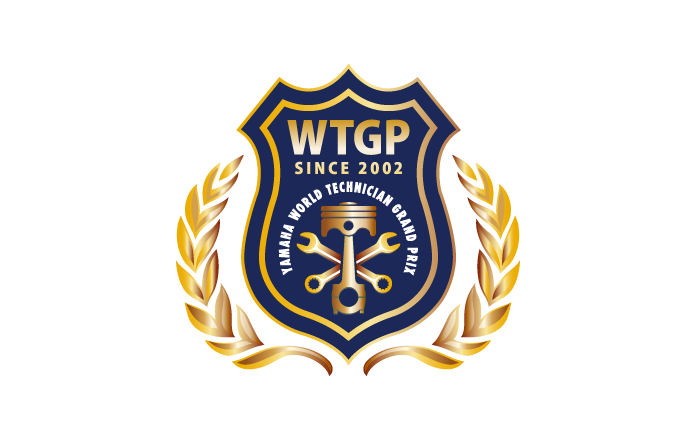 WTGP Emblem
The tools, piston and connecting rod depicted on the WTGP emblem represent the high-level skills of Yamaha technicians,and the laurel wreath expresses the determination and pride inherent with achieving honor.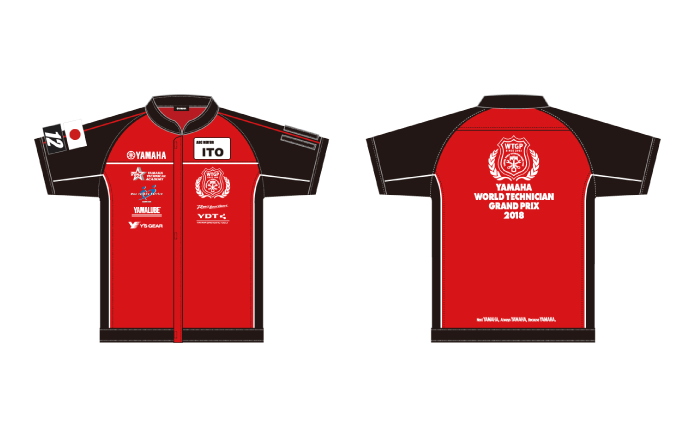 WTGP Uniform
The bright red uniforms adorned with the WTGP emblem represent pride and the passionate way in which victory is sought, and only WTGP contestants are permitted to wear them.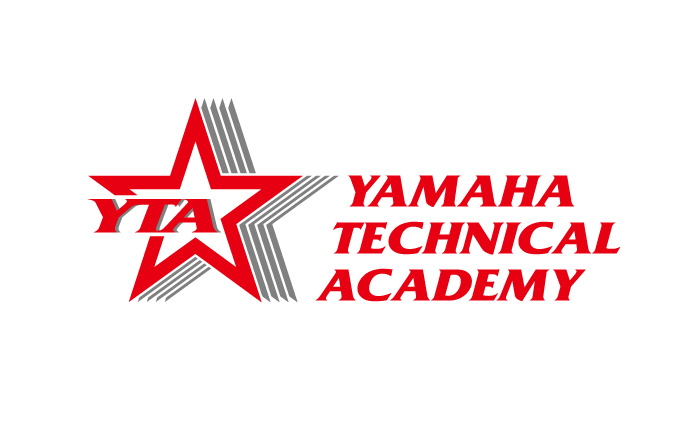 Yamaha Technical Academy
In addition to "Excellent maintenance skills," Yamaha technicians also learn how to provide "Easy-to-understand explanations"and "Service that impresses our customers," and approximately 34,000 technicians from around the world have acquired the Certified YTA Technician qualifications.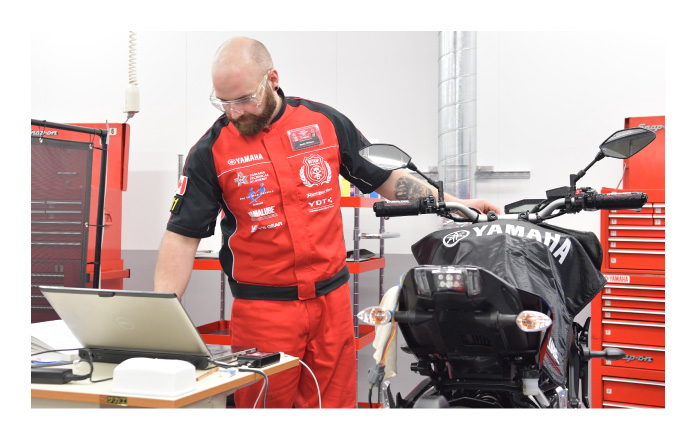 Yamaha Diagnostic Tool
Yamaha Diagnostic Tool (YDT) is a trouble shooting tool developed for Yamaha motorcycles. Using YDT, it is possible to more quickly and accurately identify defects in increasingly complex modern motorcycles.
Grand Prix Events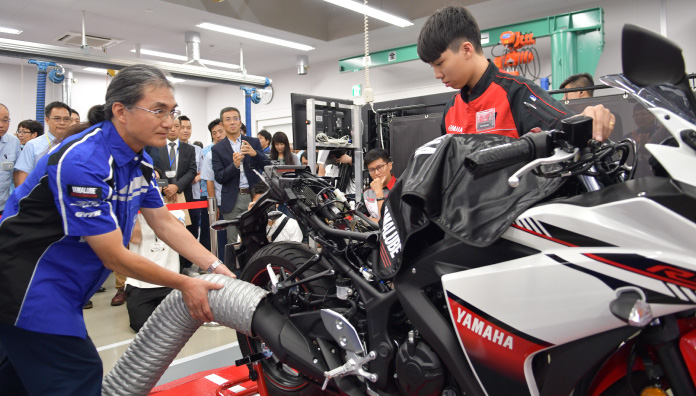 Technical Skills Competitions
Using a vehicle with deliberately induced trouble, technicians compete to see who has the best maintenance skills, including trouble shooting, repair, inspection, and completion inspection. This competition tests the skills that technicians have cultivated on a daily basis and determines whether they can keep their cool under pressure, as they race to complete all processes properly within the time limit.
Judgment Points
Safe and accurate work

Efficiency and dexterity

Speedy and accurate fault diagnosis

Yamaha Diagnostic Tool(YDT) attached to the bike for diagnosis

Consideration for customers and motorcycles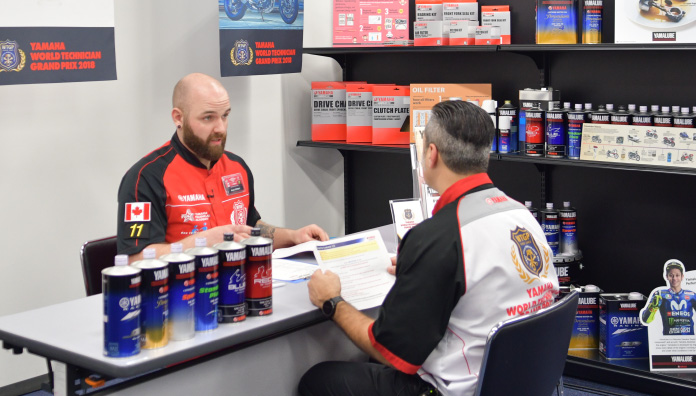 Customer Relations Competitions
It takes more than just advanced maintenance skills to ensure customer satisfaction. We consider it critical to go the extra mile and offer Kando* experiences by offering easy to follow explanations of inspection details. Our customer support must offer the best in hospitality, the basis of One to One Service.
Kando* experience
*Kando is a Japanese word for the simultaneous feelings of deep satisfaction and intense excitement that we experience when we encounter something of exceptional value.
Judgment Points
Easily-understood explanations
Appropriate service advice
Comprehensive knowledge of maintenance and components
Etiquette and manners