In addition to commercial uses like agriculture and dairy farming, ROVs represent a wide-ranging market that includes recreation and pure sports, and demand is growing, led by North America. Under the new Medium-Term Management Plan (MTP), we will continue to develop products that utilize our strengths to build an even greater presence in the North American market.
ROV market continues to grow
The ROV market continues to grow, reflecting people's high preference for leisure, a large percentage of first-time buyers, a shift from ATVs to ROVs and additional purchases. The range of uses for these vehicles is also showing a sharp increase, from commercial activities like farm and forest management to leisure activities in mountain forests and deserts. Sales of Yamaha's VIKING and VIKING VI multi-purpose models, Wolverine recreational model, and YXZ1000R pure sports model have been growing as well.
Yamaha's product lineup
 Multi-purpose models adapted for commercial uses including agriculture and dairy farming.
VIKING
VIKING VI
Agriculture and dairy farming
Recreational model achieving superior off-road handling with an enhanced degree of comfort.
Wolverine
Recreation
Pure sports model created for sports use in a variety of environments including the wilderness and deserts.
YXZ1000R
Pure sports
Strategy for the North American market
The new MTP focuses on two key strategies: establishing the No. 1 brand position in the sports category that is Yamaha's specialty, and thoroughly differentiating our products in the recreational category.
We intend to use these two strategies to increase our sales volume in North America. In addition, to differentiate our products even further, we will base our ROV product development on a concept we call "Real TECH," which stands for Tough, Exciting, Confident, and Human.
Specifically, we will develop new products to address the special characteristics of each category through combinations of various technologies for vehicle bodies, engines, drivetrains, and controls.
Going forward, we aim to increase sales even further by introducing ROV products that meet the expectations of customers through a broad product lineup encompassing multi-purpose, recreational, and pure sports models.
Total North American demand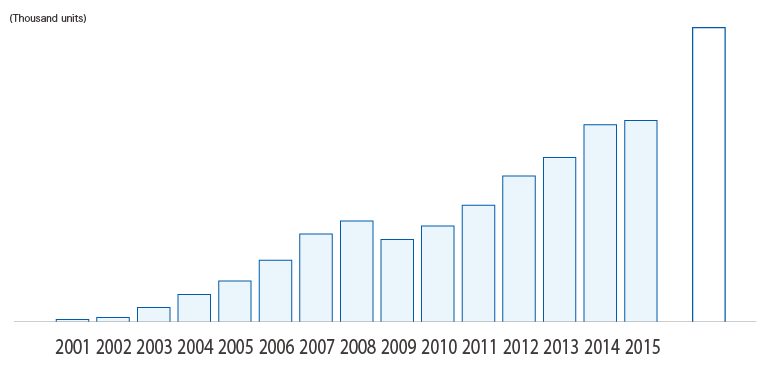 From multipurpose and recreation to pure sports