Q8

What are the motorcycle business's strategies in key regions?
A

We will develop highly efficient strategies for the motorcycle business that are optimal for each key market.

We will look closely at market trends to determine the markets in which we will pursue sales volume and those in which we will give priority to stable earnings, to deliver distinctive new products that optimally incorporate Yamaha's distinctive originality, technology, and design in each key region.

We are positioning ASEAN, India, Brazil/China, and developed markets, which account for the majority of our sales, as key regions.
ASEAN

? Capture market share and high profitability

We will step up the introduction of platform models in the three ASEAN countries in which we operate. In particular, under the new MTP, we expect to recover market share and improve earnings in the Indonesian market, and we will roll out highly detailed area marketing to increase sales volume. Specifically, we will further strengthen the sports category and increase product marketability through platform variations, and engage in marketing that strengthens our contact points with customers.
India

? Increase volume scale to achieve stable profit

We are targeting high growth in the Indian market, and aim to increase volume scale by expanding the product lineup focusing on the mass-market segment. Specifically, we will launch strategic models for emerging markets, and work to strengthen our contact points with customers by building up our sales network both quantitatively and qualitatively, focusing on rural regions.
Brazil/China

? Achieve stable profit using a break-even point business model

Demand is declining in these markets, and given various factors of uncertainty including exchange rates, the economy, and the political situation, we will manage the businesses to lower the break-even point to secure stable profits.
Developed markets

? Stabilizing profit using brand power and through structural reform

We will proactively launch distinctive new products that convey Yamaha's strong brand power and pursue further structural reforms to maintain a stable profit structure.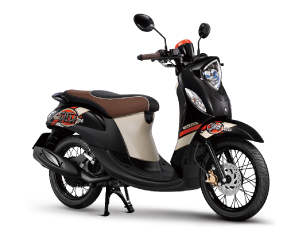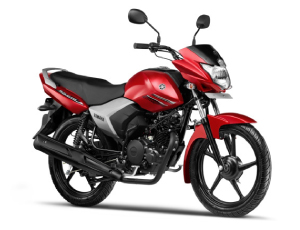 Q9

What initiatives will be implemented for the marine products business?
A

To achieve further growth, we will reposition the business from being an engine supplier to being a system supplier.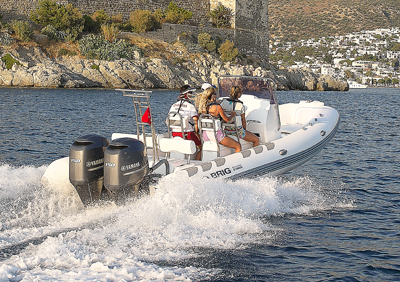 F200

The marine products business is well on its way to competing in the 3-trillion-yen global marine market.

The Yamaha Motor Group boasts strong brand power in markets around the world based on its overall business strength, reliability, and network strength. The marine products business has grown to generate net sales of \300.0 billion with a 20% operating income ratio in 2015. In particular, as the North American market shifts toward larger models, Yamaha's F200 outboard motor, with superior product technology, has gained the overwhelming support of purchasers for its reliability.

The new MTP targets a business model for further growth beyond being an engine supplier, enhancing its potential to become a system supplier that offers a broad range of value in addition to engines, including hulls and peripheral equipment. Our aim is to establish a solid position as the No. 1 global brand that satisfies professionals, that upper- and mid-tier customers cannot live without, and that first-time customers regularly come back to.

Achieving this requires us to enhance our three strengths: our overall business strength derived from a wide range of business fields and our product lineup; our reliability as a business partner in addition to the reliability of our products and systems; and our global network through which we conduct sales and provide services that are closely tailored to each market.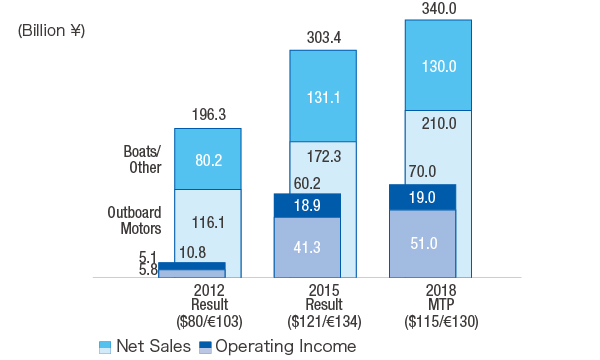 Q10

What initiatives are being taken in the power products and other businesses?
A

We are creating a unique business model for growth by thoroughly increasing added value.

The main goal of the power products and other businesses is to create a unique business model. By developing this unique model, we will strive for further growth beyond the businesses' current total net sales of \350.0 billion and 10% operating income ratio.
Recreational vehicles (RVs)
The power products business has positioned RVs as the third core business after motorcycles and marine products, and is accelerating the development of products that thoroughly increase differentiation and added value, with a 2018 target of net sales of \200.0 billion and a 10% operating income ratio.
The market for the RV business's core product, recreational off-highway vehicles (ROVs), is growing, reflecting people's high preference for leisure and a shift from all-terrain vehicles (ATVs) in North America. Under the new MTP, the business will incorporate Yamaha's expertise as a motorcycle manufacturer to develop products that only we can. While the sports category will be the main product area, we will also emphasize product differentiation in the category of recreation to increase our market share in both categories, with the aim of being the No. 1 brand in the sports category. We will work to increase our presence in the North American market by increasing our share there from the current 7% to 12% by 2018.
Intelligent machinery (IM)
The IM business is creating a high-profitability business model targeting net sales of \60.0 billion with a 20% operating income ratio. This will involve the use of Yamaha's strength in timely management that integrates development, manufacturing, and sales, making maximum use of the absorption of Hitachi High-Technologies' business division and its extensive customer base, and the expansion of sales channels to the automotive, home appliances and LED, mobile, and electronics manufacturing services (EMS) fields.
Unmanned systems (UMS)
The industrial unmanned helicopter business is creating a business model for net sales of \10.0 billion, and pursuing global growth. Along with developing product technologies for business growth, we are working to reposition the business beyond the agricultural segment to become a solutions business that also encompasses monitoring and infrastructure. With the launch of a crop dusting business in the United States, we are also developing a global market.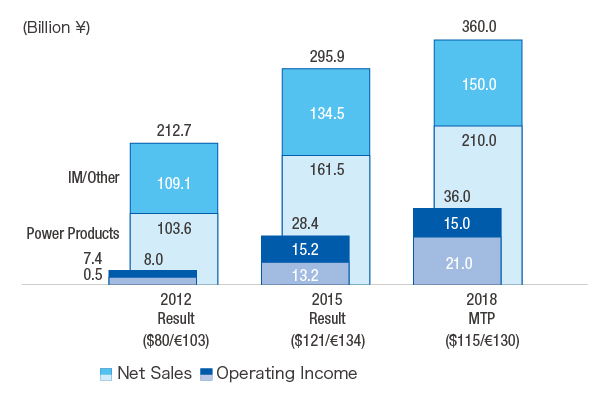 Q11

Can you tell us about your policy regarding returns to shareholders?
A

We will strengthen and maintain our stable financial foundation, and carry out returns to shareholders at a 30% dividend payout ratio.

The new MTP uses a dividend payout ratio of 30% for returns to shareholders.

Under the previous MTP, we maintained an (average) ROE of 13.9%, achieved net income per share of \172 (\233 excluding the effect of the APA**), and maintained the dividend payout ratio at the 20-26% level. In terms of returns to shareholders, in 2015 we paid a total dividend for the year (including the interim dividend) of \44 per share. Based on the steady earnings we are forecasting for all businesses in 2016, this year we intend to pay a total dividend for the year of \70 per share.
Returns to Shareholders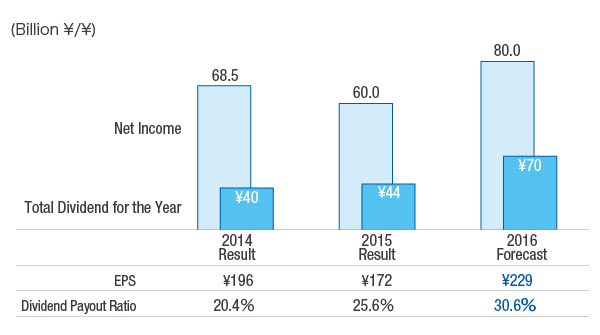 Q12

Do you have any other messages for stakeholders?
A

We will achieve "Revs your Heart" with dynamic milestones.

The Yamaha Motor Group's spirit of challenge means that we have belief in our potential and set high goals, and put all of our effort into achieving those goals, with activities like our participation in MotoGP and the YAMAHA JUBILO RUGBY FOOTBALL CLUB providing excitement to people around the world. Having wholeheartedly applied this spirit under the previous MTP, we are returning to the Group's former level of performance and earnings power.

To ensure that this growth takes hold, the new MTP calls for each and every Group employee to embrace a spirit of challenge to make the Yamaha Motor Group a unique company that achieves dynamic milestones. In the spirit of our "Revs your Heart" brand slogan, I hope to share exceptional value and experiences that enrich the lives of all stakeholders.

I ask for your continued support.