Two-thirds of our earth is covered by water, but most of this is ocean and only 0.01% is freshwater that people can use in their daily lives. Furthermore, rapid population growth is adversely impacting the planet's water environment and water resources are becoming increasingly scarce, meaning that today there are many places where it is difficult to secure potable water.
To help improve this situation, Yamaha Motor developed a proprietary water purification system (the Yamaha Clean Water Supply System), and operates a business of providing clean water in areas where it is needed.
Percentage of population with access to safe water resources
Percentage of the population that can secure at least 20 liters of safe water per person per day within one kilometer of where they live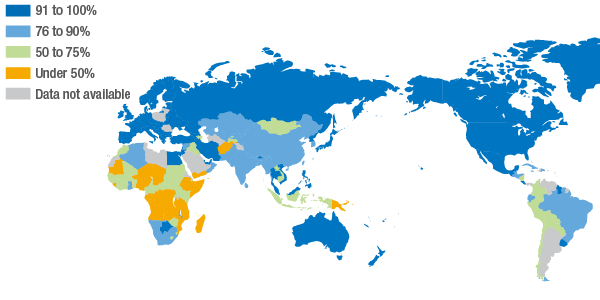 Source: UNICEF, Progress on Drinking Water and Sanitation 2012 Update, Drinking Water Coverage in Rural Areas, 2010
Engaged in "business for societal value" since the 1960s
The Yamaha Clean Water Supply System is an activity that transcends traditional business categories by providing a direct benefit in a short period of time, which we refer to as a "business for societal value."
Yamaha Motor's business for societal value has a long history, dating to the Company's founding. Yamaha Motor has worked to develop and expand markets since its establishment in 1955, and we now operate in more than 180 countries and regions around the world.
We have been active in various regions in Africa, an area neglected by many companies from developed countries, since the 1960s. To sell outboard motors and fishing boats, we first had to instruct the local people in efficient fishing methods. In addition to making a large contribution to higher living standards, this also helped to foster local industries. In addition to the pursuit of value in existing markets, Yamaha Motor has since its founding worked to create markets that resolve social issues through sound economic development and environmental preservation.
Improving local water conditions with the Yamaha Clean Water Supply System
The Yamaha Clean Water Supply System was created with a view toward local social issues. When YIMM's* factory was established in Indonesia in 1974, the families of our Japanese staff complained that the tap water was brown and muddy. In response, we began to develop equipment to clean the tap water, and in 1991 we began selling home-use water purification systems. Next, we looked at how to improve water conditions at neighboring towns and villages, and began developing water purification equipment that used river water. Over the next few years, with support from the Japanese government and international organizations, we developed projects to study the feasibility and verify the effectiveness of water businesses in Indonesia, Vietnam, and Cambodia. The Yamaha Clean Water Supply System went on sale in Indonesia in 2010, and is now being introduced in other Asian countries as well as in Africa.
* Yamaha Indonesia Motor Manufacturing
Facilitating independent local management
Water supports human life and activity, and is our most important resource. Being able to rely on access to this resource requires long-term solutions to the issues of "how to use and manage the resource locally." The Yamaha Clean Water Supply System uses natural sand, gravel, and waterborne bacteria in a "slow sand filtration" system to purify water. Using water from rivers and lakes, this method can provide 8,000 liters of potable water per day (enough for roughly 800?1,200 people). In addition, because the system is simple and does not require a large supply of electricity or special coagulant chemicals, there are almost no operating costs after the initial installation. This also makes maintenance easy, allowing local residents to operate water supply stations themselves.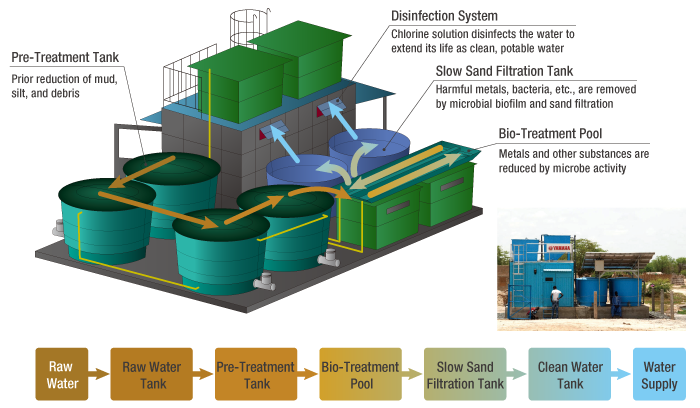 Clean water creates time and business
If the water changes, lives change as well. Clean water makes people in the local community more conscious of hygiene, and leads to a significant reduction in illnesses like diarrhea and fever. In countries where water resources have historically been scarce, drawing water involved very heavy labor. Moreover, this was considered the work of women and children, so women and children spent a great deal of time getting water. Today, with women and children in villages with the Yamaha Clean Water Supply System freed from the task of getting water, they have more time to spend in more productive activities and in education. This has also spurred ideas for new businesses like water delivery, cleaning, and ice making, injecting vitality into these villages.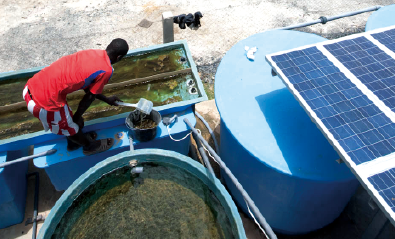 With no need for filters or coagulant chemicals,
maintenance is easy and does not require specialists
Clean water changes people and communities
Living with clean water changes the way people think about hygiene, and promotes higher standards of living. In a village in Senegal with the Yamaha Clean Water Supply System, a committee was set up to operate the equipment, carry out daily maintenance, and sell the water. This also led to transfers of technology and a greater capacity for local self-governance.
Along with the Yamaha Clean Water Supply System, Yamaha Motor is working to introduce solar power generation, rainwater irrigation systems, and sanitary facilities, with the aim of addressing climate change and reducing emissions while also contributing to improved agricultural productivity and economic stability. The true resolution of these social problems is by no means easy, but by earnestly addressing the actual needs of individual villages, we will continue to work to contribute to a brighter future for these communities.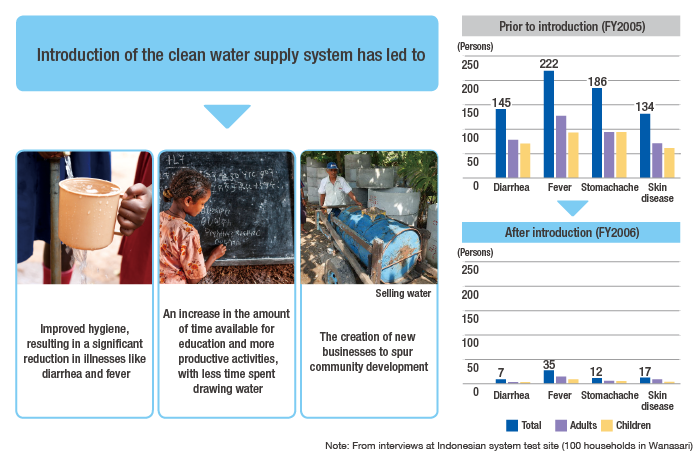 Good Design Gold Award recognizes "superior system that understands the situation in emerging markets"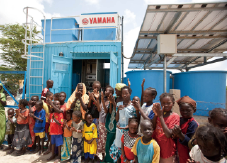 Photograph by Shinichi Kuno/JICA
The Yamaha Clean Water Supply System was awarded the "Good Design Gold Award" at the Good Design Award 2013, held by the Japan Institute of Design Promotion. The awards committee gave the system a high rating as an initiative to secure "safe water" (an essential for life) in emerging markets, and a model contribution to global society by Japanese companies. The committee called the system an excellent example of system design that understands the situation in emerging markets and provides the lifestyle values of technologically developed markets, calling both the system itself and the project an initiative that leads the way for the future of Japanese design.
[Special site] http://global.yamaha-motor.com/yamahastyle/movingyou/001/index.html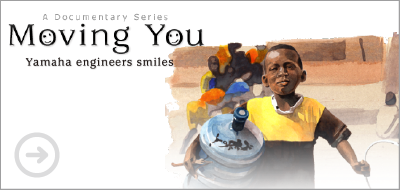 Yamaha Clean Water Supply System - Bringing clean water to people around the world The Yamaha Clean Water Supply System is a low-tech water purification system that can be independently operated by local villages. This video shows how a water supply station is changing people's lives.