Stirring people's hearts with excitement and emotion, like the building revs of an engine. This message symbolizes the Yamaha brand's mission. As a Kando Creating Company, the Yamaha Motor Group seeks a unique experience that exceeds customers' expectations for value, satisfaction, and excitement, and provides a "growing world of personal mobility."
Yamaha's unique "growing world of personal mobility"
In our pursuit of creating new concepts in personal mobility, Yamaha Motor seeks to create an experience we call "uniquely Yamaha," based on the three concepts of "fulfilling lifestyles," "enjoyment in personal mobility," and "innovative technologies that harmonize with people, society and the Earth." We do this by thoroughly implementing three elements in our development, manufacturing, and marketing: "proposing original and innovative concepts," "creating outstanding technologies," and "expressing Refined Dynamism through our designs." With products and features like the Smart Power vehicles that grew out of the new field of electrically power assisted bicycles, the new sports motorcycle lineup of EV sports motorcycles, a new type of mobility with Leaning Multi-Wheel and 4-Wheel technology developed from motorcycles, Yamaha Motor offers a uniquely Yamaha "growing world of personal mobility" that exceeds customers' expectations.
Expanding existing business areas
In the area of Smart Power vehicles, which we created over 20 years ago with PAS electronically power assisted bicycles, we are making further advances in the Smart Power technologies of motors, batteries, and controls. With drive units and batteries that are among the smallest and lightest in their class, and service functions that link smartphones and vehicle information, we are opening new fields in the area of electronically power assisted bicycles.
Based on the existing gasoline engine scooter Vino, we have developed the EVINO EV scooter concept model, which offers superior performance as well as environmental features. Also, we are marketing this EV power unit module as the EKIDS concept model for children, which aims to bring enjoyment to a broad range of customers.
In sports motorcycles, we are working to create new value with EV sports motorcycles, which we aim to launch in the near future, with the development of the small, on-road sports PES1, as well as the PED1, which are being developed to expand the scope of electric vehicles to the off-road world. In addition to the advantages of being electrically powered, these motorcycles will offer the operability expected by existing motorcycle fans, together with a new riding experience.
We offer the joy of riding to a variety of customers, with the MT-07 sports bike that uses a newly developed engine, based on the crossplane concept, to enable the rider to directly experience the joy of riding; the simple but expressive BOLT Cafe that owners can customize themselves; and the R25, developed to be a "super bike that you ride every day," as an entry-model sports bike for the developed markets of Japan and Europe and as a high-performance sports bike for emerging markets, especially in Asia.
The market for recreational off-highway vehicles (ROVs) continues to grow. Yamaha Motor introduced its first three-person model, the VIKING, in 2013. With outstanding driving performance and an environmentally friendly design, this vehicle's performance has already won the support of a wide range of customers, from hunters and other recreational users to work environments like agriculture and dairy farming, mainly in North America. Continued growth is expected for this market, and we intend to meet that growth with new product launches over the next five years.
Note: There has been a change in the time frame with regard to the launch of EV sports motorcycles.
Previous: in two years
Current: in the near future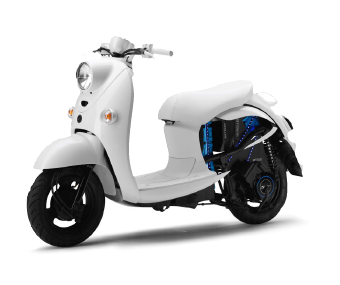 EVINO
This EV scooter concept model is positioned as a convenient commuter vehicle with all the necessary functions for short-distance trips, at an affordable price.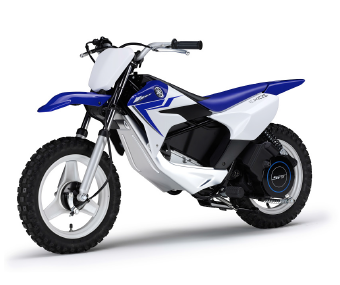 EKIDS
A motor control provides easy maneuvering and a gentle ride in this concept model for young riders who are new to motorcycles.
Creating new markets
The three growth axes of "fulfilling lifestyles," "enjoyment in personal mobility," and "innovative technologies that harmonize with people, society and the Earth" do not depend on the number of vehicles produced or sold. We pursue the challenge of creating new markets as a way of broadening our customer base through technological expansion.
Leaning Multi-Wheel brings a new type of mobility to traditional motorcycle performance. Our first vehicle, the TRICITY Concept, is a three-wheeled commuter that combines riding ease with innovation. Based on the Smart for All design concept, this line will achieve new enjoyment with an attractive appearance to create a new customer segment.
Introducing the ROV and developing new-concept personal vehicles for the city
Our research and development for the MOTIV four-wheeled multi-wheel mobility vehicle, using proprietary technologies acquired in motorcycles, is also moving forward. This represents the next step in the multi-wheel trend that uses motorcycles as a starting point for two-wheeled, three-wheeled, and four-wheeled vehicles. This new-concept personal vehicle for the city delivers driving pleasure with operation and light weight that organically integrate the driver and machine, to achieve a new experience that evokes the joy of riding a motorcycle.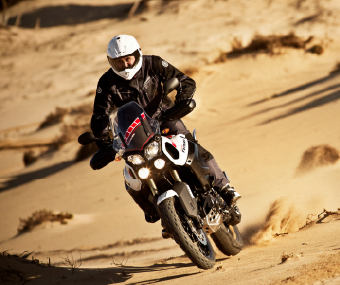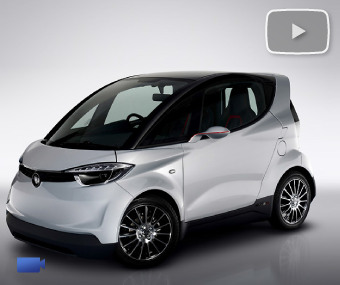 MOTIV
This four-wheeled model is being developed in the pursuit of driving pleasure derived from an organic integration of driver and machine.
By working to create a "growing world of personal mobility" based on uniquely Yamaha concepts, the Yamaha Motor Group will continue to rev the hearts of people around the world by delivering value, satisfaction, and excitement that exceed expectations.