India's motorcycle market continues to grow by the year, and in 2012 surpassed China as the world's largest. Yamaha Motor has positioned India as a major market along with Indonesia, and we are working to build up our motorcycle business in India.
For this special feature, we spoke with Hiroyuki Suzuki, who has served as managing director of India Yamaha Motor Pvt. Ltd. (IYM) for three years, during which IYM has built up a solid business in India. We asked Mr. Suzuki about IYM's path to future growth.
Profile
Hiroyuki Suzuki
Managing Director, India Yamaha Motor Pvt. Ltd.
Joined Yamaha Motor in April 1978.
After serving in positions including vice president of PT. Yamaha Indonesia Motor Manufacturing, Hiroyuki Suzuki was appointed senior executive officer and director of the Company in March 2010. In addition to continuing to serve in those positions, Mr. Suzuki has served as managing director of India Yamaha Motor Pvt. Ltd. since November 2010.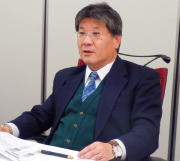 India's motorcycle market today
India has recently experienced a cooling of consumer sentiment as a result of high interest rates and rising prices for goods including gasoline, and the growth of the overall market is slowing. Nevertheless, in our specialty area of scooters, Yamaha's annual shipments grew by 20% in both 2011 and 2012, and scooters' share of the Indian motorcycle market rose from 18% in 2011 to 23% in 2012. Scooters' share of other Asian markets averages around 30%?40%, and we expect the Indian market to have a similar composition in the near future.
In addition, women are playing an increasingly public role in Indian society, and we are developing compact, easy-to-use models to present a new image to win the support of women and families.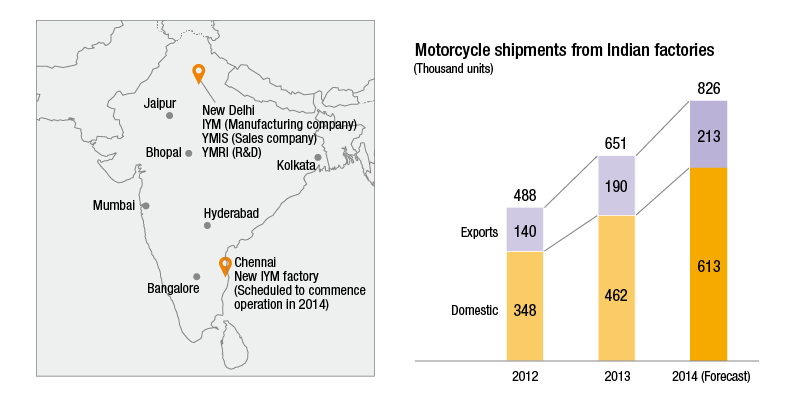 Yamaha Motor's product strategy
With an emphasis on design and a fresh appeal, Yamaha launched the CYGNUS RAY in September 2012. With input from female employees included in the development and evaluation stages, the model is easy to use and thoroughly tailored to women. In addition, popular Bollywood actress Deepika Padukone, IYM's brand ambassador for Yamaha scooters in India, presents an image of "cool beauty" that has contributed to the success of Yamaha's first scooter in the Indian market. The CYGNUS RAY's compact size and ease of use proved popular with men as well as with women. In response, the CYGNUS RAY Z targeting men was released in May 2013, and shipments have been showing steady growth.
IYM is also promoting the Yamaha brand in India with high-end products that convey a sporty, stylish and trendy, racing image. These activities to present Yamaha as a quality brand appeal directly to the yearning for a "rich, enjoyable life" that is taking root in the Indian market. Going forward, IYM will strive to increase shipments through sales of high-end models, and also by strengthening its scooter lineup and introducing models that target young customers and families. The medium-term management plan sets a target of capturing 10% of the Indian market by 2017, and IYM will continue to reinforce the presence of "Yamaha in India."
Increasing scooter production capacity with an eye on exports
Yamaha is addressing India's growing demand for scooters with a plan to have a 2.8 million-unit production structure in place by 2018, by increasing capacity at the Surajpur plant to one million units and building a plant at Chennai with a capacity of 1.8 million units. IYM's activities are not limited to the domestic Indian market, either. IYM is beginning to play an important role as a base for the development of new markets, with roughly 30% of production on a unit basis going to exports to Africa and neighboring countries. IYM's projected business model for Africa is very similar to the Indian business, and we see activities originating in India making a contribution in many other geographic regions. We are confident that IYM's efforts in India will lead directly to sales growth in Africa as well.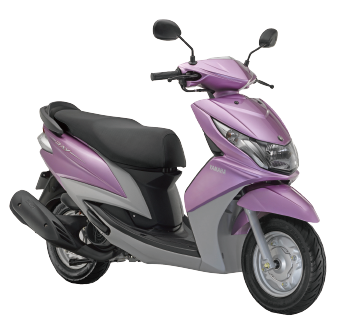 CYGNUS RAY
Offering a stylish design and compact body, this scooter is tailored with features for female customers.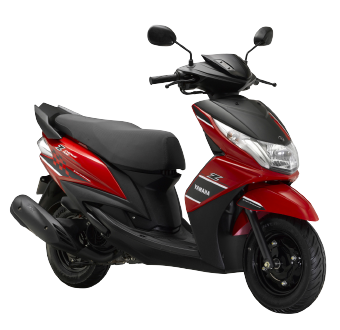 CYGNUS RAY Z
With the CYGNUS RAY's compact body and handling ease proving popular with men as well, this model was developed targeting male customers.
Social and educational aspects in addition to earnings,
to establish the presence of "Yamaha in India"
At Yamaha, we believe a company should have three goals. The first is to create "earnings," and there is no question that management's mission is to grow the business and improve earnings. Nevertheless, to continue to successfully carry out this mission going forward, we need to establish brand strength that establishes the presence of "Yamaha in India." To achieve this, we need to be successful in "social" and "educational" pursuits. By providing employment we create value, and our manufactured products contribute to society. We believe it is important to create this type of cycle in which each business process makes a contribution. Today, with women playing an increasingly active public role, we are not only providing scooters that appeal to women, we are also promoting women's participation in society by providing places to work and study. Involving local citizens, and providing opportunities for work and study, will lead to earnings. This is IYM's ultimate goal.
Ability to create and instill value;
Monozukuri means human resource development
Yamaha manufactures motorcycles as a product, but at the same time we always maintain a strong awareness of developing people. Our mission is to provide Kando, and to achieve that we need to provide value. All value comes from the awareness, care, and the presence of our employees themselves. This is why I believe human resource development is so important.
First, it is important to motivate employees. In my experience, increasing motivation naturally leads to higher morals and skills. At times, when I have felt that employees were performing their jobs as rote operations, I gave them more discretion in how to do the job. This meant that they were no longer simply carrying out an operation, and by taking an active, personal interest they grew beyond recognition. Working with a feeling of independence and initiative also creates a sense of personal responsibility, and here in India the majority of employees who have been with us for more than a year proactively approach their work with a visible sense of their own value. This simultaneously leads to a sense of self-worth and a social contribution, and once this cycle takes hold the effects are more powerful than one can imagine.
Rev myself to Rev your Heart
Yamaha's brand slogan is "Revs your Heart," but to achieve this I believe we first need a sense of "Revs myself." We cannot provide Kando if we do not experience the feeling ourselves. That is why IYM has a strong sense of "Revs myself." This translates to the creation of products that have value in terms of being attractive, reliable, and cost competitive, and Yamaha is gaining popularity in India as a result. This is where the business in India stands today.
Going forward, I want to realize the maximum potential of the Indian people, while continuing to create workplaces and products that have a shared resonance, to continue to grow and increase our presence in the Indian market.
Supporting women's increased public role
Assembly technology course at Uttar Pradesh state government's industrial training center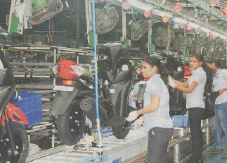 Currently, approximately 200 women in their late teens or early 20s work on the motorcycle engine production and motorcycle assembly lines at the Surajpur plant. This began in September 2012 as part of a program at an industrial training facility set up by the Uttar Pradesh state government. These women work in an actual plant for three years to acquire and improve their assembly skills through first-hand experience, and by passing a test they are able to receive a degree from a technical college. There is still a tendency to view women as having an inferior position in India's highly patriarchal society. By accepting these women with no work experience and little education, IYM not only gives them an opportunity to earn money, but also gives them the self-confidence to feel that they can contribute to society. By providing these jobs that cultivate a strong sense of motivation, we hope to contribute to the independence and growth of women.