THAILAND CONTEST REPORT 2016
COMPETITION OUTLINE

Thai Yamaha Motor Co., Ltd. organizes the national competition named the Thailand Technician Grand Prix 2016, or TTGP. Our competition is for mechanics to show their potential and to improve their standards to international level. This consequently ensures the confidence of our customers and creates sustainability in the business of manufacturing, distributing and aftersales service in Thailand.

It delights us that this competition gains good support from dealers nationwide and their service staff. A total of 521 shops participated in this competition. 140 of them qualified at the regional level, and finally there were 21 shops from 7 regions remaining. The 2016 contest had 3 competition stages for technicians before a national champion could be found.

The 1st stage (Dealerships round) tests basic knowledge and skills in technicians from around the country who have Silver or Gold level YTA training. Agents go around dealerships to solicit participants.

The 2nd stage (Regional round) finds those dealership technicians with the highest scores, selecting 21 persons from 5 areas and 7 regions (140 persons). Their skills are tested in a theory exam and a workshop exam.

The 3rd stage (TTGP final) tests those technicians with the highest scores, taking 3 people from 1 field (5 areas, 7 regions): a total of 21 persons. They sit a workshop and a theory examination.
NTGP WINNER AND WTGP PARTICIPANTS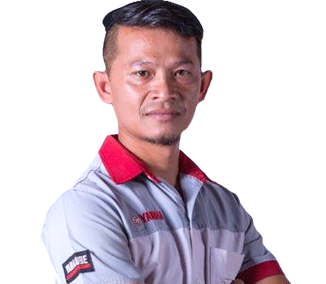 PROFILE
| | |
| --- | --- |
| Name: | Suchot Anantasuk |
| Dealer: | JS Phitsanulok Sales & Service |
| Working experience at Yamaha: | 11 years |