AUSTRALIA, NEW ZEALAND CONTEST REPORT 2016
COMPETITION OUTLINE

Yamaha Motor Australia/New Zealand organized the Oceania Technician Grand Prix on 7th October 2015.

Nine of the finest Yamaha Technicians earned the right to represent their state/country by attending YTA training and completing the preliminary exams.

The Oceania Technicians Grand Prix is run over a 3 day period.

Day 1 is the competition and presentation dinner.
Day 2 is fun activities for the contestants and informal dinner.
Day 3 is the pack up and farewell to all the contestants.

We run this event to show appreciation to our Yamaha Technicians working in the dealer network looking after Yamaha customers every day. After sales service is a very important part of the Yamaha network and we appreciate the efforts of all our technicians.

COMPETITION CONTENTS

2015 Oceania Technician Grand Prix contestants:

| | |
| --- | --- |
| Roly Orr | Wilder Motorcycles, New South Wales (NSW) |
| Lincoln Brien | Readfords Motorcycle Centre, New South Wales (NSW) |
| Simon Stannard | Bailey Motorcycles, New Zealand (NZ) |
| Daniel Feck | Hewitt Motorcycle, New Zealand (NZ) |
| Sebastian van Dijk | Mandurah Motorcycles, Western Australian (WA) |
| Darren Stout | SunCity Yamaha, Queensland (QLD) |
| Bevan Holmes | TeamMoto Yamaha Northside, Queensland (QLD) |
| Matthew Shelton | Bundaberg Outdoor Power, Queensland (QLD) |
| Tim Dowbnia | Peter Stevens Motorcycles, South Australia (SA) |
CONTEST EVENT
The contest consists of a 50-question interactive theory exam taking one hour and nine practical tasks taking twenty five minutes each. We try to cover a wide range of Yamaha product to make it as unbiased as possible for the contestants.
The tasks involve basic skills and YTA training covered over the last 2 years.
They are designed to test the technician's knowledge and abilities.
This year's competition was the closest we have ever had in Tech GP history. It was a remarkable demonstration of these technicians' abilities, and even after all the ordeals we were able to put these technicians though, it was still too close to call!
NTGP WINNER AND WTGP PARTICIPANTS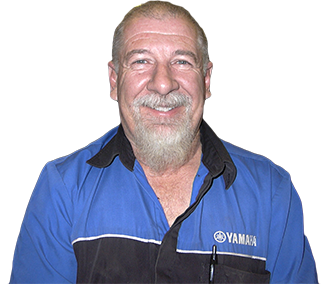 PROFILE
| | |
| --- | --- |
| Name: | Roly Orr |
| Dealer: | Wilder Motorcycles, Young NSW |
| Working experience at Yamaha: | 8 years |