INDONESIA CONTEST REPORT 2016
COMPETITION OUTLINE

15th Indonesia Technician Grand Prix (ITGP) & National SMK Student Skill Contest 2016

Yamaha Indonesia Motor Manufacturing (YIMM) organized the 15th Indonesia Technician Grand Prix (ITGP) on May 18th and 19th at Yamaha Indonesia Motor Manufacturing.

20 of the best technicians were selected from more than 10,498 technicians in regional qualifying rounds conducted at 34 Yamaha Training Centers (YTC) all over Indonesia.
The ITGP winner was Mr. Ferry Moniaga from Sabang Raya Motors (Jambi, Indonesia).

During ITGP, for the second time, YIMM also conducted the National SMK (Senior High School) Contest in which 38 SMK students were selected from 500 participants. The winner was Ipul Saipul from SMK Pertiwi Kuningan (West Java, Indonesia).
COMPETITION CONTENTS
The ITGP was conducted in parts: a written test and a troubleshooting test (customer reception, repair and delivery),
which also covered periodical maintenance.
Troubleshooting is a practical test in which technicians must solve a problem in 100 minutes.
Each technician must interview the customer to understand the problem, be speedy and accurate in doing the repair work,
then report the result to the customer upon delivery, and also explain the Yamaha product,
any accessories, and about the next servicing.
NTGP WINNER AND WTGP PARTICIPANTS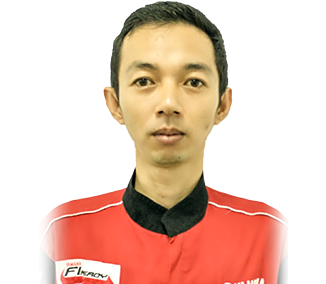 PROFILE
| | |
| --- | --- |
| Name: | Ferry Moniaga |
| Dealer: | Sabang Raya Motor |
| Working experience at Yamaha: | 12 years |