CHINA CONTEST REPORT 2016
COMPETITION OUTLINE

The China Technician Grand Prix (CTGP) is held every two years. Technicians who have a minimum of 5 years' experience as a technician and have also taken the YTA Silver course are invited to compete in the CTGP.

The 1st stage (Regional level) is a written and practical examination conducted by field service teams in 5 regions. Field service staff visited these dealers and administered a special test at the dealership. The top three technicians in each region comprised the final 15 contestants, from among whom the national winner was selected.

The 2nd stage of the CTGP was conducted on July 5th 2016 at Guangzhou by a headquarters service team supported by YTA instructors.

In the CTGP 2016, we improved the competition contents. While troubleshooting and communicating with the customer, all the contestants were required to use the Yamaha Diagnostic Tool so as to enhance customer confidence.
CONTEST EVENT
CTGP is conducted in 4 contests as a written test, measurement taking, and customer reception,
combined with troubleshooting, at the Guangzhou YTA training center.
NTGP WINNER AND WTGP PARTICIPANTS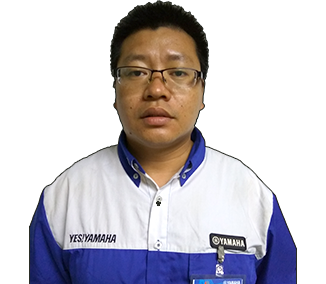 PROFILE
| | |
| --- | --- |
| Name: | Zhong Shunhai |
| Dealer: | Chongqing Jinteng Vehicle Industry Co., Ltd |
| Working experience at Yamaha: | 20 years |