Always moving forward, and giving it our all

Our activities aimed at sharing Kando with the world also reach outside our field of normal operation. Our participation and promotion of a variety of sports is one of Yamaha's prominent corporate activities.
Sporting environments, where not only participants but also supporters are joined together by a feeling of unity, exemplifies the "creation of Kando" that we are striving for.
The YAMAHA JUBILO RUGBY FOOTBALL CLUB playing in Japan's top rugby league, is one of the leading players in our activities. Many of our staff are passionate about this sport because the team striving for victory with strengthened body's and refined strategy under the codes of fair play and the no-side attitude, embodies the company's attitude of "challenging spirit." When Jubilo Yamaha's home games are held, the Yamaha Stadium is filled with the cheers of our staff and their families, as well as people and rugby fans from the community.
While supporting competitions in the top categories, Yamaha also actively promotes sporting events in the community. We operate training schools for juniors in many different sports including rugby, soccer, and yachting.
---
Challenge to introduce 4-stroke engines

Yamaha first entered snowmobile competition with a 4-stroke engine in 2005, while the rest of the competition was using 2-stroke engines. The driving force was the engineers' challenging spirit to "seek out the potential of the 4-strokeengine." In only its second challenge in 2006, Yamaha wrapped up the season championship of the All Japan Snowmobile Championship. In the same year, Yamaha claimed a historic win with a 4-stroke engine at the WPSA snow-cross championship - a top snowmobile competition.
---
Supporting sports for the disabled using our technology and know-how
Our staff are involved in the development of chair-skis to be used for disabled alpine skiing. Measurement and analysis technologies used in motorcycle races have been used to develop leading chair-skis that have been supplied to the Japanese national team who clinched two gold medals in the 1998 winter Paralympics in Nagano, and then went on to perform well in both the 2002 Salt Lake City winter Paralympics and 2006 Torino winter Paralympics.
---
Yamaha is proudly supporting Jubilo Iwata - Participating team of the Japanese professional football league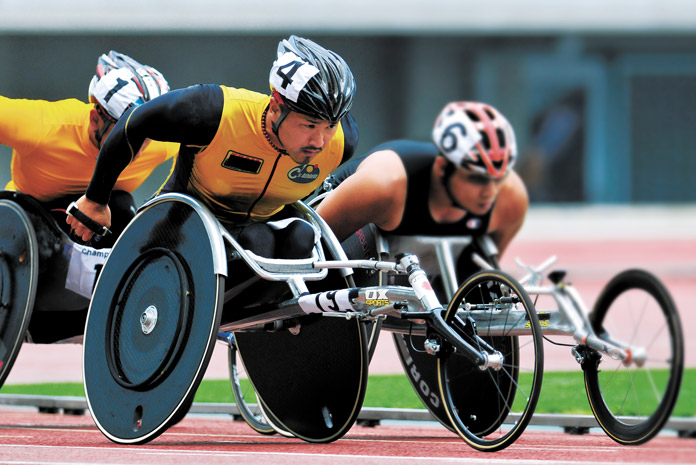 Jubilo Iwata stems from the Yamaha Motor soccer club, founded 1972. Yamaha supports this team that aims to compete on the world stage.