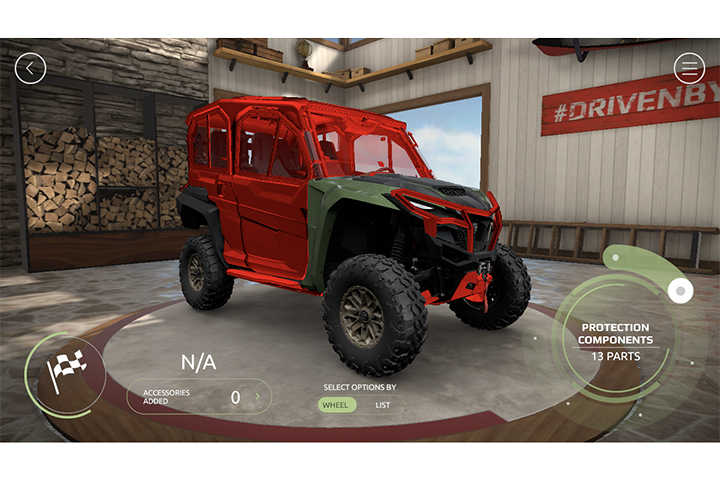 Yamaha's Leisure Side-by-Sides Join the MyGarage Configurator
April 2021 | YME
Yamaha's MyGarage App for the first time now features off-road 4 wheelers! Customers can download the App and discover the brand-new Leisure Side-by-Side section, home of:
• Wolverine® RMAX™4 1000 SE
• Wolverine® RMAX™4 1000
• Wolverine® RMAX™2 1000 SE
• Wolverine® RMAX™2 1000
• Wolverine® X4 850
• Wolverine® X2 850 Alu
This exciting addition is a milestone in the development of the original motorcycle-only application and serves as yet another important touchpoint between Customers and Dealers.
Yamaha Motor Europe has integrated the Leisure Side-by-Side line-up, creating a dedicated and immersive digital playground for outdoors lovers. This development provides customers with an opportunity to fully build and customize their own 2 or 4 seater vehicle with 30+ accessories per model including protective and utility components, functional items and cosmetic upgrades.
With this integration, we remain committed to our goals of improving customer centricity and tailoring unique customer experiences while increasing engagement between consumer and product.
Providing a direct link with Dealers in terms of price estimation, Yamaha ensures a seamless experience and raises the quality of service, efficiency and ultimately customer satisfaction throughout the process.
MyGarage now houses two different product groups, allowing customers to experience more than one side of Yamaha. The application growth is aimed at firing the curiosity of our consumers, encouraging them to consider new products, which in the past they may never have experienced.
The in-App presence of RV is planned to expand in the future to other products in our Utility and Sport segments, appealing to an even more multifaceted customer base, expanding the Yamaha family.
Trent Coleman, Yamaha Motor Europe (YME)