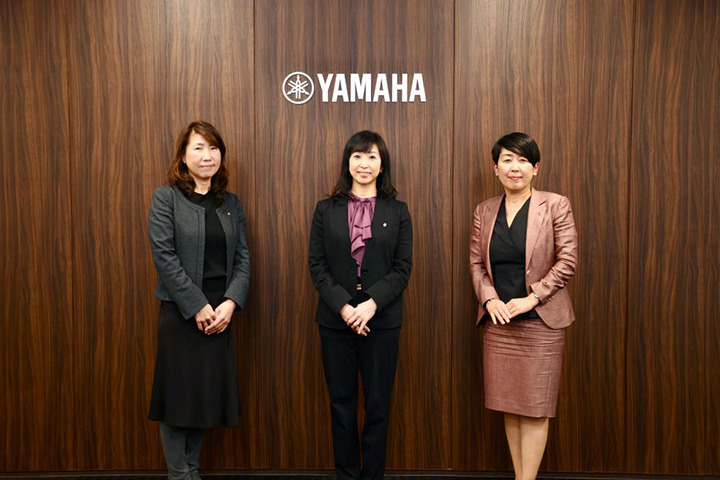 Female Leaders in Two Yamahas:
Interview Article Now Available on Yamaha Corporation and Yamaha Motor Intranets
March 8, 2021 | YMC
March 8th is International Women's Day so designated by the United Nations.
Marking International Women's Day, Yamaha Corporation and Yamaha Motor Co., Ltd. released the article "Female Leadership in Two Yamahas: Promoting a Diverse Workplace" on their respective intranets. The article is an interview of two female leaders in each company about the aspirations for realizing a company where people thrive regardless of age and gender. Interviewed were; Hiroko Omura, Operating Officer of Yamaha Corporation; and Ayako Egashira, Executive Chief General Manager of Robotics Business Unit, Solution Business Operations, Yamaha Motor Corporation. The two women, who are female pioneers in leading Japanese corporations, discussed what is required for good leadership, how they have built their careers, life-work balance, and more.
When asked to give a message to their fellow female employees, Omura and Egashira both remarked: "The goal should be to pursue a career in which each person feels fulfilled, and not focused on getting a leadership position." As Egashira said "It's OK to make mistakes," Omura added "Don't be shy to push your limits." The interview ended with their enthusiasm and vision for making their respective Yamaha a company that flourishes with diversity.
Sayaka Kawaguchi, Planning Group, Human Resources Division, Human Resources & General Affairs Center (YMC)