YSC00 (DUAL ZERO)
High Speed and Accurate Base Machine「YSC00」
YSC00
(DUAL ZERO)
X-axis synchronous control now available for higher speed and accuracy!
Operational area has now been expanded to a wider range than the YSC0.
includes Robot Controller and can accommodate AOI, 3D printing, Dispensing, Die Bonding and more.
Feature
01High-Precision in a Solid Frame
A highly solid and rigid frame provides high precision in a variety of work applications.
Y-axis straightness Less than +/-5µm
Y-axis parallelism Less than +/-5µm
X-axis straightness Less than +/-5µm
Actual values may differ
02Common Universal Structure
The YSC00's Common Universal Structure serves as an ideal base machine in automated systems. It allows customers more time to develop applications rather than wasting time to build individual framed units.
03Simple & Flexible Modular System
The internal robot controller, which supports most Yamaha robots, allows simple and flexible system configurations and a wide variety of applications.
04Expedited Ex-Factory
Our Assemble-to-Order" system provides product customization for speedy ex-factory.
YSC00 (DUAL ZERO)
Related contents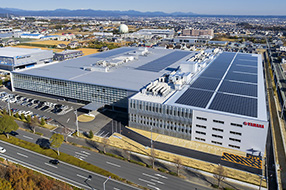 Robotics Operations
FA Section
Sales & Marketing Division
127 Toyooka, Kita-ku, Hamamatsu, Shizuoka 433-8103, Japan
Telephone 81-53-525-8350 /
Facsimile 81-53-525-8378