Linear conveyor module LCM-X series
Significantly improving the space occupancy rate, making better the transport accuracy and increasing the acceleration and deceleration performance, the linear conveyor modules realize higher level transport automatization ever before.
Specification
Model
LCM-X
Drive method
Linear motor with moving magnet type core
Position Search
Full range absolute position detection sensor and full range slider ID detection
Maximum payload
15 kg
Maximum speed
3,000 mm/sec
Repeatability
+/- 5μm
Machine error between robot sliders
+/- 10μm *1
Maximum stroke when connected
Approx. 25 m *2
Maximum number of robot sliders
64 units *2
Minimum spacing between robot sliders
210mm
Main body dimensions
Max. external size of body cross-section
W178 × H85 mm (Including robot slider)
Linear module length
200 mm to 1,000 mm (1 module) select every 100 mm.
Robot slider length
198mm
Weight
Linear module
10 kg [Per 1 m of linear module]
Robot slider
1.2kg
Connection unit
0.8kg
Power supply
Control power supply
DC48V +/- 10%, 75W [Per 1 m of linear module] 
Motor power supply *3
DC48V +/- 10%, approx. 200W [Per 1 robot slider]
Maximum current capacity *4
Total30A [Control power supply: 15Amax., Motor power supply: 30Amax]
Operating environment
Operating temperature
0℃ - 40℃ 
Storage temperature
-10℃ - 65℃
Operating humidity
35% - 85%RH [No condensation]
Controller
YHX series *5
*1

Robot slider end face to be the reference place
*2

Depending on system configuration
*3

Different from one motion pattern to another
*4

Maximum current capacity for one input section (one connection unit). Where the electrical power demand exceeds the input capacity, supply electrical power through two or more ports to make the system operable.
*5

The YHX controller requires a separate electrical power supply.
Linear conveyor module LCM-X series
Related contents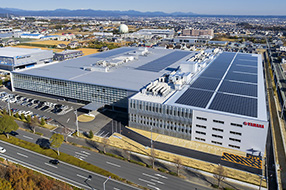 Robotics Operations
FA Section
Sales & Marketing Division
127 Toyooka, Kita-ku, Hamamatsu, Shizuoka 433-8103, Japan
Telephone 81-53-525-8350 /
Facsimile 81-53-525-8378