Robot vision iVY2 (RCX340)
A robot-integrated vision system that only the robot manufacturer Yamaha could create. Robot integration provides overwhelming ease of use.
Robot vision iVY2 (RCX340)
"plug-and-play" simplicity
Yamaha's own unique solution for integrated robot vision
Supported controllers:
RCX340
Number of screen pixels:
300,000 pixels / 1,300,000 pixels / 5,000,000 pixels
Model setting capacuiy:
254 models
Feature
Easy to use, and reduces the number of steps
Adding "eyes" to a robot significantly expands the range of applications.
Various application examples
Labeling device (affixing labels to food packages)
Industry: food
Robot used: YK500TW omnidirectional robot
ADVANTAGE: Even if the incoming workpieces are irregularly spaced or positioned, labels can be affixed at the same position.
Sealant touch-up (engine block sealant)
Industry: automotive
Robot used: SXYX Cartesian robot
ADVANTAGE: Even if the workpiece is skewed from its correct position, the skew and angle are detected, and the application path is automatically compensated.
Screw attachment position detection (television panel screw attachment)
Industry: electronics
Robot used: NXY Cartesian robot
ADVANTAGE: Hole position is detected, and screws are fastened accurately.
Position compensation with upward-facing camera (installing irregularly-shaped parts on a circuit board)
Industry: electronics
Robot used: YK150XG SCARA robot
ADVANTAGE: The roughly-positioned circuit board connector is picked up, the upward-facing camera is used to apply position compensation, and the part is mounted directly on the circuit board.
Simplicity
Our goal: "A vision system that anyone can use easily, even for the first time"
01Auto-calibration Requires as little as 5 minutes
Easily complete high-precision calibration just by following a wizard! Even if equipment becomes misaligned, execute auto-calibration and resume operation.
02Easy workpiece registration Requires as little as 3 minutes
From image acquisition, registration takes just three steps.
03No need to make time-consuming connection settings. Dramatic reduction in setup time.
Comparison of setup time
04No need to create a coordinate conversion program.
Dedicated robot language for vision is provided
05Easy inter-operation with peripheral equipment.
The same controller provides unified control of robot, gripper, and lighting
06Also supports moving camera.
Even if the camera is mounted on the robot, coordinates are automatically converted according to the robot's movement
Sophistication
Megapixel camera supports high precision and wide field of vision. Conveyor tracking reaches 100 CPM.
01Conveyor trackingIdeal for "high-speed packaging" "arrangement" "high-speed transport of multiple types of items" such as pharmaceuticals, cosmetics, and food products.
The vision camera detects the position and orientation of parts moving on the conveyor, and the robot picks them up.
02Control multiple robots for even more improvement in production efficiency.
03Approximately double the search speed (compared to previous model)
Even numerous workpieces can be detected at high speed The search speed is approximately double that
The search speed is approximately double that of the previous model. Even a large number of workpieces can be detected at high speed. This can be used for a wide variety of applications, including molded plastic parts or food items.
04Support for five-megapixel cameras(Choose from 300,000 pixel, 1.3 megapixel, and 2 megapixel, and 5 megapixel)
05Stable workpiece detection
Detailed edge detection is possible even if workpieces are touching each other or have a complex shape.
06Decreased number of search detections
A single search allows detection even for a large workpiece, improving takt.
07254 types can be registered
Setup changes are easy
Setup changes require only that part numbers be changed.
08Monitor output is provided
Monitor the operating status
Monitor the search status while making calibration settings or during automatic operation.
Contents of output
Selected type / Captured image
Search result (position, score, scale)
Executed command
Time required by command
Output method
DVI-I (supports digital monitor or analog monitor)
09High-precision search even under low light
Edge search engine is built-in
Supports a variety of applications while being minimally affected by the external environment.
Assurance
You have the assurance of support that can be provided only by Yamaha, the robot manufacturer. You can rely on us both before installation and after installation.
01Preparatory evaluation and advice give you peace of mind
We borrow the workpiece from you, evaluate it, and submit an evaluation report. In addition, we draw on our wealth of experience and evaluation results to provide advice and training regarding selection and installation of robots and peripheral equipment.
02Choose freely from Yamaha's lineup of robots
A low-cost and convenient robot vision system can be constructed using the models that are optimal for the customer's application.
Robot vision iVY2 (RCX340)
Related contents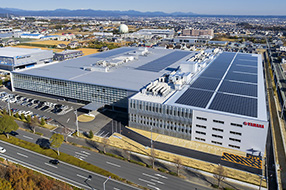 Robotics Operations
FA Section
Sales & Marketing Division
127 Toyooka, Kita-ku, Hamamatsu, Shizuoka 433-8103, Japan
Telephone 81-53-525-8350 /
Facsimile 81-53-525-8378