Robot vision iVY (RCX240)
Use of ROBOT vision system
iVY board Spec
Item
iVY board
Basic specifications
Applicable controllers
RCX240 / RCX240S
Pixels
640 (H) × 480 (V) (300,000 pixels, VGA)
Settable part types
40 part types
Connectable cameras
Maximum 2 units
Note. If connecting 2 units, then must be the same model
Camera types
Double speed compatible analog camera
Memory
128MB SDRAM, 256MB miniSD card
External I/F
Ethernet (100BASE-TX)
Search method
Edge search (Correlative edge filter, Sobel filter)
Image input
Trigger
S/W trigger, H/W trigger, Camera internal synch
External trigger input
2 points
Functions
Search function
Position offset, Auto registry of point data
ID recognition
(usage planned)
QR-Code [Model2], DataMatrix
Setup support functions
Calibration, image storage function Note1
(all images / specified image)
Note1.

Requires Windows PC.
Tracking board (Options) Spec
Item
Tracking board (option)
Basic specifications
Applicable controllers
RCX240 / RCX240S
Lighting control section
Light adjusting system
Up to 2 units
Light adjusting system
PWM control (0 to 100%) (Cycle 60kHz)
Stroboscopic light (10 to 33000us)
Trigger
S/W trigger, H/W trigger
External trigger input
2 points
Lighting power input
12VDC or 24VDC
(Supplied from outside commonly to 2 channels)
Lighting output
When DC12V is supplied: Less than 30W with 2 channels totaled
When DC24V is supplied: Less than 60W with 2 channels totaled
Pulse input section
Number of encoder connected units
Up to 2 units
Encoder power source
DC5V (Less than 500mA with 2 channels totaled)
(Supplied from controller)
Applicable encoder
Line driver equivalent to 26LS31 / 26C31
(Conforming to RS422)
Input phase
A,

A

, B,

B

, Z,

Z

Maximum response frequency
2MHz
Counter / Step-up multiplication
0 to 65535 / Double, quadruple
Other
Provided with broken wire detect function
Note.

The tracking board is required when using the tracking function.
Lighting control board (Options) Spec
Item
Lighting control board
Basic specifications
Applicable controllers
RCX240 / RCX240S
Number of lighting connected units
Up to 2 units
Light adjusting system
PWM control (0 to 100%) (Cycle 60kHz)
Stroboscopic light (10 to 33000us)
Trigger
S/W trigger, H/W trigger
External trigger input
2 points
Lighting power input
12VDC or 24VDC (Supplied from outside commonly to 2 channels)
Lighting output
When DC12V is supplied: Less than 30W with 2 channels totaled
When DC24V is supplied: Less than 60W with 2 channels totaled
Robot vision iVY (RCX240)
Related contents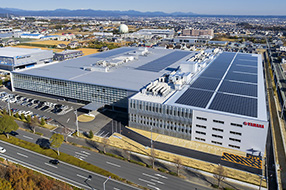 Robotics Operations
FA Section
Sales & Marketing Division
127 Toyooka, Kita-ku, Hamamatsu, Shizuoka 433-8103, Japan
Telephone 81-53-525-8350 /
Facsimile 81-53-525-8378