Support software VIP+(PLUS) Specifications
Introduces the Support software VIP+(PLUS) Specifications
Specification
Support software for PC VIP+
VIP+ is an easy to operate application software that makes tasks such as robot operation, writing-editing programs, and point teaching easy to visually understand.
Model : KX0-M4966-00
Environment
OS
Microsoft Windows 2000 / XP / Vista (32bit / 64Bit) / 7 (32bit / 64Bit)
CPU
Processor that meets or exceeds the suggested requirements for the OS being used.
Memory
Suggested amount of memory or more for the OS being used.
Hard disk
40MB of available space required on installation drive.
Communication method

RS-232C, Ethernet

Note.

For Ethernet communication, Ethernet unit for RCX series controller is required.

Applicable robot controllers
RCX221/RCX222/RCX40/RCX141/RCX142/RCX240/RCX240S
Note.

Microsoft and Windows are registered trademarks of Microsoft Corporation.
Note.

ADOBE and ADOBE READER are registered trademarks of Adobe Systems Incorporated.
Note.

Ethernet is a registered trademark of Xerox Corporation.
Data cables (5m)
Communication cable for VIP+. Select from USB cable or D-sub cable.
Model
USB type (5m)
KBG-M538F-00
D-Sub type
9pin-9pin (5m)
KAS-M538F-10
Note.

Data cable jointly used for POPCOM, VIP, VIP+.
Note.

USB driver for communication cable can also be downloaded from our website (driver supports VIP+, POPCOM, and TS-Manager).
Controller and data cable connection diagrams
Support software VIP+(PLUS) Specifications
Related contents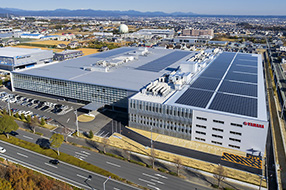 Robotics Operations
Sales & Marketing Section
FA Sales & Marketing Division
127 Toyooka, Kita-ku, Hamamatsu, Shizuoka 433-8103, Japan
Telephone 81-53-525-8350 /
Facsimile 81-53-525-8378