Support software VIP+(PLUS) Functions
Introduces the Support software VIP+(PLUS) Functions
Function
01Easy to use
With a number of robot operation items provided on one screen, any operator can operate easily without memorizing the menu construction.
02Programming editing
The program, point, parameter, shift, and hand can be edited on the PC alone. Equipped with the function selector having the command searching function which enables to input the robot language with ease.
03Data check function
Provided with the equivalent data check function to that of a robot controller, it is possible to correct data errors before operation.
04Help function
When more information is needed during operation, press the [F1] or [HELP] key, and the help screen will appear.
05Robot operation
By connecting PC and controller with communication cable, robot operation will be available by the on-line command.
06On-line editing
Connecting a PC and the controller with a communication cable enable to edit data from robot controllers just as with RPB / RPB-E.
07Creating point data
There are three methods available for creating the point data.
MDI (Manual Data Input) teaching
The numeric keyboard is used to enter position coordinate data directly.
Remote teaching
The robot arm is actually moved to the target position using the keys for point data registration.
Direct teaching
The robot arm is manually moved to the target position with the servo motors off for point data registration.
Support software VIP+(PLUS) Functions
Related contents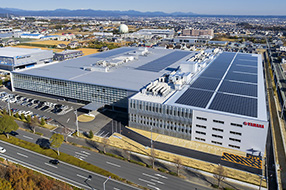 Robotics Operations
Sales & Marketing Section
FA Sales & Marketing Division
127 Toyooka, Kita-ku, Hamamatsu, Shizuoka 433-8103, Japan
Telephone 81-53-525-8350 /
Facsimile 81-53-525-8378