Message from Yamaha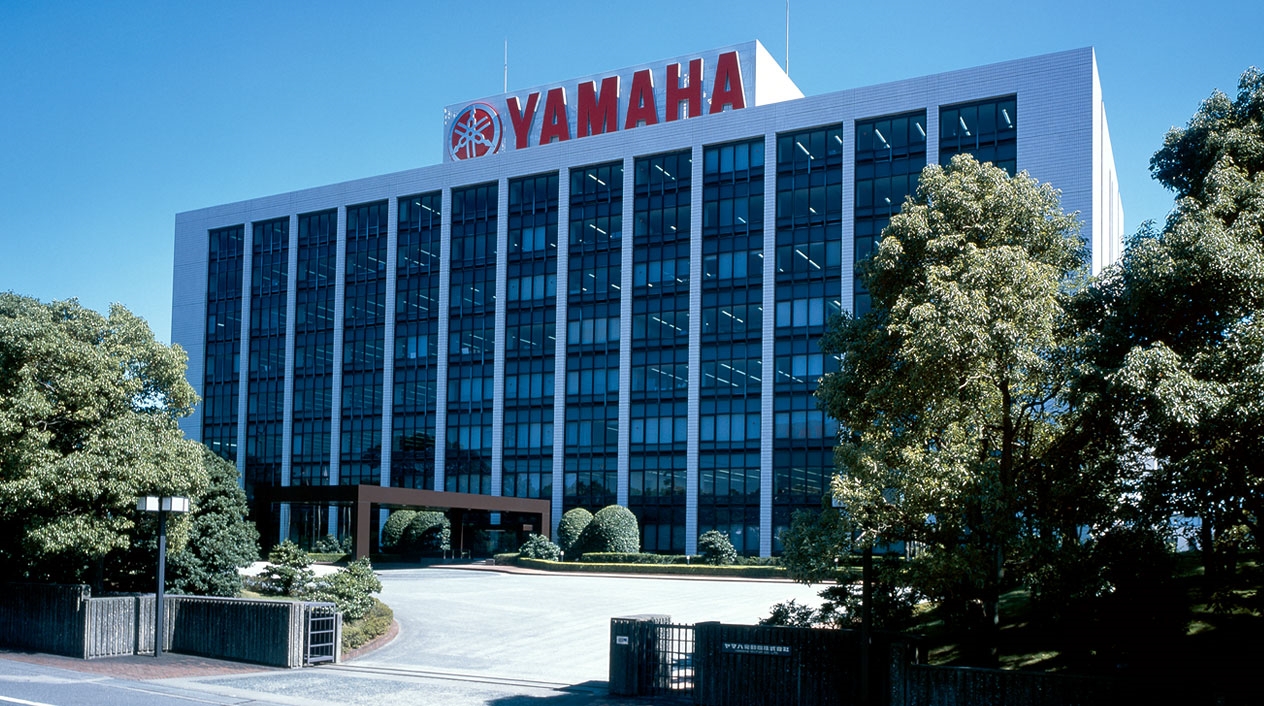 Marine Business Unit
Overseas Market Development Operations(OMDO)
Marine Business Unit
Katsuya Iida
Senior General Manager of Marketing Section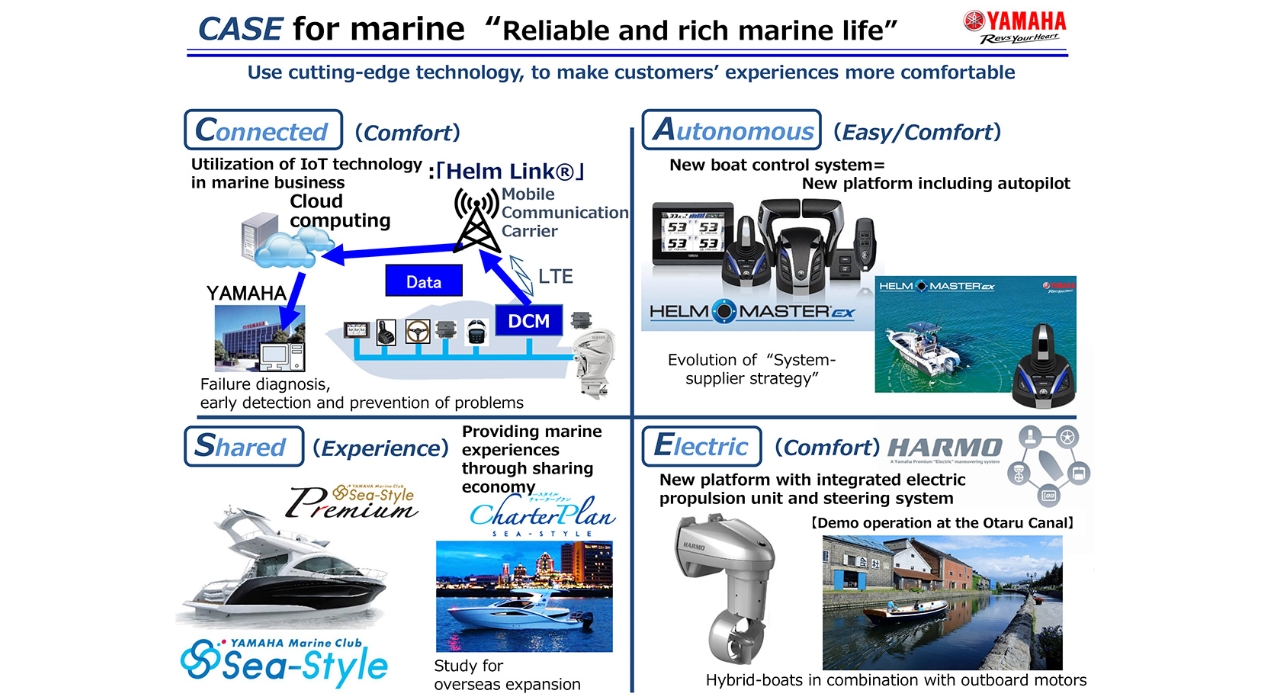 Hello everyone.
My name is Katsuya Iida.
I am the Senior General Manager of YMC Marine Marketing Section.
First of all, I would like to say thank you very much for your business with us under unpredicted business environment we are facing now.
Last year, Covid-19 decreased worldwide economic activity.
And the sales and production in marine business were also significantly affected. At first, the economy was stagnant, and people's movement was restricted. However, people in developed countries eventually realized taking part in marine leisure activities. The pessimistic situation has drastically changed, resulting in demand recovering sharply.
Therefore the demand outpaced the supply. We apologize for the inconvenience this caused our distributors, dealers and customers.
We are working hard to improve our supply chain throughout the entire company. We appreciate your understanding.
Let's move on to our Long-term vision. In 2018, we decided on a now vision which is… "Reliable and rich marine life".
We will proceed with the CASE strategy for our marine business to make our vision come true. The purpose of promoting CASE strategy is to transform our customer's marine life into a more safe and comfortable experience by using cutting-edge technology.
Keywords are safety, comfortable and new experience.
First, upper left is Connected, which provides safety.
Last year, we introduced "Helm Link" to detect quality problems early, prevent problems and improve customer service. Unlike on land, connections on water provide a sense of security.
Second, upper right is Autonomous, which provides safety and comfort.
Last year, we launched a boat control system, "Helm Master EX" developed by ourselves. We will aim to build an autonomous driving system by upgrading it and adding more functions.
Third, Lower right is Electric, which provides comfort.
The system will offer a quiet propulsion unit powered by electric motor.
In addition, we will combine engine and electric power to create a hybrid system giving more comfort and increase value for the customers.
Lastly, lower left is Shared. It provides new marine experience.
We will give more marine experiences through our sharing platform.
Last year, we started feasibility study to decide if it can be developed overseas.
CASE is not established independently. Combining these four categories into one system will provide excellent value to our customers with a safety, comfortable and new marine experience. Keeping in line with CASE strategy for our marine business, let's take on the challenge together for sustainable growth.
Thank you very much.
Masafumi Suzuki
General Manager of Marketing Division
Hello everyone. My name is Masafumi Suzuki from YMC, the General Manager of Marine Marketing Division. I'd like to thank everyone for working hard every day, marketing Yamaha marine products.
I'd like to express my sincere gratitude to you and your families for enduring the hardships in an unprecedented time that the COVID pandemic brought us. I wish everyone good health.
Though we stopped publishing the marine information magazine "Chantey" last year, we are happy to start a web version of Chantey this year. We are looking forward to connecting with the Yamaha family through Chantey.
Regarding our business, we've been having a product shortage of Outboard Motors, WaveRunners, and SportBoats throughout the world since last summer due to the undeniable impact of COVID-19. I apologize for any trouble this caused. When COVID first started, we responded by shutting down our factories. After that, demand for our products suddenly returned, however, we were unable to fill it, which led to a shortage.
From the 4th quarter of 2020, our factories have been operating at normal levels. We are currently facing a problem worldwide in our supply chain relating to acquiring parts. We are also unable to secure enough shipping containers as well as container ships, creating more difficulties than ever before.
At YMC, we are doing our best to solve the problems quickly and respond to everyone's requests as soon as possible. We ask for your cooperation and effort to minimize the customers' inconveniences in your respective countries.
I would like to talk about our daily work life. To prevent COVID from spreading, we have limited our movements. Therefore, it is hard to travel to check the status of the overseas markets and meet everyone face-to-face. Even in this unfortunate situation, Yamaha's primary focus has not changed, which is the 3S, Sales, Service, and Spare Parts.
On the positive side, our communication has increased, for example, we regularly hold online meetings using Microsoft Teams. We have also introduced remote training and virtual boat shows. As a result, the business style is evolving. I believe all of these activities will contribute to a stronger 3S once we are back to normal. We will create a new normal in marketing, and let's continue to innovate.
Although we are in uncertain and challenging times, let's keep working together to overcome for a brighter future.
Thank you very much.
Koichi Isozaki
General Manager of Service Division
Hello everyone.
First of all, I would like to introduce myself.I am Koichi Isozaki.
I have been working as general manager of YMC marine service since last July.
My previous work is developing marine engine like F70, F300, F115 and so on.Nice to meet you.
First, I would like to express my gratitude and thanks to all of you for the tireless efforts every day in taking good care of customers at your locations.
As you know, it is challenging to provide services due to COVID-19.
I am grateful for your performance during this situation. Thank you so much again.
Today, I would like to talk about our corporate philosophy "Creating Kando". What is Kando?
Our corporate defines that Kando is a Japanese word for the simultaneous feelings of deep satisfaction and intense excitement that we experience when we encounter something of exceptional value.
When I became the marine service general manager, I considered Kando as service.
My answer is this. " Kando is LOVE."
Love has many meanings, but for us who provide services, "Love" is to wish customers happiness through actions such as realizing customer's latent requests."
When the wish & actions reaches customers, and we can see the customer's reaction, we feel Kando together.
To create Kando, we first need to build relationship with trust. To build trust, there are 4 points.
1st is conducting appropriate service like accurate maintenance that suits the boat situation.
2nd is expeditious service, like a quick solution to the problem.
3rd is polite service like a kind suggestion about the boat maintenance.
Last is good communication with customers, like fully understanding each other.
Kando is created by adding LOVE to a relationship with trust. We would like you to do these 4 points to create Kando.
Let's create Kando together!
This year, we have officially introduced the HELM MASTER EX..
How about HELM MASTER EX? Can HELM MASTER EX create Kando ?
The answer is yes.
We believe HELM MASTER EX can make people happy. It has great benefits.
Again, let's deliver Kando to customers together!
That's all. Thank you.
Overseas Market Development Operations(OMDO) 
Nobuhiko Saito
Executive General Manager
Hello, everyone. My name is Nobuhiko Saito. I am the Executive General Manager of OMDO.
First of all, I would like to express my sincere appreciation to all the distributors for your endeavors and contributions on Yamaha business, even in a considerably severe situation during the COVID crisis
Last year, outboard motors demand for tourism decreased due to the spread of COVID in whole OMDO territory, nevertheless, in fact, there were steady demands in other two segments. One was in the "Fishery Industry" to provide foods for their lives. Another is in "transportations" to contribute their infrastructure. These phenomena again reminded us of the strong responsibility to supply our products for their daily lives. However, the outboard motors supply has been insufficient since the second half of last year. I apologize to cause you inconvenience and promises to do our best to catch up your requirements.
This year 2021, it is 30th anniversary since OMDO has been established in 1991, furthermore, it has been 40 years since Overseas Project Office, which is known as a start of OMDO, we have been working with our distributors on 3S, which is sales, service, and spare parts, under the slogan "field-oriented activities."
As you well know, in 2015, in order to further enhance the customer satisfaction and improve the presence of YAMAHA brands, OMDO has named and launched these collaborated activities as "Go Beyond Caravan."
OMDO members are not able to visit each market because COVID is still spreading all over the world, even under these circumstances, some distributors have conducted effective marketing activities, including Go Beyond Caravan for the customers. We sincerely appreciate all the hard work they did.
Today, I would like to introduce Ela Motors of Papua New Guinea who makes the best effort for the customers compiling the government regulations as an excellent example of the activities. Outboard motors have become essential for the people of Papua New Guinea, which is a country located in the South Pacific Ocean. Outboard motors are widespread and used daily for transportation and fishing.
Despite the COVID pandemic, Ela Motors actively engaged in Go Beyond Caravan. To support stability in people's lives, they mainly focus on after-sales service for outboard motors. COVID-19 safety protocols were set during Go Beyond Caravan. These included setting a safe social distancing policy and placing hand sanitizers at events.
The main goal of Go Beyond Caravan is for the sales, service, and spare parts teams at each distributor to visit customers and work together for the customers' benefit. Putting themselves into the customers' position, Ela Motors' mechanics checked how they were using the outboard motors and inspected them. They gave suggestions such as recommending replacement parts and so on. At the event, customers were introduced to the Awareness Program. The mechanics explained the benefits of using YAMALUBE to help customers realize that YAMALUBE is the ideal engine oil for Yamaha outboard motors. Ela Motors organized Go Beyond Caravan twice in last year. They succeeded in increasing customer retention while spreading the joy of using Yamaha outboard motors. Unfortunately, we were unable to go to the location, but through online meetings, we supported the preparation, reviewed the event, and suggested improvements for the next time.
It's been more than a year since our overseas business trips were banned, however, Online meetings now become standards of communicating tools with distributors, in addition, we found it made our communication rather easy. We will actively adopt new approaches to manage marketing activities proficiently for us and the distributors.
The last but at least, OMDO's policy remains "field oriented".
I strongly wish to work together in your field soon right after the recovery.
See you soon!